The spring season comes from the south.
The symbol of spring in Japan is the cherry blossom. In spring, cherry blossom viewing spots with beautiful cherry blossoms appear all over Japan.
Cherry blossoms also start blooming from the south. The first to bloom are the southernmost islands of Japan, such as Okinawa and the Amami Islands. Those areas are exceptions.
Please take a look at the forecast of cherry blossoms in Japan for this year, 2023.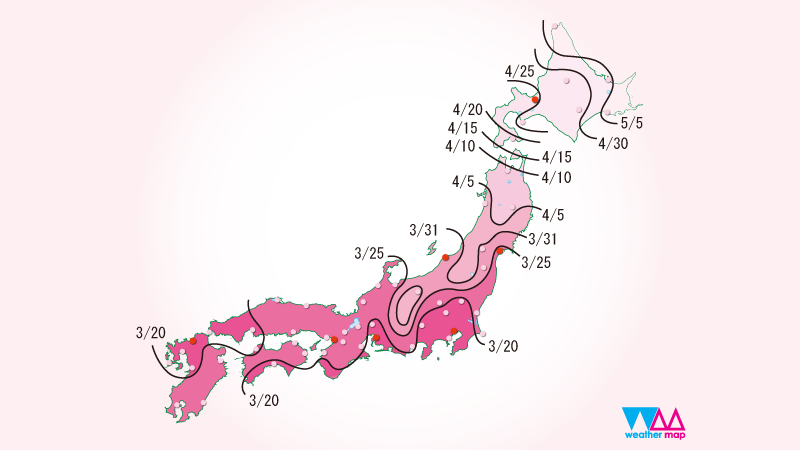 The following are the blooming times for the various regions of Japan famous for cherry blossoms (this is only a forecast).
Tokyo 3/16~
Fukuoka 3/16 ~
Hiroshima 3/18
Kyoto 3/21~
Osaka 3/22~
Nara 3/22~
Fukushima 3/26~
Nagano 4/1~
Aomori 4/10~
Sapporo 4/23~
*This is only a forecast. Please check the Weather Map for the latest information.
The earliest cherry blossoms will start blooming this year is likely to be in Tokyo, where they will begin blooming in mid-March. The most beautiful time to view the cherry blossoms is one to two weeks after they bloom.
Japanese people have always loved cherry blossoms and hold tea ceremonies and sake parties under the cherry trees. If you are visiting Japan for such a cherry blossom festival, be sure to find the right place and the right time.
This article about spring in Japan may be helpful.
Have a nice spring. Have a nice trip.