During your stay in Japan, the communication environment for your smartphone or computer is important.
Based on the actual situation of the communication environment in Japan, we will introduce the best communication methods for travel. Please refer to them when you visit Japan.
Facts about Free Wi-Fi in Japan
In Japan, Wi-Fi is widely available in a variety of places, including cafes, restaurants, hotels, airports, and train stations. Many tourist spots and public transportation systems also offer free Wi-Fi. However, in many cases, you need to enter your e-mail address and other registration information in order to connect. Besides, in rural areas, Wi-Fi is rarely available except around certain spots and in relatively new stores and hotels. If you come to Japan relying only on free Wi-Fi in Japan, you will have a very difficult time.
Means of Internet communication in Japan
During your stay in Japan, you have four choices of communication environments for your smartphone or computer.
Use mobile Wi-Fi (pocket Wi-Fi) in Japan
Using a Prepaid SIM Card for Japan
Using your current provider's international roaming service
Use free Wi-Fi in Japan
Relying solely on free Wi-Fi in Japan is not an option. We recommend that you secure other means of communication.
The best means of internet communication during your stay in Japan

Mobile WiFi is the best communication option for travelers in Japan. Many companies in Japan offer rental mobile Wi-Fi devices for travelers to use during their stay. These devices can be picked up at the airport or other designated locations.
The advantages of using a mobile Wi-Fi device in Japan are that it provides nearly 100% coverage in all major Japanese cities, is pocket-sized and lightweight so it can be used anywhere while being carried around, and can be used by multiple people with multiple devices simultaneously, including smartphones, tablets, and PCs.
It is also more cost-effective than using international roaming on your cell phone because you can purchase data packages at local rates. So, with mobile Wi-Fi, you can stay connected to the Internet anytime, anywhere: navigate, search for information, and keep in touch with family and friends, which is especially convenient when traveling in Japan.
Renting a mobile Wi-Fi device in Japan is easy. Many vendors offer rental services for travelers. You can pick up the device at the airport or other designated location and return it at the end of your stay.
Introducing the most popular mobile WiFi rental service in Japan.
Recommended sim cards for vacation travel in Japan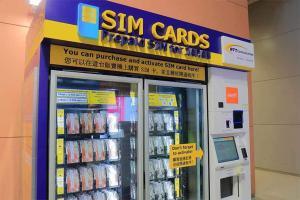 The number of SIM card vending machines has also increased.
Prepaid SIM cards in Japan are easy to obtain. They can be purchased at various locations throughout Japan, including major airports, electronics retailers in front of train stations, and convenience stores. If you book online in advance, the procedure on the day will be smooth and easy.
Click here to arrange a SIM card for use in Japan
You can also purchase in advance from amazon.co.jp. *To purchase from Amazon Japan, you need to register here.
If you are unsure about whether to switch cards or which plan to choose, please visit a store called Air BicCamera after arriving in Japan. Air BicCamera is installed at major airports. In addition, the same series of BicCamera stores can be found anywhere in Japan. BicCamera stores have a wide variety of SIM cards and are very friendly.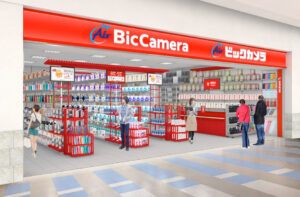 On the other hand, the rental type is a little more complicated in terms of procedures and picking up and returning the card, but offers price advantages for longer stays of one month or more.
Please consider our recommended SIM cards with unlimited data below. Both official websites are available in English, Chinese, and other foreign languages.
There are many companies offering SIM cards, but there is no major difference in the areas where communication is possible. All of them cover major areas in Japan. There is also no major difference in service plan contents. A friendly company is recommended.
The problem with SIM cards is that they may not work with certain types. Please be sure to check compatibility before purchasing a SIM card.
International Roaming in Japan
As you may know, when you replace your SIM card with an overseas SIM card, your phone number itself will be changed, and you may not be able to access the sites and apps you have been using. I don't like that, so I don't swap SIM cards when I am abroad.
The most hassle-free way to get online in Japan is to use the international roaming service of your current provider. You can use your current smartphone, your phone number remains the same, and you don't have to buy a separate SIM or rent a Wi-Fi connection.
However, I am concerned about the fees. Please note that if you are viewing maps, exchanging videos or images while traveling, or using a large amount of data transmission by connecting to a computer, the charges may be unexpectedly high.
Conclusion: Use Mobile Wi-Fi in Japan!
The best option is mobile Wi-Fi (pocket Wi-Fi) in my opinion. We recommend this service for foreign visitors to Japan.
Now, let's plan to make your vacation in Japan the best experience ever!