I use hotels all over the world for work and vacation. Depending on the situation, we thoroughly check various reservation sites to find the best accommodation, and make a reservation with the site that gives us the most satisfaction.
I am very familiar with hotel booking sites. And since I was a Japanese newspaper reporter, I am particularly knowledgeable about accommodations throughout Japan. That's why I'm very concerned about some travelers using unreliable booking sites.
Therefore, on this page, we will introduce recommended hotel reservation sites, how to find them, and how to make a reservation.
The best comparison site to search and verify the reputation of accommodations in Japan
There are many websites where you can book hotels and inns. It is almost impossible to see them all. Therefore, the first thing we would like to recommend is a "comparison site" that allows you to compare accommodation plans from many hotel reservation sites.
However, there are also many comparison sites. Among them, I will introduce the most efficient method I use.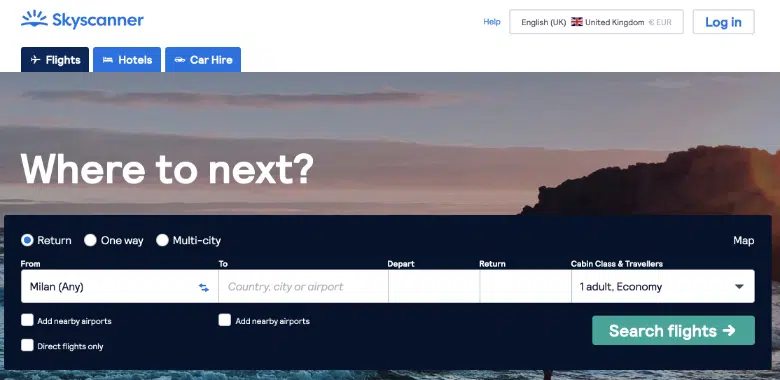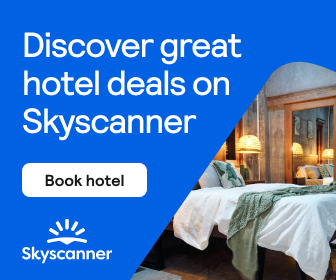 To find the best hotels and inns in the most efficient way, I go to 'Skyscanner' first.
Skyscanner is a UK-based service that provides a cross-search and comparison service for airline tickets, hotels, car rentals, and other services from approximately 1200 websites worldwide.
While Skyscanner is best known for finding cheap flights, it is also a great site for comparing accommodation options in Japan.
Skyscanner covers most hotel booking sites in Japan, allowing you to check and arrange the lowest prices. You can also check Tripadvisor reviews within Skyscanner. There are fake reviews, so be careful, but Tripadvisor reviews from people all over the world can be a good reference when choosing a hotel.
We recommend Skyscanner's site because it is very convenient to search and compare both airline tickets and accommodations, and to refer to reviews.
Best sites to book accommodation in Japan
Weaknesses of Comparison Sites
Comparison sites have one major weakness. It is a time lag.
Comparison sites periodically visit and collect data on accommodation plans of individual hotel reservation sites. They will show you the lowest plans based on those data. However, that data may have been collected one day ago. When you visit the reservation site the plan may already be sold out. In addition, someone may have canceled a wonderful plan after the data was gathered. Great canceled accommodation plans will not be displayed on the comparison site. Then you can not find that wonderful plan. You have a risk of missing your opportunity.
The best way to get the cheapest lodging plans is to use Skyscanner. However, hotels in Tokyo and Kyoto are often fully booked. In particular, accommodation plans for popular rooms in popular hotels are sold out immediately. If you only use comparison sites, you will lose this opportunity. So, once you find a good hotel or lodging plan using a comparison site, we recommend that you go directly to a major site such as a reservation site.
You can find plans that are often overlooked on comparison sites by checking the following two main sites.
Best sites for booking accommodation in Japan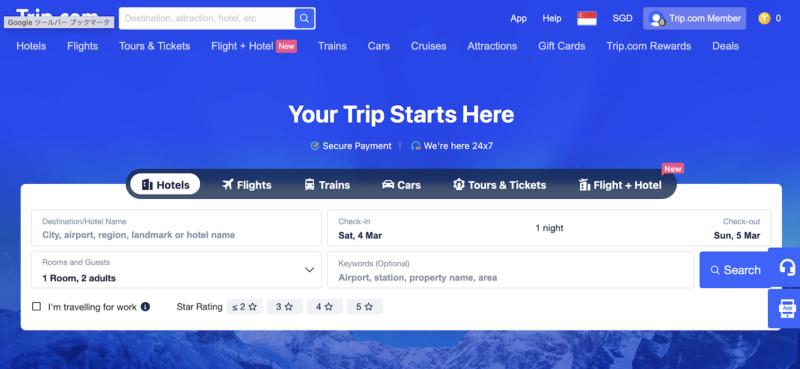 Trip.com is the world's third largest booking site by revenue, headquartered in Shanghai. Its lineup of accommodations in Asia, including Japan, is overwhelming. Therefore, you may be able to book a hotel that is not listed on other sites, so be sure to check them out! Accommodation plan rates are also relatively inexpensive.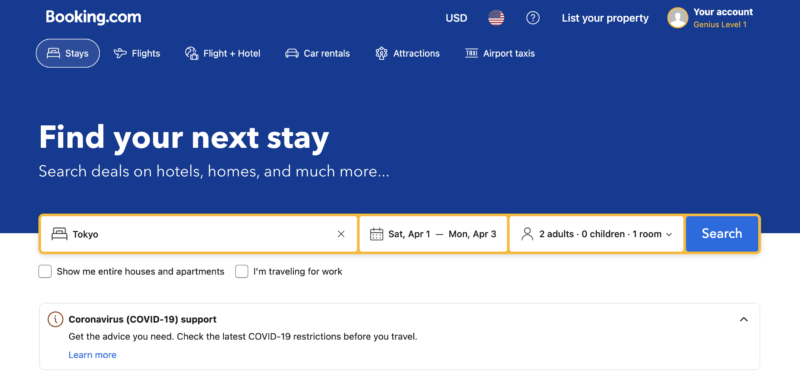 Booking.com is the largest online accommodation booking company headquartered in Amsterdam, the Netherlands. The company has 198 branch offices in 70 countries. Today Booking.com is the world's largest hotel booking site as well as the world's leading vacation rental booking site. The number of registered hotels, inns, and private accommodations in Japan is comparable to that of Rakuten Travel and Jalan-net, the major hotel reservation sites in Japan.
Both Booking.com and Trip.com are multilingual and offer excellent support. People in Asia seem to prefer Trip.com, while those in Europe, the U.S., and Oceania prefer Booking.com, but whichever one you are more comfortable with, choose the one you prefer.
I always try to compare the prices on the two sites, as prices can vary greatly depending on when each site offers its own promotions.
Others|Reservation sites specializing in distinctive accommodations
In addition to these sites, there are many other reservation sites that have been launched to meet diversifying needs, such as STAY JAPAN, which specializes in short-term homestays and farmstays. We will introduce new recommended sites as soon as they become available.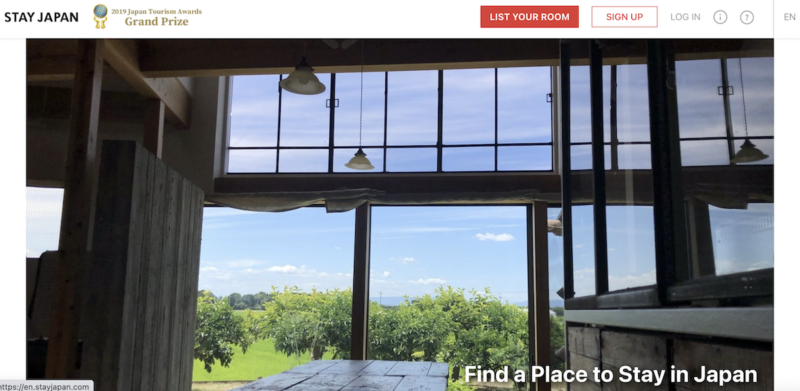 STAY JAPAN is vacation rental (minpaku), farm stay, castle stay, temple stay, reservation site.
Hotel Planner, a reservation site that specializes in arranging accommodation for groups and long-term stays, is ideal for arranging accommodation for group travel, such as large family trips, weddings, reunions, sports, business, companies, schools, and governments.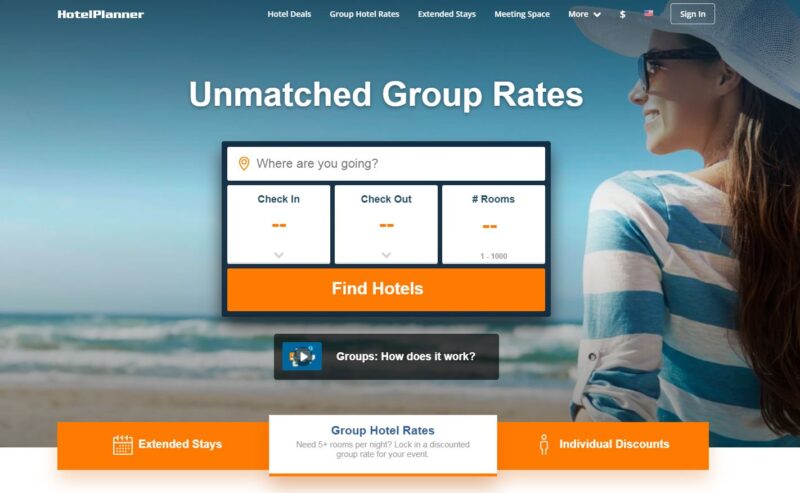 Hotel Planner that specializes in arranging accommodation for group travel
Information on Accommodations in Japan
This site (japanicle.com) introduces information on various parts of Japan, places to visit, and things to do from various perspectives. Please refer to the menu or the search page.
Among them, information that you don't want to be known too much, such as particularly wonderful accommodations, is restricted to the public. The reason for the limited access is that the number of tourists to Japan is likely to increase in the future, so we want to avoid congestion and difficulty in making reservations by having many people know about it. I'm happy to let many people know about it, but there are some places I'd like to keep a secret if possible. Such information is shared only with readers who are long-term friends.
If you don't mind, would you like to share information like a friend? Start by subscribing to our newsletter. You can easily register from the page below. If you would like to visit Japan someday, please register.
Now, let's plan to make your vacation in Japan the best experience ever!