A lot of old Japan remains in Ehime Prefecture. There are four old wooden castles scattered around the prefecture, and you can also encounter historic old private houses and townscapes. Also, in Matsuyama City, the center of Ehime Prefecture, you can enjoy bathing in one of the most famous and oldest hot spring facilities in Japan. Ehime is famous for its thriving cultivation of mandarin oranges (citrus fruits).
On this page, we will guide you on your trip to Ehime, including its attractions, sightseeing spots, and how to enjoy it.
Outline of Ehime
Ehime Prefecture is situated in the northwestern portion of Shikoku. The climate is mild and warm, and it is rich in the nature. It is surrounded by Seto Inland Sea, and Shikoku Mountains Range.
Ehime prefecture is divided into three areas. The eastern side is the temperate area facing the Seto Inland Sea. Here is the "Shimanemi Kaido" bridge connecting Okayama Prefecture on the other side of the Seto Inland Sea. A road for bicycles is maintained at this bridge. From this bridge you will be able to see the peaceful Seto Inland Sea.
The central part of Ehime prefecture is the area centered around Matsuyama city. There are many famous sights such as Matsuyama castle and Dogo Onsen here.
Finally, in the southwestern part of Ehime prefecture, old Japanese countryside is left. Nature is rich, and the sea is also beautiful.
Access
Airport
Ehime Prefecture has Matsuyama Airport. This airport is located 6 kilometers west from the center of Matsuyama city. At this airport, scheduled flights are operated with the following airports.
International flights
Seoul / Incheon
Shanghai / Pudong
Domestic flights
Sapporo / Shin Chitose
Sendai
Tokyo / Haneda
Tokyo / Narita
Nagoya / Chubu
Osaka / Itami
Osaka / Kansai
Fukuoka
Kagoshima
Okinawa / Naha
From Matsuyama Airport to JR Matsuyama Station, it takes 15 minutes by direct bus. It is 40 minutes to Dogo Onsen.
Railway
Shinkansen is not running in Ehime prefecture. Between the major cities in Ehime Prefecture, regular rail services are operated.
JR Shikoku is running Yosan line. Yodo line, Uchiko line. Besides this, there is a private railway 'Iyo Railway' (Iyotetsu). This railroad company operates Gunchu line, Takamaha line, Yokogawara line. Iyotetsu also operates trams in Matsuyama city.
There are several passes available for efficient travel in Shikoku. >>Click here for details.
Matsuyama Castle
Matsuyama City has Matsuyama Castle. This castle was built in the 17th century. Many castles have been destroyed by fire. However, Matsuyama Castle still retains its old wooden structure. That's why I feel force in this castle.
On the top of the mountain with an altitude of 132 meters, there is a three-story castle tower. This building was also left as it was when it was built in the 17th century.
I introduced Matsuyama Castle in an article about Japanese castles. If you are interested, please drop in at the following article.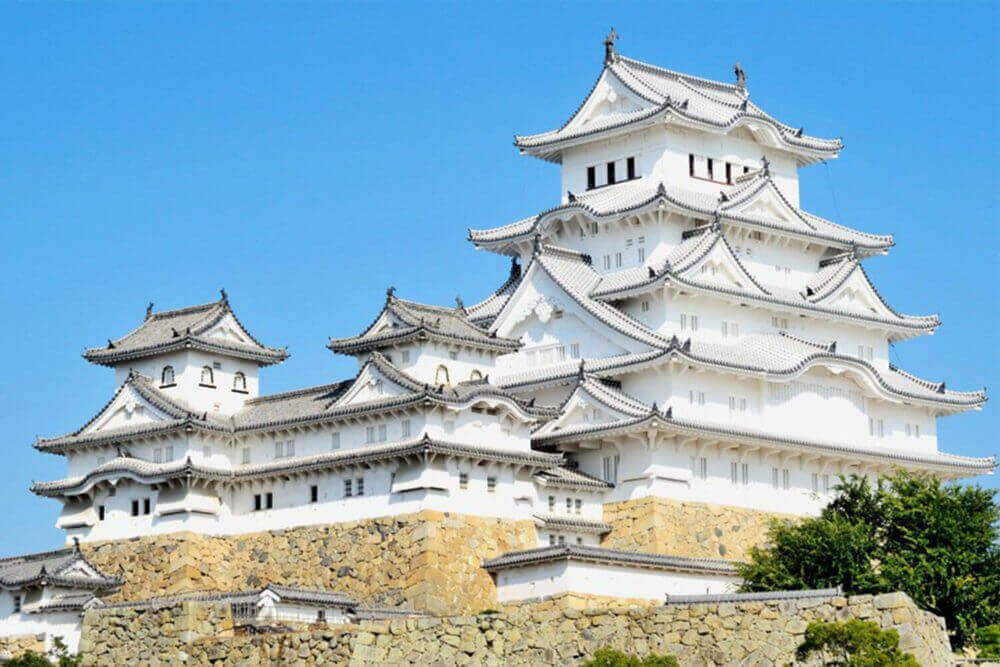 On this page, I will introduce Japanese castles. There are many large ...
>>Please check the Matsuyama Castle information on Trip Advisor!
Dogo Onsen
Have you ever seen Hayao MIYAZAKI's animated movie "Spirited Away" (1999)?
It is said that the old wooden public bathhouse that appeared in that movie was drawn with reference to the "Dogo Onsen Honkan (Main Bldg)" in Ehime Prefecture. It is the building which is seen in the top picture of this page.
"Dogo Onsen Honkan" consists of several old wooden buildings. The oldest three-story wooden building "Kamino-yu" (building area 193.31 square meters) was built in 1894. This building also appeared in the novel "BOTCHAN" by Japanese famous author Soseki NATSUME. You can enjoy bathing in this building.
Dogo Onsen is said to have a history of 3000 years. You will be healed by the retro atmosphere of this spa town.
Dogo Onsen is about 25 minutes from Matsuyama city center by the Iyo Railway Tram.
>>Please compare the accommodations in Dogo Onsen!
Imabari Castle
Imabari Castle is located in Imabari City, which is located in the northeastern part of Ehime Prefecture. It was built on the coast facing the Seto Inland Sea by Todo Takatora, a master castle builder. The moat surrounding the castle was filled with seawater, and the port inside the castle was one of Japan's leading sea castles, with the largest funairi (a facility for mooring ships) in the country.
Sea bream and other saltwater fish can still be seen in the moat, and the Seto Inland Sea can be seen from the observatory on the 6th floor.
>>Please check the Imabari Castle information on Trip Advisor!
Uwajima Castle
Uwajima Castle is located in Uwajima City, which is located in the southern part of Ehime Prefecture. This castle was also built by Takatora Todo, a master of castle building. It is an elegant castle, also known as "Tsurushima Castle", with beautiful white walls and decorations of the palace architecture such as gables and hanging fish. From the top floor of the castle tower, you can see the castle town, Uwajima Port and the sea.
>>Please check the Uwajima Castle information on Trip Advisor!
Ozu Castle
Ozu Castle has become a hot topic in recent years for its "Castle Stay," where you can stay in the restored wooden castle tower.
During your stay, only the butlers and chefs are allowed to enter the Shiroyama area, so you can become the lord of the castle during your stay. Please see the official website for details of Japan's first castle stay "Ozu Castle Castle Stay", such as special meals, lounges, baths, and activities that can only be used by hotel guests.
Ozu Castle is located in Ozu City, which is located between Matsuyama City and Uwajima City.
About 10 minutes by car (taxi) from JR Iyo Ozu Station.
It is fun to visit on foot while strolling through the old streets of storehouses and namako walls, which prospered with sericulture and silk reeling during the Meiji and Taisho periods. About 30 minutes on foot from JR Iyo Ozu Station.
>>Please check the Ozu Castle information on Trip Advisor!
Mt. Ishizuchi
Ishizuchi is known as a mountain of mountain worship. It is a general term for a series of mountains including Mt. Tengu, the highest peak in western Japan with an altitude of 1,982m, located on the border of Saijo City, Ehime Prefecture and Kumakogen Town.
It has long been known as a mountain of mountain worship (Shugendo), but now it is popular as a mountain climbing spot that can be enjoyed by men and women of all ages, from routes for experienced mountain climbers and hikers to routes perfect for beginners. On a clear day, you can see not only the Seto Inland Sea from the summit, but also the mountains of the Chugoku and Kyushu regions.
Among them, the Mt. Ishizuchi Ropeway, which leads from Saijo City to the summit, is highly recommended. You can enjoy an eight-minute walk in the air while gazing at the majestic natural beauty of the looming steep mountainside.
>>Please check the Mt. Ishizuchi information on Trip Advisor!
Thank you for reading to the end.
If you want to check the tour menu and deals for the entire Ehime prefecture, click here.
Now, let's plan to make your vacation in Japan the best experience ever!
Back to "Best of Shikoku Region"