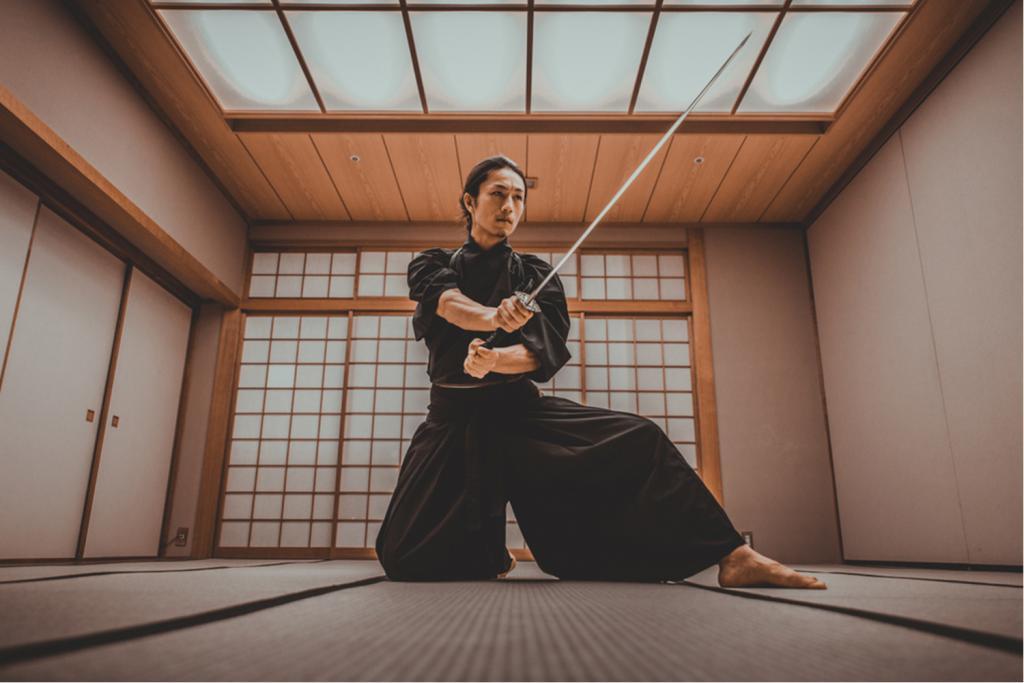 In Japan, there are museums and experience facilities where you can experience Samurai and Ninja. They are popular among both Japanese and foreign tourists visiting Japan. Visiting studios and locations used for filming samurai-era TV dramas and movies is also popular. Samurai shows are held daily there. In addition, in villages where really real ninja lived in the past, such as Iga and Koga, weapons actually used by the ninja are on display and ninja shows are held. This page introduces some particularly recommended samurai and ninja experience spots.
Click on each map to see related tour and nearby activity information on a separate page.
Samurai experience: TOEI Kyoto Studio Park (Kyoto)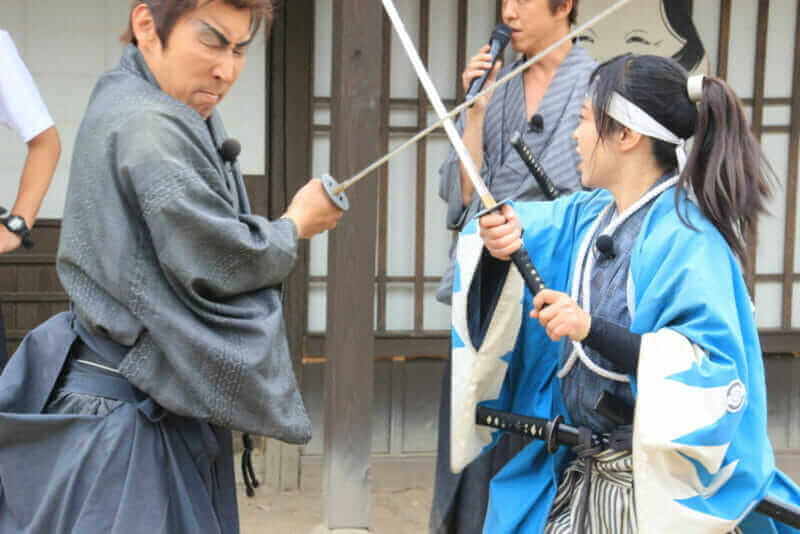 Toei is a major film production company in Japan. This movie company has produced a lot of movies in which Samurai and ninja are appearing. A part of the studio has been made public and has become a theme park. That is Toei Kyoto Studio Park.
Toei Kyoto Studio Park has a shooting set of about 53,000 square meters, which reproduced the streets of Japan several hundred years ago. You can take a walk in this town. It is the world where samurai and ninja once lived. In this town, the actors who dressed up in sakurai will show off their performances. You can also participate in this show.
At Toei Kyoto Studio Park, you can wear clothing such as samurai and geisha used for movie production. You can become a samurai and you can stroll through the old Japanese town to your heart's content.
Toei Kyoto Studio Park is a traditional theme park established in 1975 by a film production company. I also have been with my sons several times. I think this theme park is worth visiting. You should try samurai experience at Toei Kyoto Studio Park by all means.
Toei Kyoto Studio Park is located near Arashiyama in Kyoto. It is 5 minutes on foot from Uzumasa JR station.
Samurai experience: Samurai Kembu Theater Kyoto (Kyoto)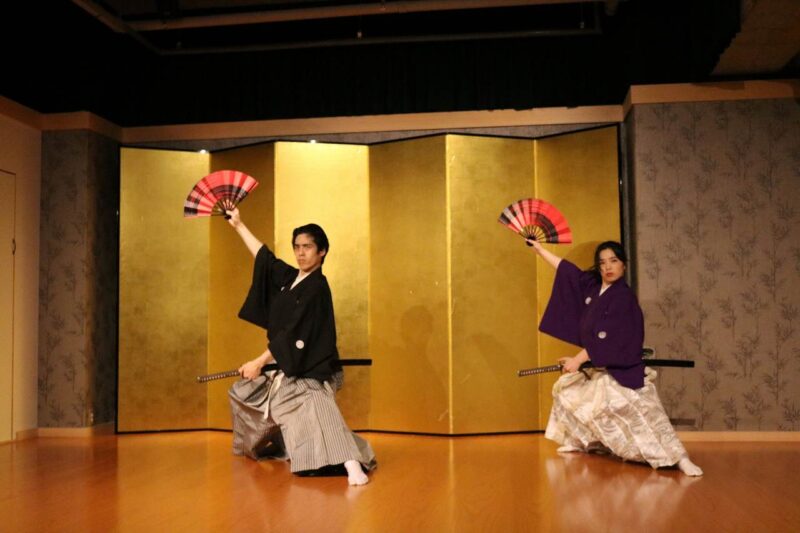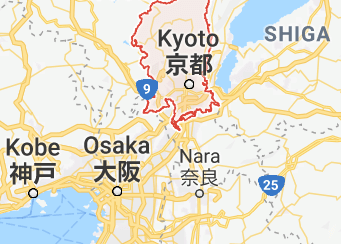 Samurai Kembu Theater is a tourist facility designed to introduce Japanese traditional 'Kembu' culture to people from overseas.'Kembu' Is a traditional dance with Japanese swords. It is said that Samurai played it for the spirit Kembu training. Samurai Kembu Theater is operated by Kembu's group of professionals.
Samurai Kembu Theater is located 4 minutes on foot from Kyoto 's subway "Sanjyo Keihan" station. Various programs are available here. Among them, the most popular among tourists is the course (1 hour, 2 hours) where participants actually learn basic Kembu using Japanese swords (not sharp). Participants wear samurai costumes and finally take pictures. It is okay just to observe this program. All programs are in English.
Samurai Kembu Theater is very popular among tourists from abroad so I recommend you to book early.
Samurai experience: Samurai Museum (Tokyo)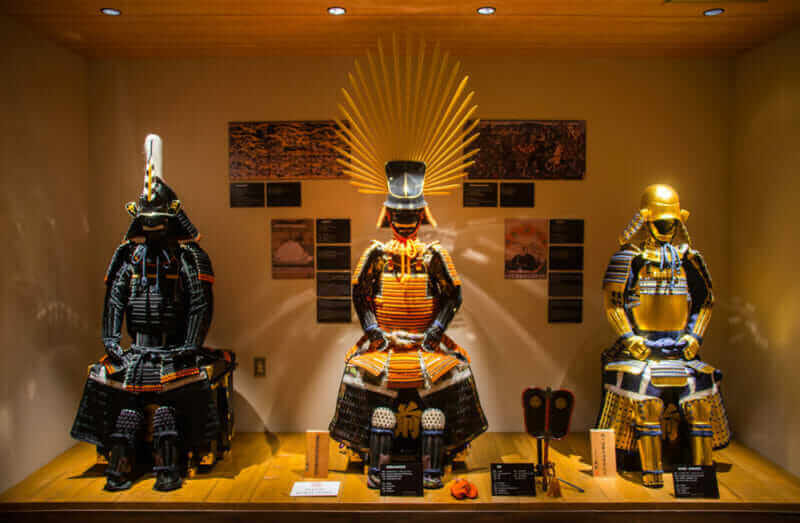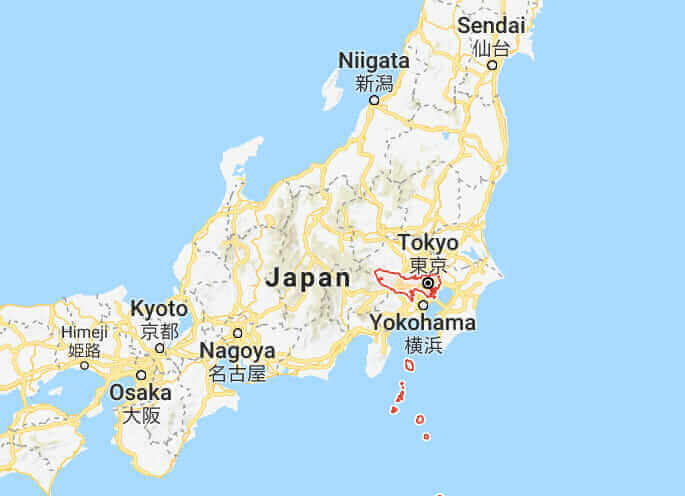 Samurai Museum is located 8 minutes on foot from JR Shinjuku station in Tokyo. This museum is operated to introduce the spirit of samurai broadly.
When entering from the entrance, the armor (Yoroi) and the helmet (Kabuto) which the samurai wore is exhibited. When you go up from the first floor to the second floor, the Japanese swords used by samurai and the old guns etc. are introduced in detail. There are also replicas of helmets and armor of the three samurai generals (Nobunaga ODA, Hideyoshi TOYOTOMI, Ieyasu TOKUGAWA) who have been successful in unification of Japan. It is easy to understand what role samurai played in Japanese history for about 700 years since the 12th century.
The most popular thing in this museum is the corner where visitors can actually take photos with armor. If you book in advance, you can wear authentic armor and photograph in the same style as real samurai.
At the Samurai Museum, performance of fighting using Japanese sword is also being shown. All exhibits are written not only in Japanese but also in English and Chinese.
Samurai experience: SAMURAI've (Tokyo)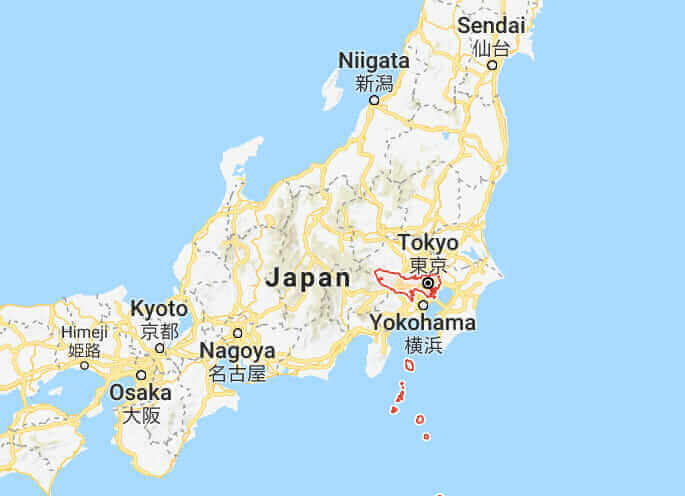 SAMURAI've is a lecture course for beginners held by professionals who are instructing Japanese actors to use Japanese swords. It is held in the studio located about 5 minutes on foot from the Tokyo subway "Shinjuku Gyoen" station.
At SAMURAI've, you first learn the basic etiquette of samurai and how to wear kimono of samurai. Then, you learn how to use Japanese swords and play real performance. Finally you will take a commemorative photo. The Japanese sword used for the course is made of aluminum and can not be cut in practice.
A course of SAMURAI've takes about 70 minutes. This course is also very popular. If you are interested, I recommend you to book early.
Samurai experience: Nikko Edomura = Edo Wonderland (Nikko, Tochigi Prefecture)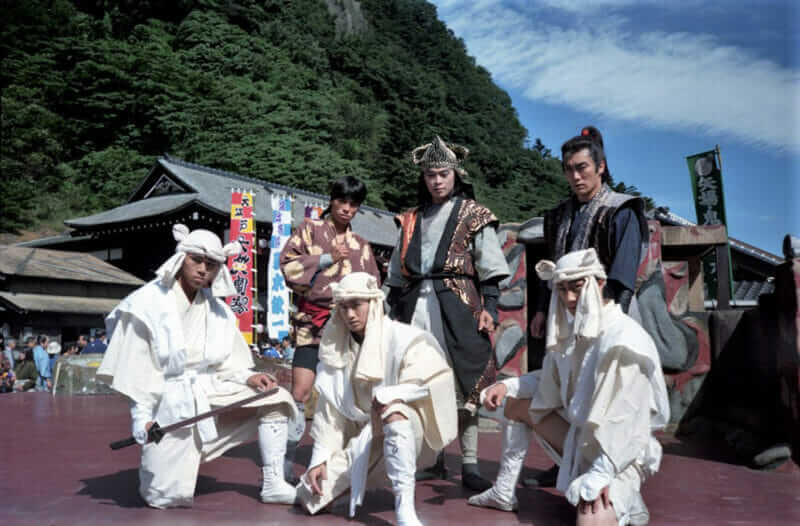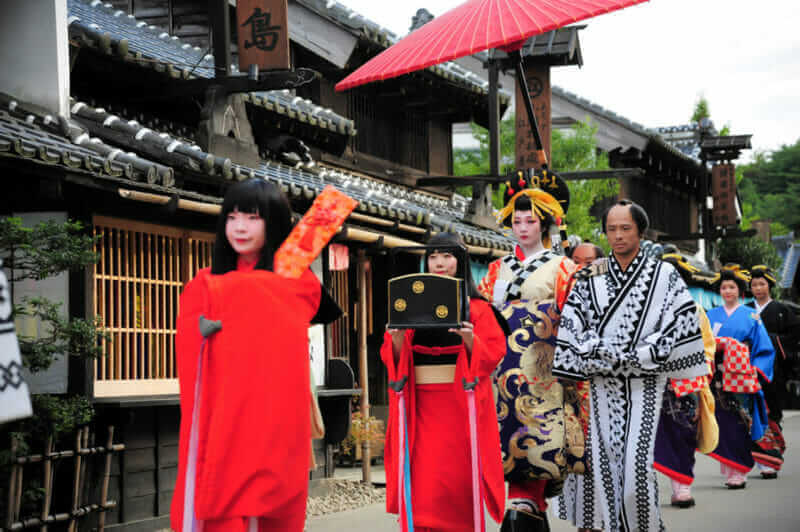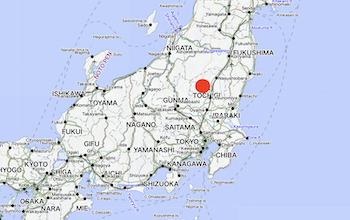 Nikko Edomura (Edo Wonderland) is a history theme park recreating Japanese town life during the Edo period 1603-1868.
Nikko Edomura is about 140 km north of Tokyo. The total site area is 49.5 hectares. In Nikko Edomura, you can stroll through the old Japanese town like the Toei Kyoto Studio Park in Kyoto. Men can impersonate as samurai, ruler etc. Women can be dressed like Samurai's daughter, princess, swordswoman and so on. In addition, you can participate in a lecture meeting to learn the basic behavior of Samurai. You can also enjoy the performance by the ninja.
This theme park is about 15 minutes by bus from the famous hot spring resort called Kinugawa Onsen. To Kinugawa Onsen is about 2 hours by train (JR express or Tobu Rail way express) from central Tokyo.
To Nikko Edomura, you can go on a day trip from Tokyo. But, that is a bit hard. So, I recommend staying at Kinugawa Onsen, enjoying the hot springs and going to Nikko Edomura.
You can also visit the famous Nikko Toshogu Shrine and then to Nikko Edomura. It is a 40-minute bus ride from Nikko Toshogu Shrine to Nikko Edomura.
Ninja experience: Iga-ryu Ninja Museum (Iga City, Mie prefecture)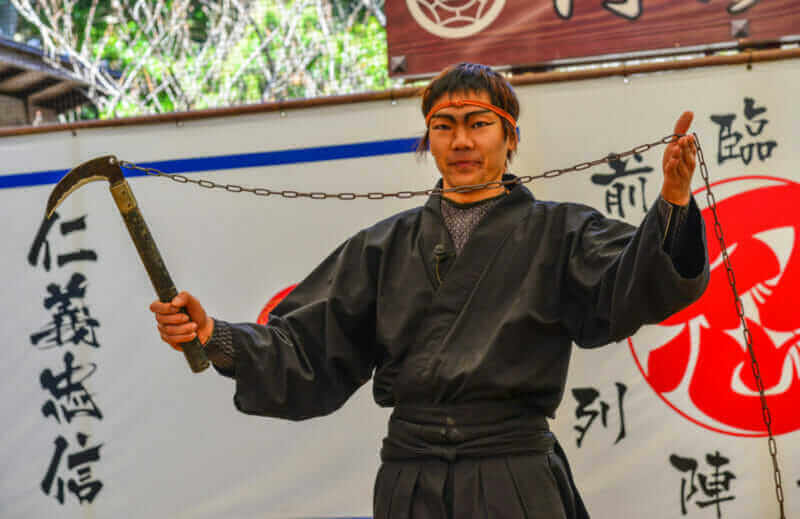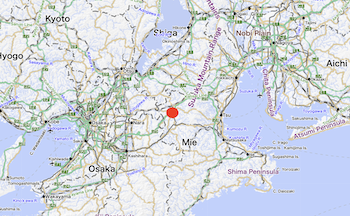 Iga-ryu Ninja Museum is the best tourist attraction about ninja. Iga-ryu was once the largest school in Ninja in Japan. If you go to the Iga-ryu Ninja Museum, you can explore the houses where Iga-ryu Ninja's family once lived. To defend when enemies attack, this house has protections such as set traps and fake hallways.
When you go to the basement of this house, the numerous weapons used by the ninja are exhibited. These are very impressive. After leaving this house you can see the performance by the ninja. The battle of ninja players in front of you is surprisingly terrifying.
Iga-ryu Ninja Museum is located in Iga-shi, Mie Prefecture, central Honshu. Igaueno Castle near this museum is also worth watching. This castle was considered one of the bases when the Tokugawa shogunate attacked the Toyotomi family in Osaka that is hostile. So, the stone wall of Igaueno Castle is very big. After the Toyotomi family was destroyed, it was no longer necessary to extend this castle, so castle towers were not built in this castle. But in 1935, a wooden castle tower was built by local politician donation. Igaueno Castle that gained power in this way was also used in the filming of the film "Kagemusha" directed by Akira Kurosawa.
To this museum, it takes 1 hour 30 minutes by direct bus from Nagoya Meitetsu Bus Center to "Ueno City Station".
Ninja experience: Koka Ninja House (Koka City, Shiga Prefecture)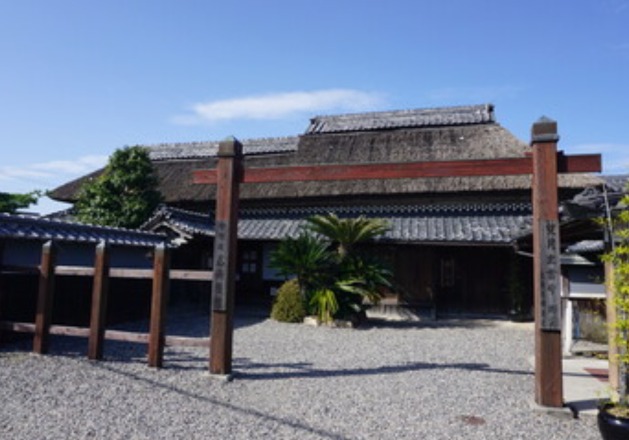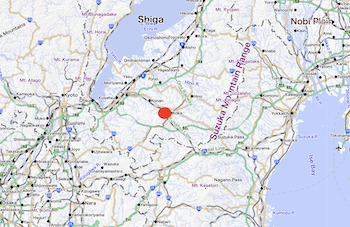 Koka-ryu is a school of ninja which once had power equal to that of Iga-ryu above in Japan. The Koka-ryu ninja lived in a place relatively close to the Iga-ryu ninja. They cooperated and fought against enemies when the enemy came. However, they sometimes fought each other. So now, cartoons and movies of Iga-ryu Ninja vs Koka-ryu Ninja are created from time to time.
Koka Ninja House is located in Koka City, Shiga Prefecture, central Honshu. This is about 30 kilometers north of Iga City, Mie Prefecture where Iga-ryu ninja lived. It is about 5 minutes by taxi from Konan Station on JR Kusatsu Line.
Koka Ninja House is the house where the leading clan of the Koka-ryu ninja lived. You can explore this house. Like the Iga-ryu Ninja Museum, this house also had various gimmicks such as pitfalls installed to defend when attacked by enemies. They are all real.
The Koka-ryu ninja had abundant knowledge of medicine. So in this house you can drink tea with medicinal herbs that ninja drink before. You can also see various weapons used by the ninja.
You can also dress as a ninja or throw a Shuriken (throwing knife). Please try experiencing the world of real ninja by all means.
Ninja experience: NINJA DOJO and STORE (Kyoto)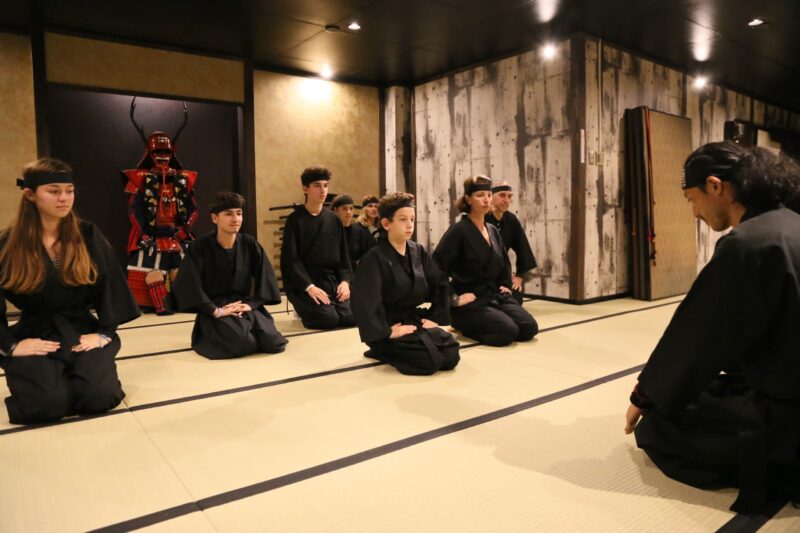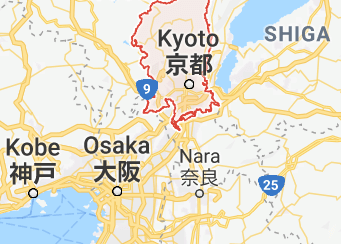 If you can not afford the time to go to Iga or Koka, there are tourist attractions that you can easily experience the world of Ninja in the center of Kyoto. That is "NINJA DOJO and STORE".
NINJA DOJO and STORE is about 3 minutes walking from "Shijo" subway station or "Karasuma" station on Hankyu train.
In NINJA DOJO and STORE, the inside of an old Japanese house is reproduced. There are weapons used by the ninja there. And you can throw a Shuriken as a ninja. Adults and children (aged 4 and older) can participate in this experience course.
Now, let's plan to make your vacation in Japan the best experience ever!