I have traveled all over Japan and stayed at various lodging facilities in various places. Among them, I will introduce hot spring inns and hotels where I actually stayed, ate, and was impressed. This time, we have carefully selected 10 lodging facilities that we would especially recommend to overseas travelers. If you are interested, please check the details and make a reservation as soon as possible.
The order in which they are listed is from north (Hokkaido) to south (Kyushu and Kagoshima).
Noboribetsu, Hokkaido
Hokkaido is vast. There are many attractive places that I would like you to visit, so please check this page for details. Anyway, there are many wonderful accommodations in Hokkaido, so I'm wondering which one to choose. This time, we will introduce hotels that are located in easily accessible places in Hokkaido, have wonderful hot springs, superb views, delicious meals, and are reasonably priced.
Takimotokan (第一滝本館)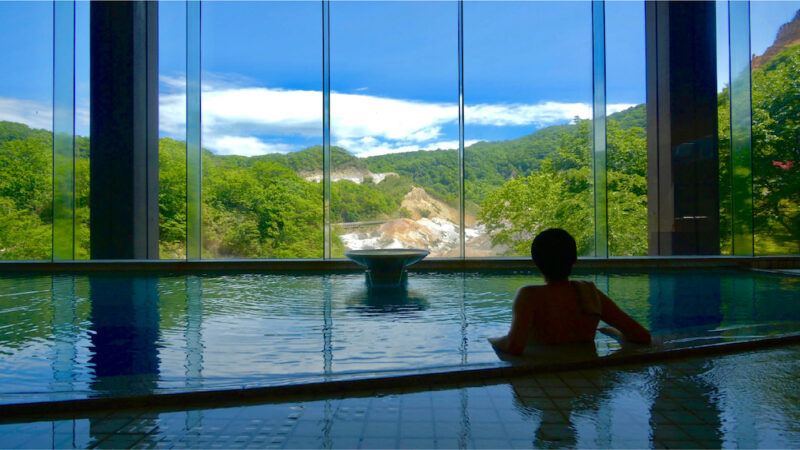 Half of the spring quality (types of hot spring ingredients) that exist in Japan is here.
The large public bath of about 5,000 square meters is the best.You can enjoy the hot springs and gourmet food while enjoying the scenery typical of Hokkaido.
There are souvenir shops, restaurants, and other places to play.
Akita, Tohoku
There are many hot spring resorts in Japan, but especially in the hot spring resorts scattered in Tohoku (northern Japan), there are still some untouched hot spring resorts that have not yet been developed for tourism. Among them, we will introduce a special hot spring inn that has been handed down since ancient times as a secret hot spring (Hitou).
Tsurunoyu (鶴の湯)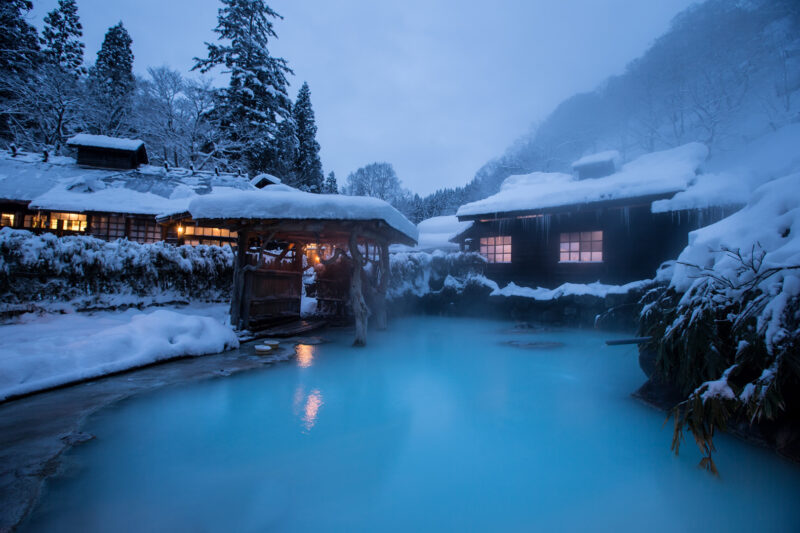 An old hot spring inn located in Nyuto Onsen, deep in the mountains of Akita Prefecture.
In the Edo period, it was a hot spring resort for the Akita feudal lord. It has four different sources. The cloudy white open-air bath is a mixed bath.
You can stay in the building where samurai stayed at the time.
Akita's specialty kiritanpo hot pot and grilled fish are the best!
Niigata, Chubu (Hokuriku)
Niigata Prefecture is about two hours from Tokyo by Shinkansen. In fact, Niigata Prefecture has the third largest number of hot springs in Japan. We will introduce a wonderful hotel in Tsukioka Onsen, which is located in the best location in Niigata Prefecture, close to the sea and surrounded by mountains and countryside.
Shiratama no Yu: Kahou (白玉の湯・華鳳)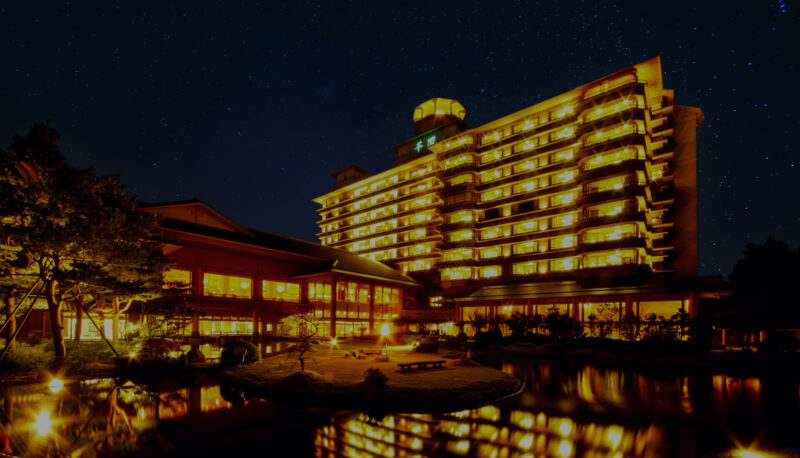 Once you pass through Kahomon Gate, you enter another world.
The view from the top of a small hill and the vast and beautiful Japanese garden of about 20,000 square meters allow you to enjoy the beauty of nature in every season.
The efficacious and spacious hot spring bath has an excellent healing effect.
Kaiseki cuisine using local ingredients is also wonderful.
Gunma, Kanto
We will introduce a hot spring inn in Shima Onsen, Gunma Prefecture, which is said to be the model for the animation movie "Spirited Away" directed by Hayao Miyazaki of Studio Ghibli. Please immerse yourself in the world of movies.
Shima Onsen: Sekizenkan (四万温泉 積善館)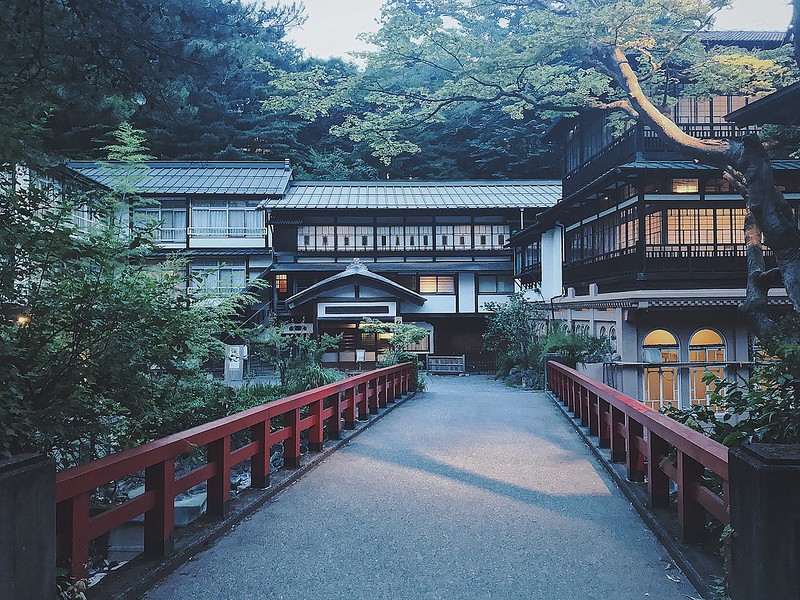 Opened in the 7th year of the Genroku era (1694). Shima Onsen's oldest hot spring.
A long-established inn with the oldest hot spring building in Japan, it is designated as an important cultural property of the country.
It looks exactly like the hot spring in "Spirited Away". It is pleasant to take a walk through hall such as maze.
Kanagawa, Yokohama
If you go sightseeing in Tokyo, it is common to stay in Tokyo. There are many hotels of various styles in Tokyo, and the subway system is laid out like a net, so it is very convenient to move around. However, I recommend staying in Yokohama. Yokohama is a stylish and calm city. It is quite possible to stay in Yokohama and visit Tokyo.
Hotel New Grand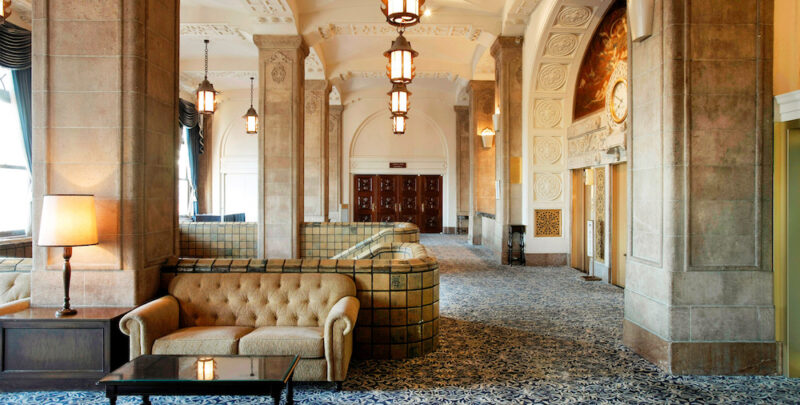 Opened in 1927, Yokohama's only classic hotel.
As a guest house in the international city of Yokohama, we have welcomed VIPs from all over the world. A historic hotel that conveys pre-war Yokohama to the present.
You can see Yokohama Port and Yamashita Park in front of you. The night scene is also unbearably wonderful.
Kanagawa, Hakone
"Hakone" in Kanagawa Prefecture, which is easily accessible from central Tokyo, is one of Japan's leading tourist destinations, and is visited by about 20 million tourists annually. There are many wonderful lodging facilities in this hot spring area, but this time we will introduce two hot spring ryokans with rare and valuable architectural styles in Hakone.
Motoyu Kansuiro (元湯 環翠楼)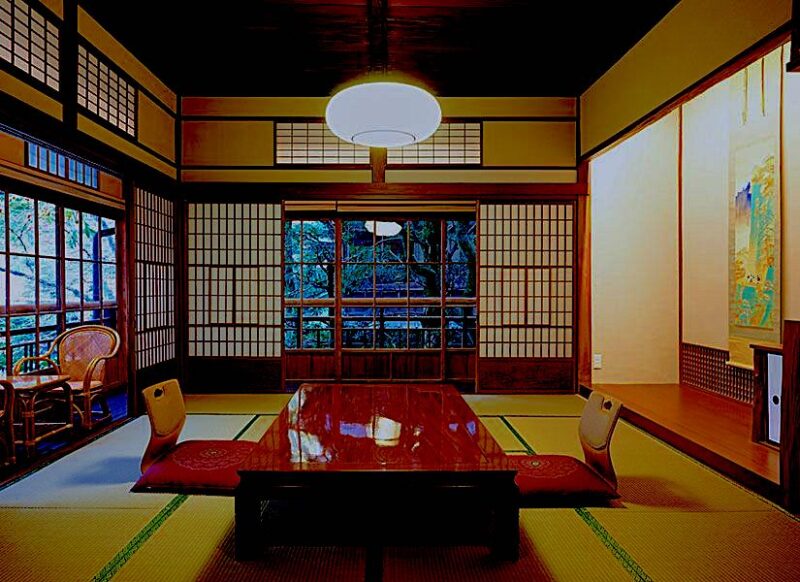 A four-story wooden building along the mountain stream, a pure Japanese inn built with the best technology and precious wood. The architecture itself is wonderful.
The fusuma paintings, ceilings, decorations, and other interior decorations are all splendid, and it is worth staying at the inn itself.
Hirobumi Ito named it. Kazunomiya, Atsuhime, Kaishu Katsu, Hirobumi Ito, Soseki Natsume, Toson Shimazaki and other writers and artists of the Meiji and Taisho eras have frequently stayed here.
Of course, the hot springs are also superb. It is said that the spring quality is excellent and effective for neuralgia and gastrointestinal diseases.
Bansuiro Fukuzumi (萬翠楼 福住)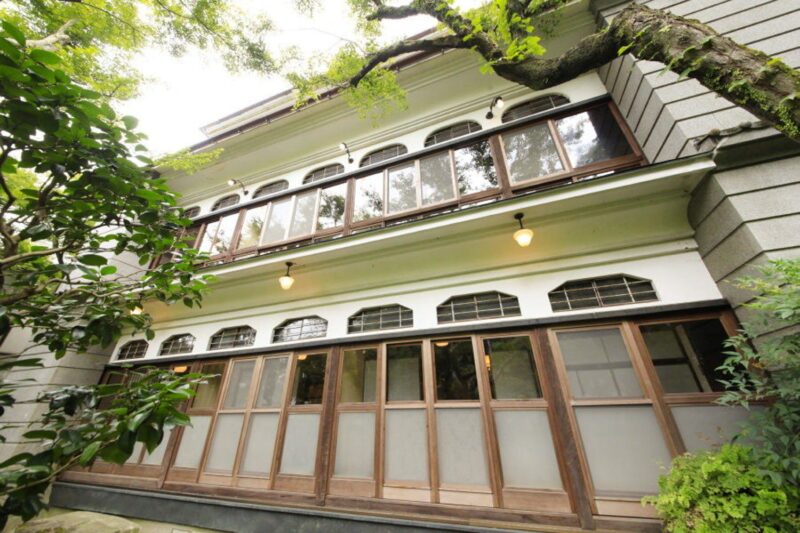 A long-established hot spring inn founded in 1625 with its own hot spring source.
From the end of the Edo period to the Meiji period, the 15th shogun Yoshinobu Tokugawa, Yukichi Fukuzawa, Hirobumi Ito, Takamori Saigo, and other great men of the time used it.
The exterior is a pseudo-Western style building, but the inside is pure Japanese style. The highest quality materials of the time were used abundantly, and the decorations are splendid.
The only ryokan in Japan designated as an important cultural property where you can stay overnight.
Kyoto, Kansai
Kyoto, Japan's leading tourist city, has so many wonderful accommodations that it's impossible to introduce them all. Among them, I will introduce the best hot spring ryokan that I highly recommend to my friends visiting from overseas.
AOI Suites at Nanzenji (葵 南禅寺別邸)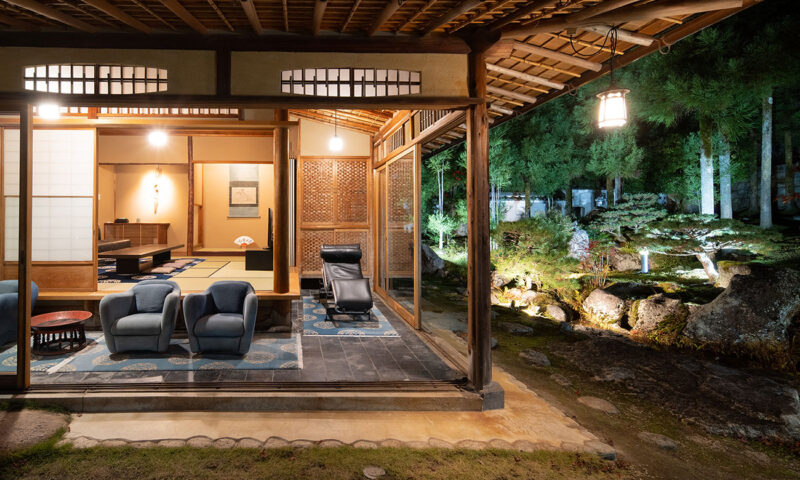 Kyoto Higashiyama loved by literati. Located next to the Philosopher's Path, in the precincts of Kounji Temple (closed to the public), this 90-year-old building has been renovated and is rented as an inn.
From the room with 3 bedrooms (each room has a bathroom) and a system kitchen, you can see the garden created by Jihei Ogawa VII, who has worked on many scenic spots.
Away from the hustle and bustle of the city of Kyoto, your own ultra-luxury space and time surrounded by silence is an irreplaceable value.
Hiroshima, Chugoku
The Setouchi coastline is dotted with wonderful towns. Onomichi in Hiroshima Prefecture is one of them. I would like to introduce you to a wonderful hotel in this wonderful city. Please stop by Onomichi when you visit Japan.
Innoshima Pension Shirataki Sanso (いんのしまペンション白滝山荘)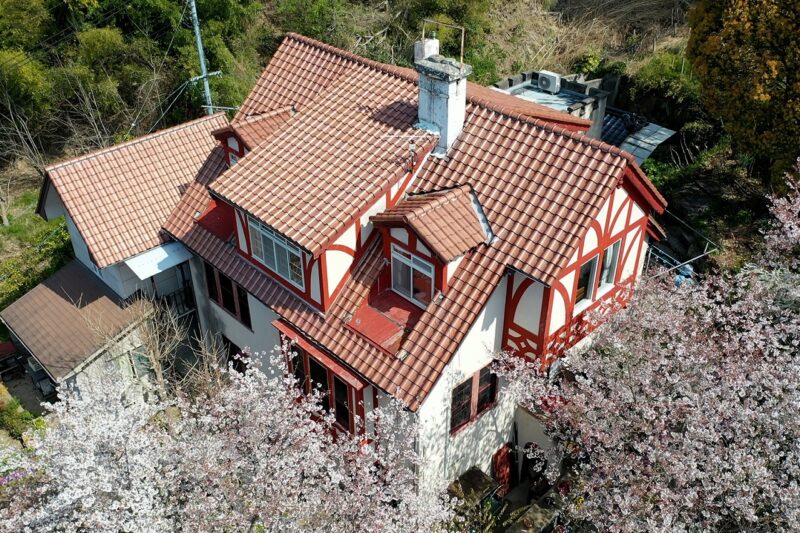 This is a pension located in Innoshima, an island in the Seto Inland Sea, which is connected to the scenic Onomichi of Hiroshima Prefecture by the Shimanami Kaido.
This is a residence built for missionaries by American Vories, who left numerous buildings in Japan, and is registered as a tangible cultural property.
The kaiseki cuisine, which is centered around seafood, is exquisite.
Kagoshima, Kyushu
The last place we would like to introduce is a special accommodation facility in Kyushu. The most famous hot spring resort in Kyushu is Beppu in Oita Prefecture, but I recommend Ibusuki, Kagoshima Prefecture, which is located at the southernmost tip of Kyushu.
Ibusuki Hakusuikan (指宿 白水館)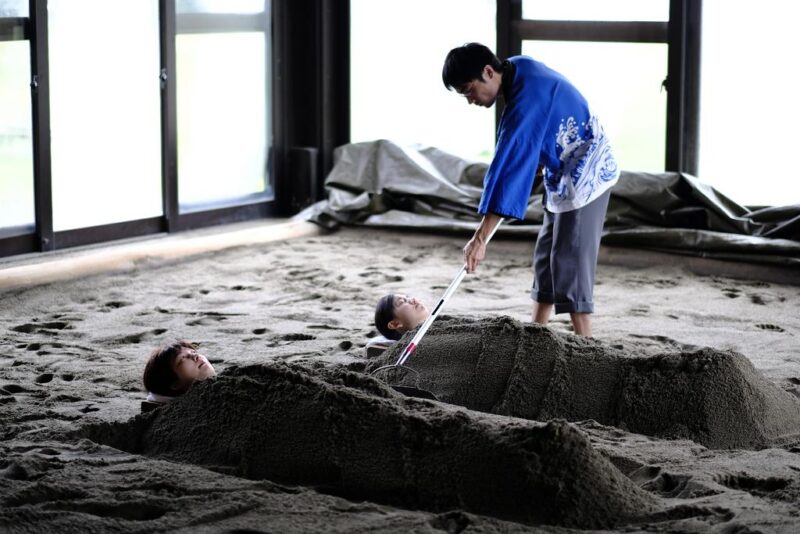 A hot spring ryokan located at the southernmost seaside of Kyushu, which used to be Shirahama and pine forests. When you enter the entrance, the green pine and the blue sea of Kinko Bay spread out in front of you.
The "sand steam bath" unique to Ibusuki Onsen is very pleasant, so be sure to experience it.
Of course, there are several types of baths that are full of Japanese atmosphere such as Taruyu, Koshiyu, and Utaseyu. The food served is also full of local products, seafood and mountain products, and is very satisfying.
Now, let's plan to make your vacation in Japan the best experience ever!