Miyazaki Prefecture is a prefecture located in the southeastern part of Kyushu. It is characterized by long hours of sunshine throughout the year and a mild climate. The most popular tourist attraction in Miyazaki Prefecture is Takachiho Gorge. In addition, the world of wild horses that inhabit Cape Toi, the southernmost tip of Miyazaki Prefecture, is a must-see. On this page, we will guide you through your trip to Miyazaki, including the attractions of Miyazaki Prefecture, places to visit and things to do.
Outline of Miyazaki
Miyazaki Prefecture has an image of being "tropical" to many Japanese. Miyazaki Prefecture has long hours of sunshine throughout the year, and tropical phoenix trees are planted here and there as roadside trees. It has a somewhat un-Japanese image, which is why it used to be a popular honeymoon destination in Japan. Nevertheless, Miyazaki Prefecture is actually a very Japanese place, closely associated with Japanese mythology. A visit to Takachiho Gorge and the nearby Takachiho Shrine will make you realize that this is a power spot that reminds you of ancient Japan. Around the Kunisaki Peninsula in the eastern part of Miyazaki Prefecture, many old Japanese traditional events have been handed down. You will encounter an old Japan that has not been developed much. At Cape Toimisaki, the southernmost point of Miyazaki Prefecture, you will encounter wild horses all around the cape overlooking the beautiful sea. The charm of Miyazaki is that this kind of experience is still possible today. In addition, it is a treasure trove of food blessed by the rich sea and mountains, and the local gourmet is also excellent.
Access
The best way to enter Miyazaki Prefecture is from Miyazaki Airport. Miyazaki Airport has international flights to and from Seoul and Taipei (Taiwan). As for domestic flights, there are flights to and from Tokyo (Haneda, Narita), Osaka (Itami, Kansai), Nagoya (Central Japan International), Fukuoka, and Okinawa. *Check flights to and from Miyazaki Airport with Skyscanner
In addition to buses, trains are available at Miyazaki Airport. It takes about 10 minutes from Miyazaki Airport to Miyazaki City, the prefectural capital, by train. Takachiho Gorge (Takachiho Town), a popular tourist spot, is located inland near the border with Kumamoto Prefecture, so it is closer to Kumamoto Airport. It takes about 2 hours from Kumamoto Airport to Takachiho by highway bus.
Miyazaki has a good public transportation system. The three railways, the Nippo Main Line, Nichinan Line, and Miyazaki Airport Line, are connected to bus centers and bus terminals, so transfers to buses are smooth. You can use trains, fixed-route buses, and sightseeing taxis to move around various sightseeing spots, so it's stress-free.
There are several passes available for efficient travel in Miyazaki. >>Click here for details.
Takachiho
Takachiho Gorge, located inland in Miyazaki Prefecture, is one of Kyushu's most popular tourist destinations. The cliffs, 80 to 100 meters high, stretch for 7 kilometers. These unique cliffs were created by the volcanic activity of Aso in ancient times. Manai Falls, the main attraction, can be viewed from the promenade or approached by rented boats. The view of the falls from below in a rented boat is very impressive. The beauty of the emerald green mountain stream is also an attraction.
The Takachiho area is said to be the place where a family of gods descended in Japanese mythology. Nearby is the cave "Ama-no-Yasugawara," where the sun goddess Amaterasu Omikami is said to have holed up. Indeed, Takachiho has such a mysterious atmosphere.
Takachiho is about 2 hours from Kumamoto Airport by highway bus. On the route from Kumamoto Airport to Takachiho, you can also enjoy the magnificent scenery of Aso.
>>If you want to know the tour menu of Takachiho Gorge, click here!
Takachiho Shrine
Takachiho Shrine is one of the most venerable shrines in Japan, said to have been founded about 1,900 years ago. The present main shrine was built in the 18th century. The shrine grounds are home to a magnificent 800-year-old giant cedar tree and a "married couple cedar" with two connected cedar trunks. It is said that if a man and a woman walk three times around the cedar tree holding hands, they will be happy. This shrine is not as large as Ise Jingu Shrine in Mie Prefecture or Izumo Taisha Shrine in Shimane Prefecture, but it is filled with a sacred atmosphere. Takachiho Shrine is a 15-minute walk from the Takachiho Bus Center.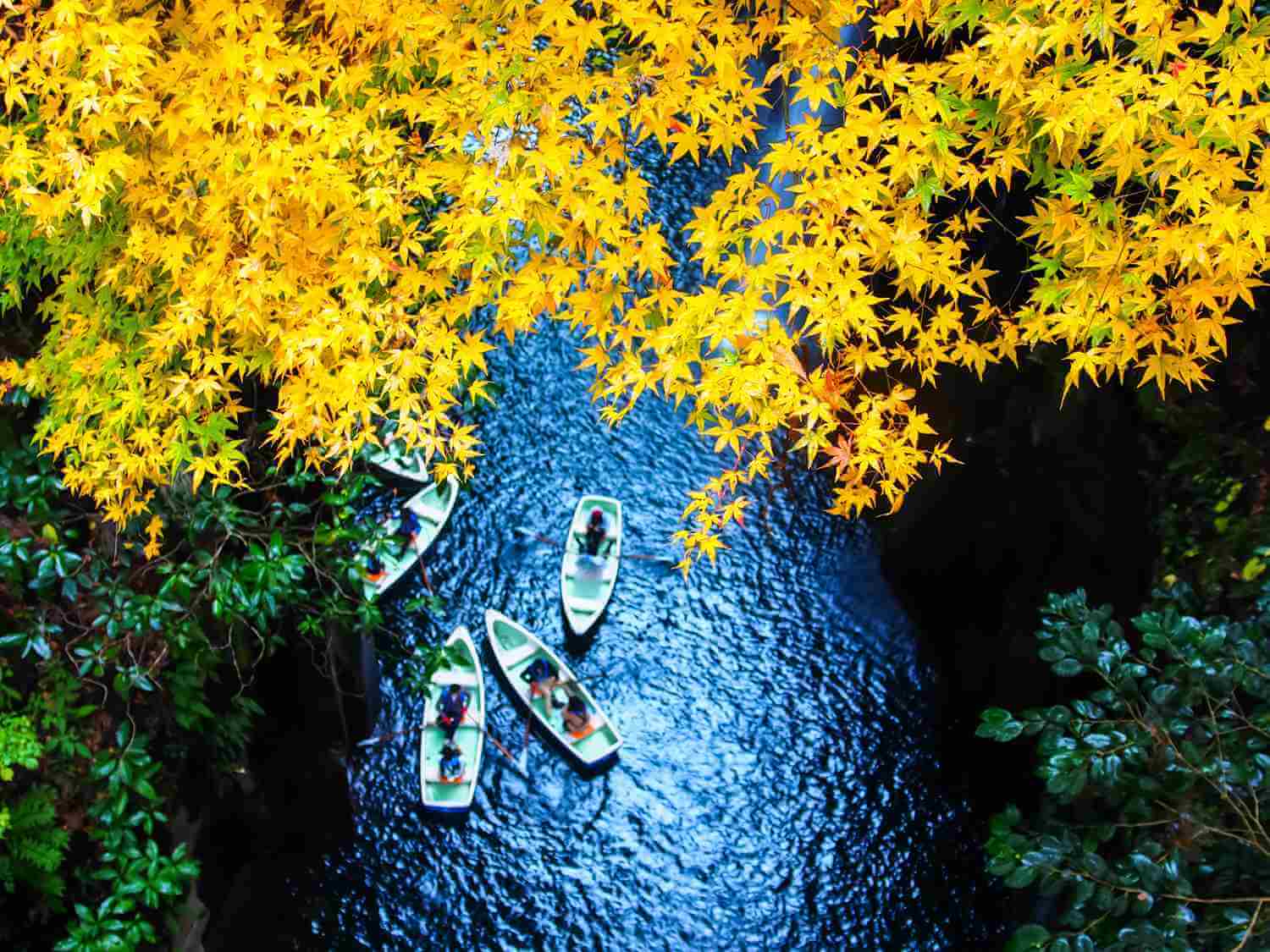 Takachiho is a mysterious land known as the home of Japanese mythology...
>>Please check the Takachiho Shrine information on Trip Advisor!
Cape Toimisaki
Cape Toimisaki is the southernmost cape in Miyazaki Prefecture, jutting out into the Pacific Ocean with a series of cliffs. About 100 wild horses of ancient Japanese origin inhabit the 500 hectares of the cape, which is divided by a fence. 300 years ago, local samurai grazed their war horses, and these horses became wild. Known as "misaki-uma," these horses are small, standing only about 130 cm tall. They graze quietly and do not mind people approaching them. However, visitors are advised to keep a distance of at least 3 meters from the horses. It is especially dangerous to stand behind the horses.
Every year around spring, about 20 foals are born, and you can observe them raising their young. There is a lighthouse at Cape Toi, and you can visit the inside of the lighthouse. There is a promenade at Cape Tsui.
It takes about 2 hours from JR Miyazaki Station to Kushima Station by rapid train. To get to Cape Toimisaki, take the Kushima City community bus (bound for Cape Toimisaki) from Kushima Station, which takes 40 minutes.
>>Please check the Toimisaki information on Trip Advisor!
Udo Shrine (Udo Jingu)
Udo Jingu is a rare shrine located inside a cave on a cliff facing the sea in Nichinan City in southern Miyazaki Prefecture. The Udo district centered around Udo Jingu is a scenic spot designated as a national scenic spot, and a spiritual spot that is said to have benefits for safe childbirth, childcare, marriage, fishing, and voyages. Locals affectionately call him "Udo-san." It is famous for its milk candy, which is said to produce milk when licked.
>>Please check the Udo Shrine information on Trip Advisor!
Aoshima
Aoshima is an island with a circumference of about 1.5 km, located in the southern part of Miyazaki City, the prefectural capital city of Miyazaki Prefecture. You can walk across the bridge.
Aoshima is one of the best resort areas in Kyushu, about 30 minutes by car from the city. On this small island, you can experience all the natural attractions of the sea, mountains and rivers.
>>Please check the Aoshima information on Trip Advisor!
Aoshima Shrine
Aoshima Shrine is located almost in the center of Aoshima. The whole of Aoshima is the precincts (sanctuary) of Aoshima Shrine, and in the past, it was a sacred island and the general public was prohibited from entering and exiting. It is a historic shrine that appears in Japanese mythology, and as a power spot with good luck in marriage, it is visited by many women, especially women. Because the entire island is covered with tropical and subtropical plants, it has a different atmosphere from other shrines in Japan.
>>Please check the Aoshima Shrine information on Trip Advisor!
Onino Sentakuita
Aoshima is surrounded by unusual wavy rocks called the "Devil's Washboard". They are also scattered along the coastline south of Aoshima.
This mysterious rugged rock was formed by long-term wave erosion after aquatic rock (sandstone and mudstone strata) formed underwater during the Neogene period (approximately 15 to 30 million years ago).
It is called the "demon's washboard" because it is so huge and powerful that a demon might use it as a washing tool. It is one of the famous spots in Miyazaki.
>>Please check the Oni-no-Sentakuita information on Trip Advisor!
Nishitachi
If you want to eat Miyazaki's local cuisine, please stop by "Nishitachi". Nishitachi is a general term for several adjacent streets centered on Nishitachibano-dori, located in the center of Miyazaki City. The locals affectionately call it "Nishitachi". This is the largest entertainment district in Miyazaki Prefecture, with a wide variety of shops such as izakayas, snack bars, and bars where you can enjoy Miyazaki's local cuisine.
If you go to Nishitachi, please enjoy Miyazaki's famous gourmet food at an izakaya (Japanese-style bar) or steakhouse. Miyazaki's famous gourmet foods are Miyazaki beef, chicken nanban, and charcoal-grilled chicken. Afterwards, hopping from store to store in search of udon noodles, beloved by the locals, and parfaits filled with tropical fruits (high-quality mangoes from Miyazaki are exquisite!) are the way to enjoy Nishitachi. Also, please experience Japan's unique homely food culture called "SNACK (bar)".
>>Please check the Nishitachi information on Trip Advisor!
Thank you for reading to the end.
If you want to check the tour menu and deals for the entire Miyazaki prefecture, click here.
Now, let's plan to make your vacation in Japan the best experience ever!
Back to "Best of Kyushu Region"