If you are going to travel Japan in the fall, what kind of trip is the most fun? In Japan, autumn is the most comfortable season in line with spring. The mountains of the Japanese archipelago are dyed red or yellow depending on autumn colors. Agricultural crops are harvested in autumn and delicious meals can be enjoyed. On this page, I would like to introduce recommended places if you are traveling in Japan.
Recommended for traveling in Japan in September, October, November
I gathered articles for each month on Japanese autumn. If you want to know such details, please refer to the following articles. If you want to know what kind of clothes the Japanese are wearing in autumn, I also wrote articles that introduced it, so visit the page if you do not mind.
Traditional cities such as Kyoto and Nara are beautiful
If you are considering traveling in Japan in the fall, I recommend you go to a traditional city like Kyoto or Nara first. There are many temples and shrines in such a town. Many of these sights are more beautiful in autumn in autumn. You will be able to refresh while you are walking around the temple and the shrine.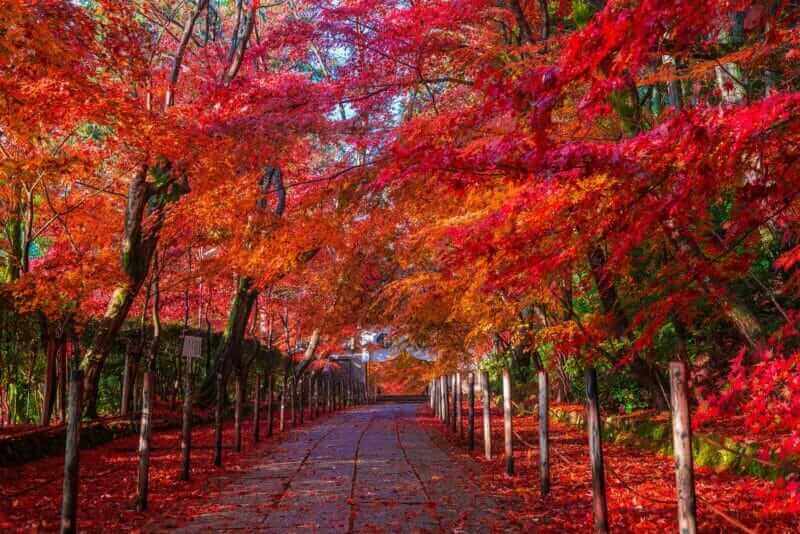 It is around the second half of November that autumn leaves can be seen in major Japanese cities. At that time especially in Kyoto, domestic and foreign tourists come and the famous shrines and temples are very crowded everywhere.
If you want to walk in autumn leaves calmly during this time, you'd better leave the hotel early in the morning if possible. Besides, it would be better not to go to only famous temples. You might as well add  locations with less tourists to your route
It may not be able to see the bright scenery like the one in the above picture at an earlier time. However, because there are relatively few tourists, you will be able to sightseeing calmly.
Nara has few tourists compared with Kyoto. You will quietly be able to walk with autumn leaves and shrines.
There are many other traditional cities in Japan as well. For example, cities such as Kanazawa in the central part of Honshu and Matsue in Western Honshu are a bit smaller, but they are recommended tourist spots to refresh your mind.
It is also recommended to go to see the autumn leaves of the mountains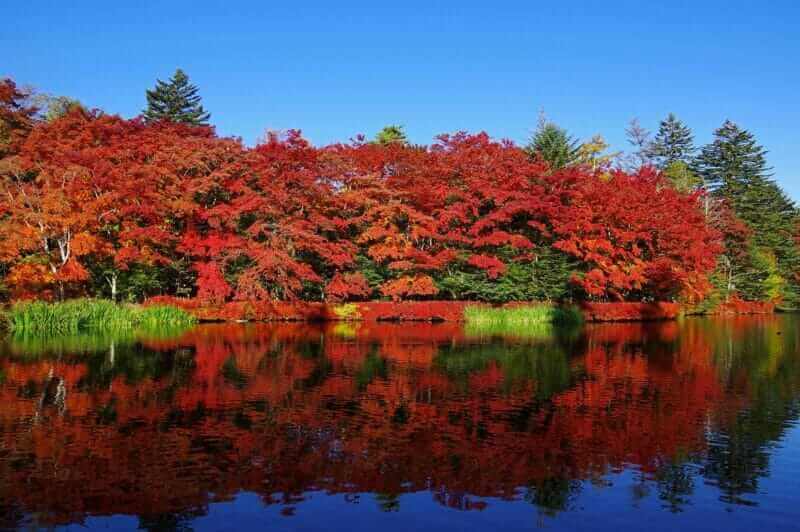 In autumn, the mountains of Japan are colored red or yellow by autumn leaves. The highlands such as Hakuba, Kamikochi and Karuizawa in Nagano Prefecture are beautiful in autumn leaves from late September to late October.
There are many places where you can easily go from Tokyo to such highlands. For example, you can go to Karuizawa in 1 hour by Shinkansen from Tokyo.
Even in Hakuba where more authentic mountains rise, you can easily go to the beautiful mountains by riding the gondola and lift from the center of Hakuba village.
Of course, when you go to the mountains, please try to collect detailed information on weather etc.
In autumn, I think you can spend really comfortable in Japan. Autumn is the most suitable for visiting various sightseeing spots in Tokyo and Osaka, as well as trying various sports. Please come and experience the fall of Japan!
Now, let's plan to make your vacation in Japan the best experience ever!