When traveling in Japan, it is always interesting to watch Japanese sports or play sports yourself.
Popular sports in Japan are sumo, baseball, and soccer. Tickets to these games are so popular that they are difficult to obtain. In addition, a variety of sports are very popular in Japan.
On this page, we will introduce three exciting sports watches and five sports that travelers can easily experience in Japan. If you like sports, why not try these experiences in Japan?
Book tickets and tours before you leave!
At first there is one thing I want to emphasize. That is the need for advance preparation. Sports competitions popular in Japan tickets are sold out quickly. Activity tours in the field are the same. The popular tours will soon be filled with reservations. So, as much as you can, you should reserve tickets and tours before departing from your country.
As for this point, I explained in the following article, so if you are interested, please refer to the following article.
3 Most Exciting Sports Watching in Japan
Sumo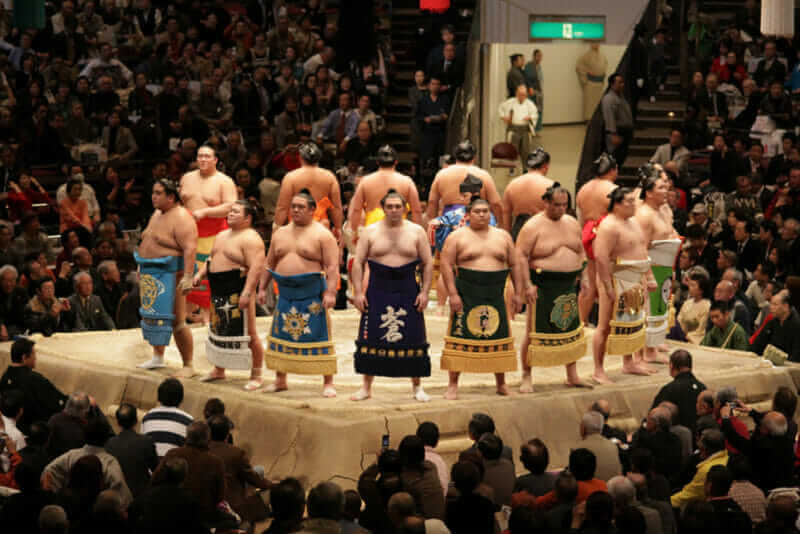 The most popular competition among tourists visiting Japan is Grand Sumo wrestling.
Sumo is a traditional Japanese sports, whose origin is in the Shinto ceremony. In Japan, sumo wrestling has been done for the gods at the shrine for a long time. Because of this aspect, even in modern times wrestlers follow traditional hairstyles and show off various traditional works before fighting.
In Grand Sumo wrestling, two wrestlers fight in a circular ring of 4.55 m in diameter. If either wrestler comes out of the ring, that sumo wrestler is defeated. Even if either wrestler is pushed down or hands on the ground, that wrestler's defeat.
The wrestlers are ranked by winning or losing. The strongest wrestlers are called "Yokozuna".
The venue for the Grand Sumo Tournament varies according to the season. In Tokyo, January, May and September at the Kokugikan in Ryogoku, each will be held for 15 days. At other times, the tournament will be held in Osaka (March), Nagoya (July), Fukuoka (November) every year.
There are various types of seats when watching sumo wrestling. The seat closest to the ring is about 15000 yen per person. These seats are very popular, so it is very difficult to book. Free seats far from the ring can be purchased at around 2000 yen.
Find a tour or tickets to experience sumo in Japan.
Baseball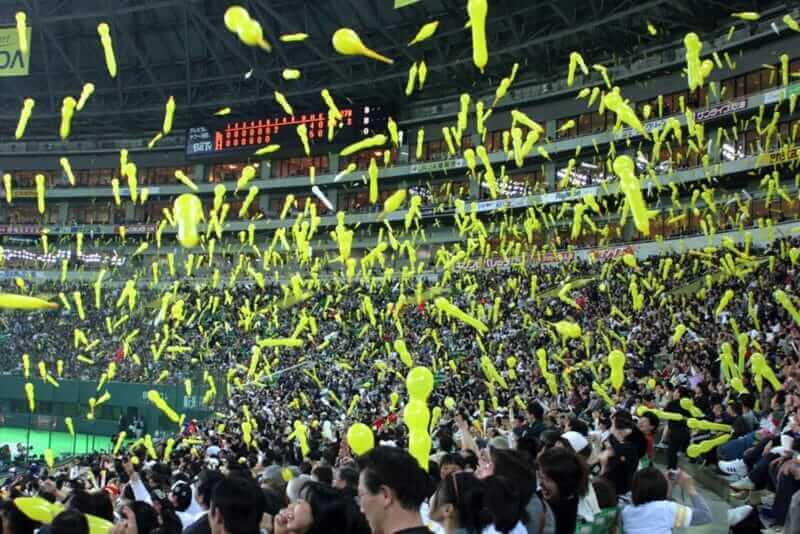 Do you know "baseball"?
Baseball is the most popular sport in Japan. This sport is born in the United States, Major League of the United States is the most famous. However, if you watch Japanese baseball, you will notice that there is a unique and entertaining atmosphere. There are ways to enjoy watching baseball peculiar to Japan. If you travel Japan during the baseball season (from the end of March to the beginning of November) I would like to recommend watching Japanese baseball.
Baseball is basically a competition where two teams of nine people compete with small white balls. The two teams alternate attacks and defenses and compete for how much they scored by attacks. When the team defends, one player throws the ball. The players on the attacking side stand in a certain position one by one and hit this ball with a bat (wooden stick). Players on the defensive side are required to capture this ball without dropping it.
There are 12 teams of baseball professional teams in Japan. These teams are basically divided into two leagues (Central League and Pacific League) and fight for a year. Baseball games are held almost every day from the end of March until late October. Finally, the winning teams of both leagues will fight and decide the best in Japan.
Basically it takes more than 2 hours for one game. The game is often held at night. Tens of thousands of spectators come to the match venue every time. The seats at the match venue are divided according to which team you support. So, you have to decide which team to support first. When the game begins, a support battle will start for each team. You will cheer the team with the surrounding audience. With this support, the spectators become one. This is almost the same as a festival. It is Japanese style to watch while enjoying "festival" lively.(Of course, you are not forcibly cheering and it is okay to eat your favorite food at your seat! )
If you watch baseball in the city center of Tokyo, you will go to Tokyo Dome or Jingu Stadium. Tokyo Dome is an indoor type stadium so you can watch without getting wet even on rainy days. This is the home ground of the Yomiuri Giants, which is the most popular team in Japan, so many giants' games will be held. Meanwhile, Jingu Stadium is an outdoor stadium. This is Yakult Swallows' home ground. The way Yakult Swallows cheer is unique. Enthusiastic supporters support the blue vinyl umbrella even if it is sunny.
A lot of food is on sale at the venue. It is quite tasty. Beers and soft drink sellers will come in your seat. They are truly smart and serviceful. Please enjoy communication with them.
Find a tour or tickets to watch a baseball game in Japan.
Football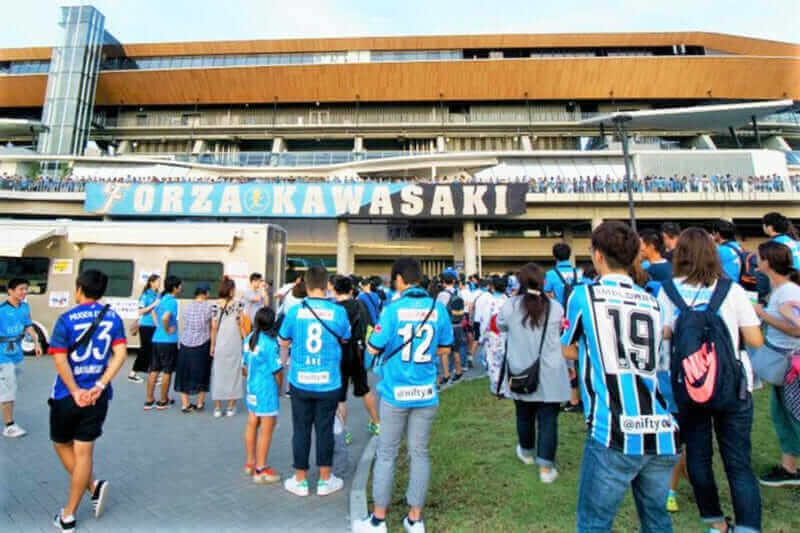 Soccer is popular in Japan as well as baseball.
In Japan there is a professional football league called "J League". It consists of three leagues ranging from "J1" where the strongest teams compete to "J3" where there are many young players. There are more than 50 professional soccer teams in total. Each of these teams is based in major cities throughout Japan, and there are enthusiastic fans in each locality. Football matches are held around the weekend.
The League game of the J League is basically held from the end of February to the beginning of December every year. Their schedule is divided into the first half of the spring and the second half of the fall. I know that the European professional football leagues begin in the fall and end in the spring. In contrast, the Japanese J League starts in the spring and ends in the fall. This is because Japanese schools are tailored to begin in April. Therefore, young people who graduated from high school or university every March can join each team smoothly.
In Japan, in addition to the games of "J1" "J2" "J3" there are some big football tournaments. Among them, Emperor's Cup All Japan Football Championship (JFA) which the Japanese soccer teams fight in a tournament manner beyond the framework of "J1" "J2" etc. is especially famous.
If you want to see football matches around Tokyo, You can enjoy at Saitama Stadium (Saitama City, Saitama Prefecture), Ajinomoto Stadium (Chofu City, Tokyo), Todoroki Athletics Stadium (Kawasaki City, Kanagawa Prefecture), Nissan Stadium (Yokohama City, Kanagawa In prefecture etc.) .
Saitama Stadium is the biggest of these stadiums. The professional soccer team "Urawa Red Diamond" which uses this stadium as a home ground is one of Japan's best teams. I most recommend you to see Urawa Red Diamond's match at Saitama Stadium.
Find a tour or tickets to watch a football game in Japan.
5 Outdoor Sports Activities Recommended in Japan
I would like to comment on five representative sports you can enjoy in Japan. I will introduce those sports including the most recommended places.
Winter Sports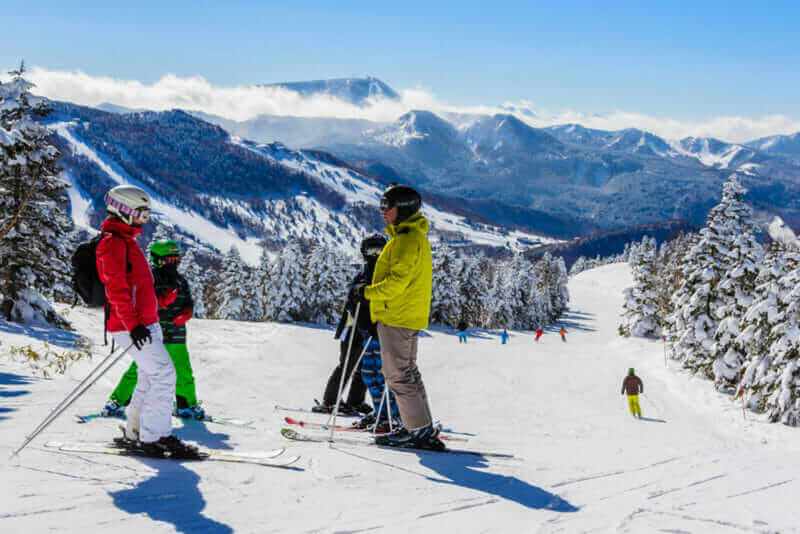 Some parts of Japan are known for being very snowy worldwide. In those areas, you can enjoy skiing and snowboarding in the winter (roughly December to March).
Even if you are a novice who has never skied or snowboarded before, there is absolutely no problem. If you go to the ski resort, you can rent ski wear and ski equipment. For most ski resorts, the foot area is built for beginners. You can practice skiing and snowboarding on a gentle slope. After half a day, you will be able to slide. Of course you can also receive practical guidance that is actively held. In many cases, reservation is unnecessary.
If you are an experienced skier or snowboarder, please enjoy the snow quality of Japan by all means. The ski resort in Hokkaido and Nagano Prefecture of Japan has very good snow quality. What I recommend especially is Niseko ski resort in Hokkaido and Hakuba ski resort in Nagano prefecture. Both of the snow quality and the course are wonderful.
Generally speaking, in Hokkaido, you can enjoy snow activities in a vast ski resort with relatively low altitude. On the other hand, in Nagano prefecture, you can play in the mountainous areas where you can see the snowy mountains around 3000 m in altitude. Of course, both are wonderful!
Niseko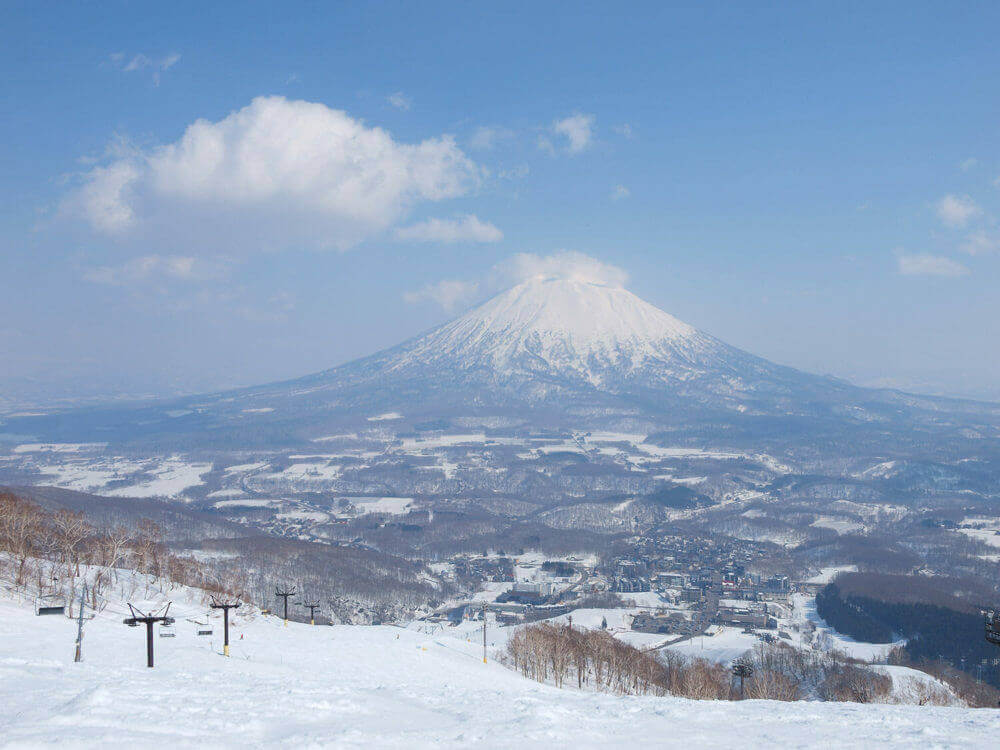 If you experience snow activities in Japan for the first time, I recommend you go to Niseko in Hokkaido. Because Niseko has a vast ski resort with wonderful snow quality. Niseko is full of accommodation facilities. You can also enjoy hot springs at accommodation.
Every year Niseko gathers a large number of foreign tourists. So Niseko has many English speaking staff. Even if you can not speak Japanese, there is not much trouble.
Find tours and activities in Niseko.
For Niseko, I introduced in detail in the following article. If you do not mind, please take a look at this article as well.
Hakuba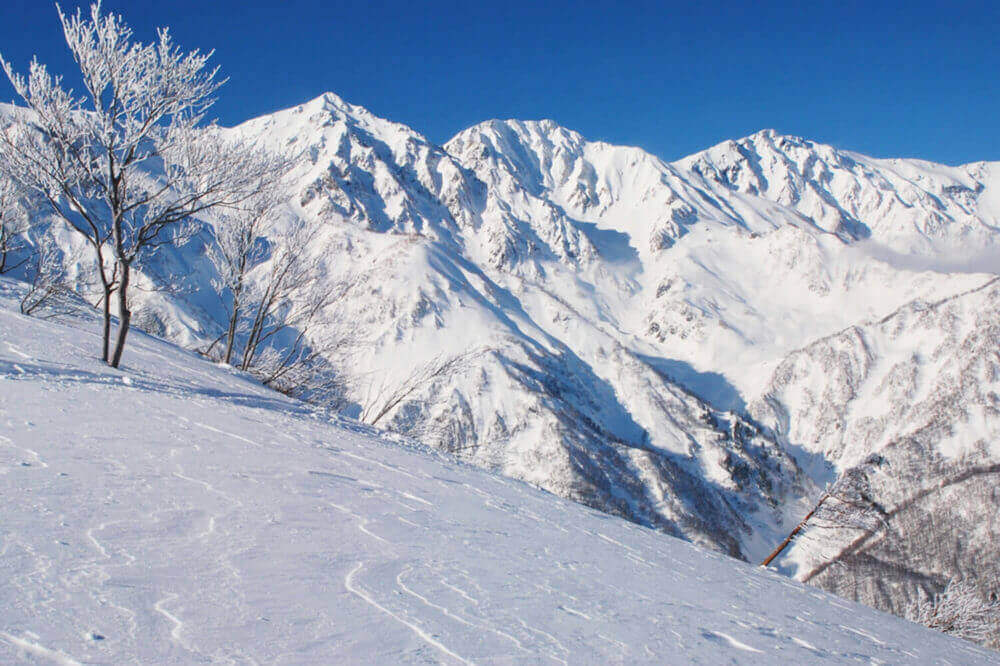 The mountains in Nagano Prefecture are called "Japan Alps" and the beautiful mountains are linked. Hakuba is surrounded by the mountains and blessed with wonderful snow quality.
In Hakuba you can go near the top of the snowy mountain almost by gondola and lift. From there you can go downhill skiing and snowboarding to the foot of the mountain.
Even in Hakuba you can enjoy hot springs. Niseko is also nice, but Hakuba is also hard to throw away.
Find tours and activities in Hakuba.
For ski resorts such as Niseko and Hakuba, the following articles are also available.
Swimming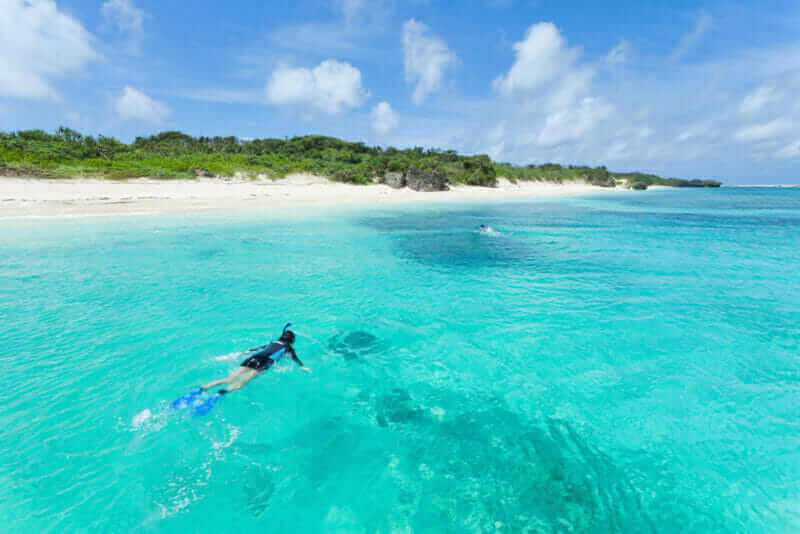 Japan is an island country surrounded by the sea. So you can see a lot of beautiful seas in Japan. If your primary purpose is to swim in the sea, enjoy the resort life at the beach in Japan. I would like to recommend you the ocean of Okinawa. For the beaches of Okinawa, please refer to the following article.
If you want to swim in the sea somewhere alongside sightseeing in Tokyo, in that case I will recommend Shonan Sea in Kanagawa Prefecture. Let's go to Katase Enoshima station by using Odakyu Electric Railway from Shinjuku Station. If you board the express train "Romance car", the required time is approximately 1 hour and 10 minutes. After getting off at Katase Enoshima station, the beach is spreading in front of you. In Honshu like Kanagawa Prefecture, you can swim from the beginning of July to the end of August.
Find tours and activities in Kamakura and Enoshima
Golf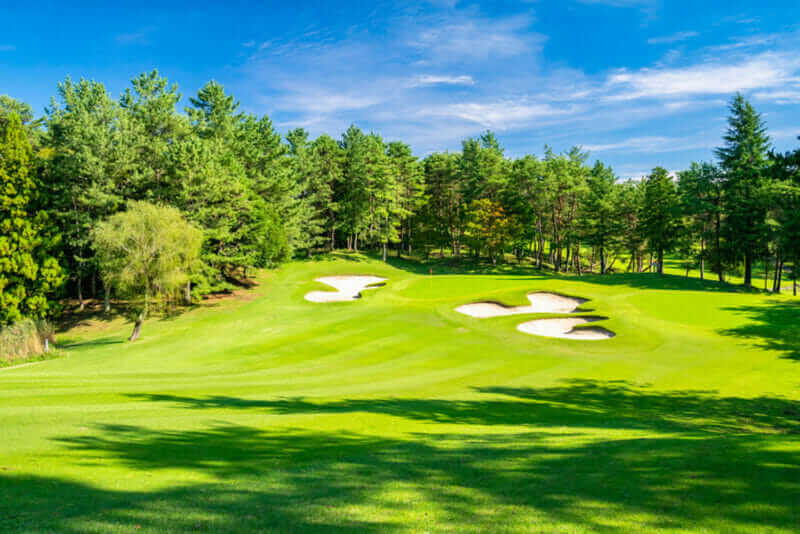 There are about 2,400 golf courses in Japan. It is not well known, but Japan is one of the countries with the largest number of golf courses in the world. Moreover, golf courses are rich in variety, such as near mountains, near the sea, even near big cities. In the course you can move by electric cart. Golf equipment made in Japan is gaining popularity with rental use.
However, the Japanese golf course is not yet very active in accepting foreign tourists. When you see the website of the golf course in Japan, you will first find that you can not book in English. When you actually go to the golf course, you may be confused as there is little English display. Japanese golf courses really want to be visited by foreigners, but they are still in transition now.
In such circumstances, I would like to recommend you specifically to the golf courses in Okinawa. There are many good courses in Okinawa. Moreover, in Okinawa, people from the US military and their families often use golf courses, so they can respond to English. Especially the golf course of Kanucha Bay Resort Corresponds to English, Chinese, Korean and also employ foreign staff.
There are about 150 golf courses in Hokkaido. Among them, the North Country Golf Club near New Chitose Airport is keenly working to respond to English. If you go to such a golf course, you will surely be able to make wonderful memories.
If you are interested, please check the website of the only travel agency in Japan specializing in golf tours for foreigners visiting Japan.
Find tours to play golf in Japan.
Luxury golf tours from Tokyo to Osaka for sightseeing while golfing are very popular.
Running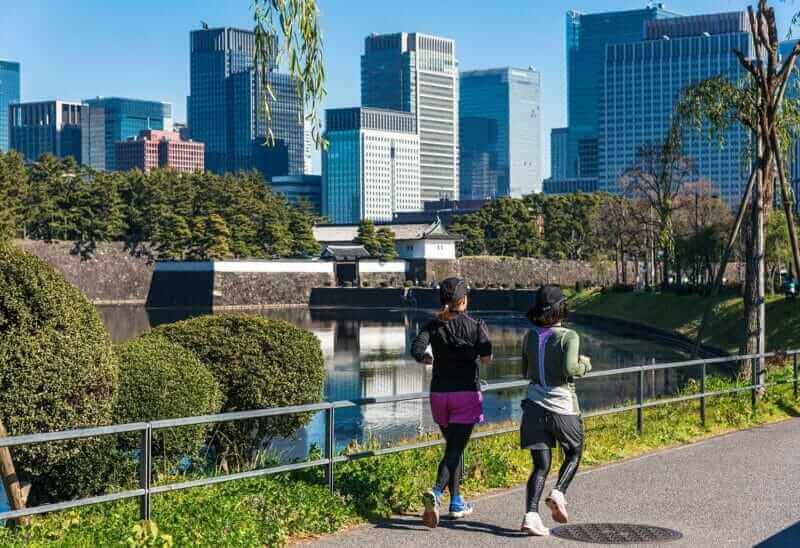 Japanese like running. There are so many people who are running every day. If you go to Japan, you will meet people who are running in any city. If you ask the staff at the hotel you stay, you may be taught a popular running course in that city.
If you want to run in Tokyo, I definitely recommend running around the Imperial Palace.
In the center of Tokyo there is the Imperial Palace (Kokyo in Japanese). It was a castle once. Running around the Imperial Palace one lap will be about 5 km. There are occasionally up and down. There are quite a lot of people running here.
The running course of the Imperial Palace has many advantages. First, there is no signal on this course. Secondly, there are policemen who protect the Imperial Palace in and around this course, so it is a very safe course. Third, if you run this course, you can enjoy the historical landscape, the landscape of the building streets, and even the beautiful nature that can not be thought of as a city. Fourth, there are paid shower facilities that support joggers around the course.
Map of shower facilities around the Imperial Palace
Recommended Running Spots in Tokyo (video)
Footage of the Imperial Palace area starts at 4:19~
Cycling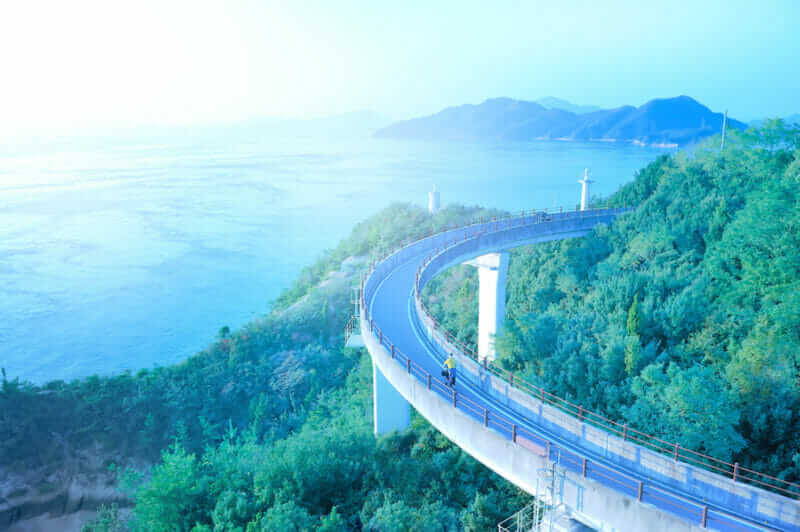 There are various services of bicycle rental in Japan as well. You can rent a bicycle in most cities and sightseeing spots. However, there are not many bicycle exclusive roads in Japan. You have no choice but to choose between driving or sidewalking. The roadway is dangerous and the sidewalk can not run so fast because there are pedestrians. There are people who use rental cycle in Kyoto, but I can not recommend it much. Please be careful not to be in a traffic accident.
Check out our menu of cycling-related activities to experience in Japan!
Although cycling usually accompanies danger in Japan, there are also excellent cycling courses at the countryside sightseeing spots. The most popular cycling course is "Shimanami Kaido (Shimanami Sea Route)" in western Japan.
It is a course that connects Honshu 's Onomichi City (Hiroshima Prefecture) and Shikoku' s Imabari City (Ehime Prefecture) about 75 kilometers (about 60 kilometers in a straight line distance).
This course is called "Holy Land of the Cyclist" and many cyclists visit from all over the world.
Advantages of this course are as follows. First, Shimanami Kaido is a unique course that allows you to ride a bicycle over the sea between Honshu and Shikoku. There are huge suspension bridges hanging over the six small islands in between, you can run over the bridges. Moreover, apart from the roadway, the way that people and bicycles can run with confidence is maintained.
Secondly, Shimanami Kaido has 13 rental cycle terminals, you can borrow and return bicycles at any terminal. You do not have to return to the terminal where you bought the bicycle first, you can return the bicycle at a different terminal (however, it costs 1000 yen additional charge). You can ride a bicycle only for your favorite section of Shimanami Kaido. If you feel tired, you can return the bicycle at some terminal and return by bus or ferry.
If you are a beginner, the distance you can run in an hour in this course is around 10 km. Including break time and sightseeing on the way, it will take about 10 hours to run all on one way. A person with physical strength will take around 4-6 hours. Since there are considerable ups and downs in this course, please make sure not to make an unreasonable schedule.
Now, let's plan to make your vacation in Japan the best experience ever!