Shizuoka Prefecture is located on the Pacific Ocean side between Tokyo and Nagoya. To the east of Shizuoka Prefecture, there is Mt. Fuji between Yamanashi Prefecture. When you take the Shinkansen from Tokyo to Kyoto, you can see Mt.Fuji from the window on the right. Fuji seen from the Shinkansen is behind a factory in Shizuoka prefecture. Maybe you were disappointed that Mt.Fuji is with the factory. However, Mt. Fuji has a history with people on the Pacific side. And Mt.Fuji provides abundant water to the factories on the Pacific Ocean side. Please understand that Mt. Fuji is such a familiar mountain. If you want to see Mt. Fuji surrounded by rich nature, it might be better to see it from Yamanashi prefecture in the north.
On this page, we will guide you on the attractions of Shizuoka sightseeing and places to visit.
Outline of Shizuoka
Shizuoka Prefecture is located almost halfway between Tokyo and Nagoya. From Tokyo to Shizuoka City, the central city of Shizuoka Prefecture, it takes about 1 hour at the fastest by Shinkansen. It can be accessed by plane from Sapporo, Fukuoka, Kagoshima, and Naha.
The highlight of Shizuoka is Mt. Fuji, the highest peak in Japan and a UNESCO World Heritage Site. Many tourists come to Shizuoka to see Mt.Fuji, climb the mountain, and enjoy the natural beauty of the surroundings.
Another popular spot in Shizuoka is Izu. Izu is a peninsula that juts out into the Pacific Ocean. This is an old hot spring area and a scenic spot. Enjoy hot springs, beaches, and outdoor activities such as hiking and biking. Therefore, there are many villas. Seafood dishes such as sushi and sashimi made with fresh ingredients from the Izu coastal waters are also popular.
The nearest Shinkansen station to Izu is Atami. From Tokyo to Atami, it takes about 40 minutes by the fastest Shinkansen.
There are rail passes that allow unlimited rides on Shinkansen and local trains. >>Check here to see if there is a pass for you.
Mt. Fuji Sightseeing
Mount Fuji is 3,776 meters above sea level. Although it is not that high by world standards, it is the highest mountain in Japan and the most beautiful mountain in Japan. At least Japanese people think so.
As Japan's sacred mountain for centuries, Mount Fuji has inspired many Japanese legends and myths. It has also been the subject of many works of art, including poetry and paintings. Even today, it is a popular spot for hikers and tourists to climb to the summit to experience its beauty. Climbing Mount Fuji is a popular activity, especially during the summer when the weather is nice. The view from the top is breathtakingly beautiful.
In addition, from the five lakes surrounding Mt. Fuji, you can see the beautiful Mt. Fuji, and enjoy boating and fishing, making it a resort area that many people visit.
Mt.Fuji is a must-see when visiting Japan. Since it can be seen from the sky, an announcement may be made in the aircraft when it reaches the sky above Mt. Fuji. You can also see Mt.Fuji from the windows of Shinkansen and conventional trains.
Here are some recommended viewpoints where you can see Mt. Fuji beautifully. Please refer to the article linked below. In addition to famous shooting spots, we also introduce lesser-known spots.
Things to do in Izu
The Izu Peninsula in Shizuoka Prefecture has many wonderful places to visit. The summer season is especially recommended, and the sea and mountain experiences are the best. Below are some of the more popular spots.
Kinomiya Shrine
"Kinomiya Shrine" is a shrine located about 5 minutes by car from the center of Atami. It has long been worshiped as a god of good luck and luck. Even now, many tourists visit the shrine in search of good luck.
Next to the main hall is a 2,000-year-old sacred camphor tree with a trunk thickness of 24 meters, which has been designated as a national natural monument, and is also famous as a power spot. It is said that if you go around the trunk without making a wish, your life will be extended by one year. Please visit when you visit Atami.
>> Click here if you want to know the overview of Kinomiya Shrine and the tour menu etc.
Chikurin-no-komichi (Shuzen-ji Temple)
The Chikurin no Komichi is a stone-paved path that passes through a bamboo grove in Shuzenji, one of Izu's leading hot spring towns with a history of 1200 years. It is located along the Katsura River, and has a beautiful green bamboo grove, stone pavements, hedges and bamboo fences along the walking path, creating a space with a Japanese atmosphere. After sunset, it is lit up until around 23:00, creating a more magical atmosphere.
The five red bridges here are especially popular among young women as power spots for fulfilling love. It is said that if you make a wish, cross the five bridges, and pray at Shuzenji, your wish will come true.
>> Click here if you want to know the overview of ChikurinnoKomichi and the tour menu etc.
Joren Waterfall
Joren Falls is located almost in the center of the Izu Peninsula. It has long been known as one of the largest waterfalls in Izu. It is one of the top 100 waterfalls in Japan and is one of Izu's standard sightseeing spots.
It is a powerful waterfall with a height of 25m and a width of 7m. Just by standing in front of it, you can immerse yourself in a refreshing feeling that will purify your mind.
Right next to the waterfall, you can admire the "columnar joints" that form when the lava cools down. In addition, an evergreen fern called "Haikomochi fern", which is registered as a national natural monument, grows in colonies. The beautiful scenery that can be seen together with the overwhelming flow of water is a must-see.
>> Click here if you want to know the overview of Joren Falls and the tour menu etc.
ACAO FOREST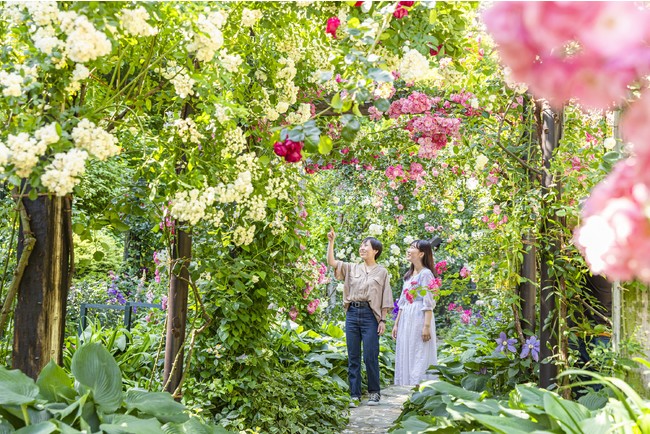 "ACAO FOREST" is a vast garden located on a small hill in Atami City, Shizuoka Prefecture. Until 2022, it was called "ACAO Herb & Rose Garden". This is a must-visit place, especially for fashionable girls.
As a paradise of flowers, you can enjoy beautiful flowers in every season. A shuttle bus is available to move around the park, and there are 12 elaborate gardens, shrines, cafes, and more.
It is also known as a popular photo spot on social media where you can take pictures of a swing that makes you feel like you are floating in the air, and pictures of the ocean.
>> Click here if you want to know the overview of ACAO FOREST and the tour menu etc.
MOA Museum of Art
"MOA Museum" is a private art museum located in Atami City, Shizuoka Prefecture. The museum boasts a collection of about 3,500 items, including three national treasures and cultural properties, centered on paintings, sculptures, and crafts of Eastern art.
The location is great here. Located on the hills of Atami, from the main lobby you can enjoy a 180-degree panorama of Hatsushima, Izu Oshima, Boso Peninsula, Miura Peninsula, and Izu Peninsula.
There is also a café and restaurant inside the hotel, where you can enjoy healthy dishes using coffee made from rare coffee beans and ingredients from the own farm. There is also a Japanese garden on the premises, where you can drink tea in the tea room with the beautiful scenery of the four seasons.
>> Click here if you want to know the overview of MOA Museum and the tour menu etc.
Mount Omuro
"Mount Omuro" is a mountain designated as a national natural monument located in Ito City, Shizuoka Prefecture. It is said that it is a model because it resembles the mountain that appears in the movie "Your Name".
Mount Omuro is a dormant volcano with an altitude of 580m. You can go to the top of the mountain by lift. It is famous for the "ohachi-meguri" walking trail around the crater, which is about 1km in circumference, and people can walk 360 degrees around the crater. The panoramic view of Mt. Fuji, the Southern Alps, the seven islands of Izu, and the Boso Peninsula is spectacular.
In the spring, the 700-year-old "Omuroyama Yamayaki" is held, and the magnificent traditional event of burning the entire mountain is known as a spring tradition of Ito.
There are restaurants where you can enjoy lunch and souvenir shops in the area, and it is known as a popular sightseeing spot in Izukogen.
>> Click here if you want to know the overview of Mount Omuro and the tour menu etc.
Other Tourist Attractions in Shizuoka Prefecture
Mishima Skywalk
A must-see spot in Shizuoka is the Mishima Skywalk (Mishima Suspension Bridge) in Mishima City, Shizuoka Prefecture.
Boasting a length of 400m, it is the longest pedestrian suspension bridge in Japan. Construction was completed in 2015, and it is a popular spot that has been visited by about 1.6 million people in the first year since it opened.
On both sides of the bridge, there are athletic parks, dog runs, observation areas, etc., making it a leisure spot that families can enjoy. The nearby long zip line is very popular because you can feel like a bird while looking at Mt. Fuji.
It takes about an hour and a half by car from Tokyo, or about an hour by Shinkansen, so you can fully enjoy it even on a day trip from Tokyo.
>> Click here if you want to know the overview of MishimaSkywalk and the tour menu etc.
Sumatakyo Valley
Sumatakyo Valley is a scenic spot in Shizuoka called the "Dream Suspension Bridge".
Legend has it that if you wish for love in the center of the bridge, it will come true, and it is also known as a spiritual spot for marriage.
The eye-catchingly beautiful suspension bridge over the milky blue lake has been nominated as one of the 10 best walking suspension bridges in the world that you want to cross before you die.
The popular hiking course that crosses the bridge takes about two hours, allowing you to leisurely stroll through the spectacular scenery and rich nature.
Sumatakyo Onsen is located at the entrance of the hiking course. This hot spring has a reputation as a "beauty-making hot spring."
>> Click here if you want to know the overview of Sumatakyo Valley and the tour menu etc.
Numazu Deep Sea Aquarium
"Numazu Deep Sea Aquarium Coelacanth Museum" is Japan's only deep-sea fish aquarium. Because you can see live deep-sea fish, it is a state-of-the-art aquarium that attracts experts from all over the world.
Although it varies depending on the season and time of year, you can meet about 60 species and as many as 1,500 deep-sea fish. The more you look at it, the more unusual the fish are, and both adults and children will be thrilled. In particular, the frozen specimen of the "living fossil" Coelacanth, which has survived for 350 million years, is a unique and valuable exhibit in the world.
It is a unique facility where you can heal your mind and satisfy your intellectual curiosity by experiencing the world of the deep sea.
>> Click here if you want to know the overview of Numazu Deep Sea Aquarium and the tour menu etc.
Thank you for reading to the end.
Now, let's plan to make your vacation in Japan the best experience ever!
Back to "Best of Chubu Region"