Where can I go in Japan if I want to see, experience, or buy traditional Japanese crafts?
On this page, we introduce 8 unique Japanese traditional crafts, still passed down through Japanese craftsmanship, through articles and videos.
The button under each article links to the program introduction page where you can experience traditional crafts. If you are interested, please click to see the details.
Edo Kiriko (Japanese Cutglass) : Glass making experience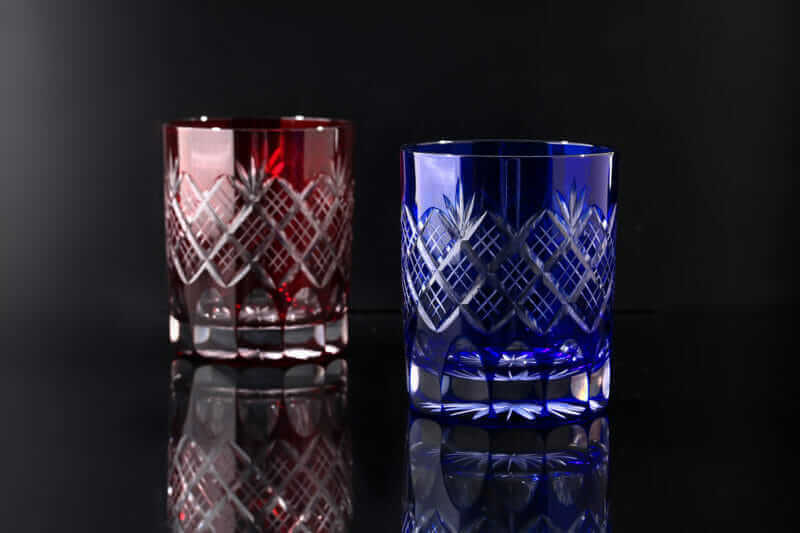 There is a cut glass called Edo Kiriko as a representative traditional craft product in Tokyo.
Edo Kiriko is a very finely decorated glass product as seen in the picture above. This decoration is done manually by skilled craftsmen. They press the glass against a small polishing machine and decorate it patiently.
Video of Edo faceting production process
Edo Kiriko began to be built from the first half of the 19th century. Foreigners who came to Japan since the middle of the 19th century were surprised by the beauty of Edo Kiriko. After that, a lot of Edo Kiriko was produced and exported in Japan. However, since we lost a lot of craftworkers in World War II, only a few studio continues to make Edo Kiriko after that.
In Tokyo, you can experience making this Edo Kiriko. It is especially popular among foreigners. If you are interested, please click the button below and follow the link for more information.
Kinpaku (Gold Leaf)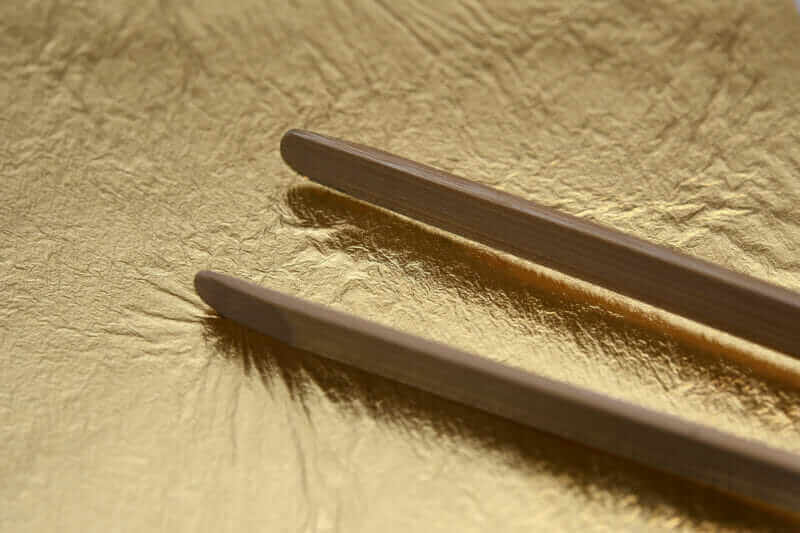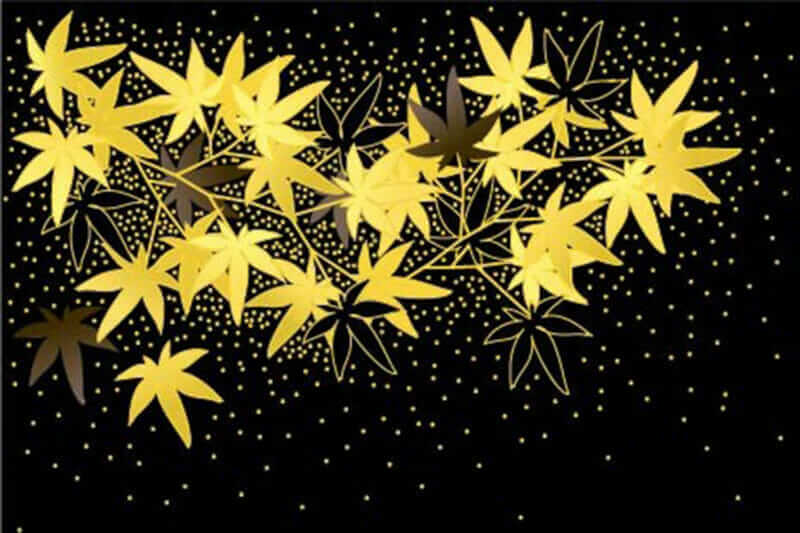 Gold foil is made by thinly extending gold. It is said that about 10 square meters of gold leaf can be made with gold of about 1 cubic centimeter.
In Japan in the latter half of the 16th century when the samurai continued fighting, the leading Samurai generals made buildings, bowls, swords and the like using gold leaf as a symbol of power. Later, craftwork using gold leaf was made one after another in cities such as Tokyo, Kyoto, Kanazawa. Even now, the production of craftworks using these gold leafs is continuing in Kanazawa City.
Kanazawa City is a beautiful traditional city on the Japan Sea side in central Honshu. This is suitable for producing gilt because it is kept relatively high humidity throughout the year than in other areas. If you want to know more about Kanazawa, see the article on this page.
Kanazawa is also a producing place of craft using noises. As seen in the above picture, gilded leaf is often applied to craft using noises. If you walk through the streets of Kanazawa, you will see such beautiful crafts. Furthermore, in Kanazawa, you can also eat ice cream with gold leaf as seen in the above video. In Kanazawa we also add gold leaf to sweets and alcohol. Of course, you can eat gilt without problems. If you go to Kanazawa, please eat lots of "gold products".
Video showing how gold leaf is made
If you are interested in experiencing gold leaf, click the button below to check out the various programs.
Kintsugi Repair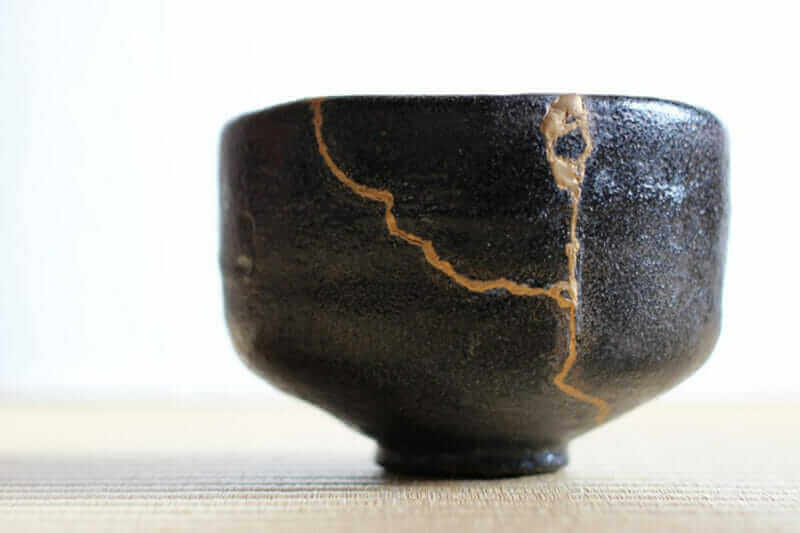 In Japan, gold has also been used when repairing broken ceramics and the like. When joining pieces together, gold was used together with the noises. The pottery restored in this way is beautifully made up with gold. We call these technologies and crafts "Kintsugi" or "Kintsunagi".
As for Kintsugi, I have already introduced in the following article, so if you are interested, please also see the following article.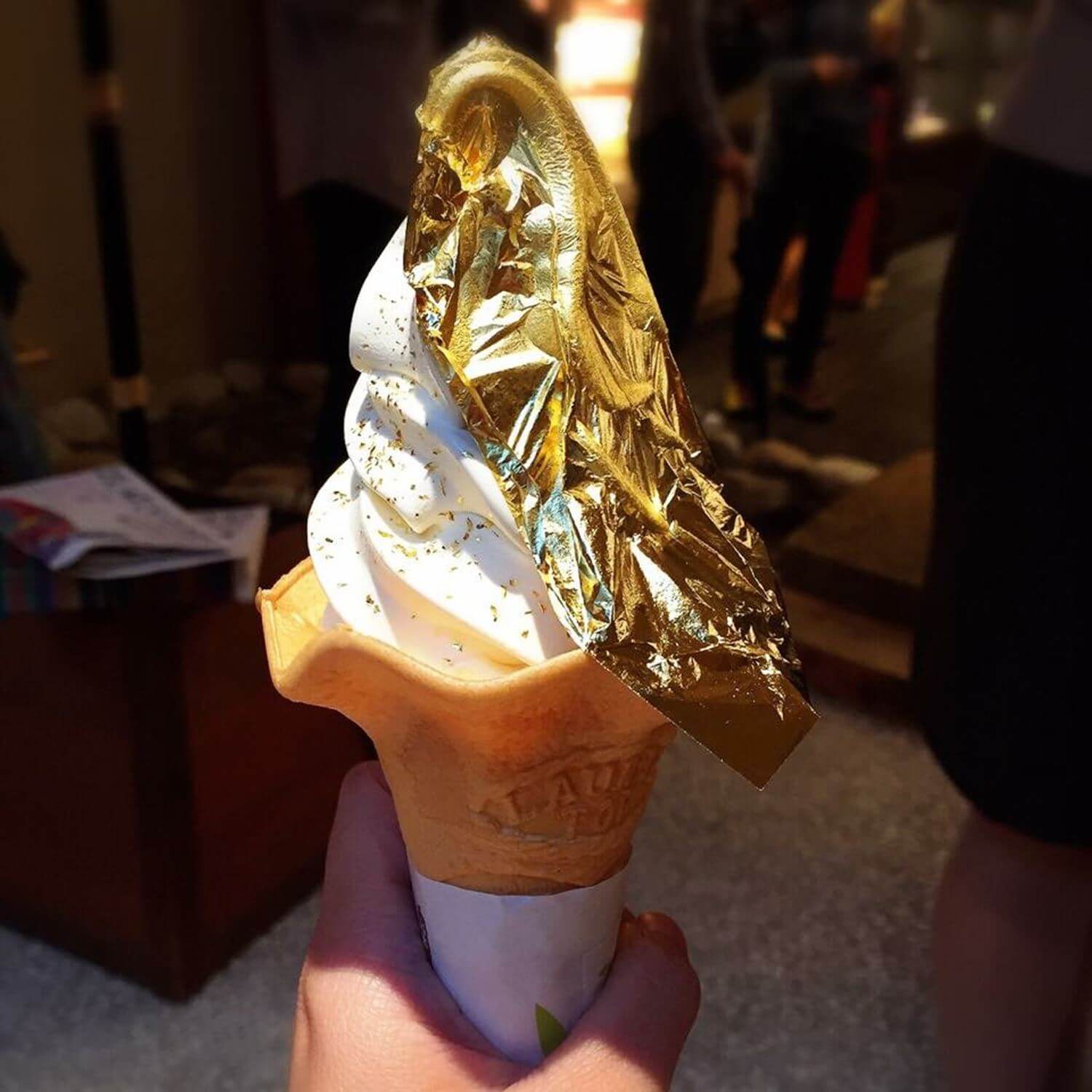 In Kanazawa, Ishikawa Prefecture, the traditional culture of using gol...
Video of an example of Kintsugi
Would you like to experience Kintsugi? Click the button below to check out our Kintsugi experience program.
Kokeshi Doll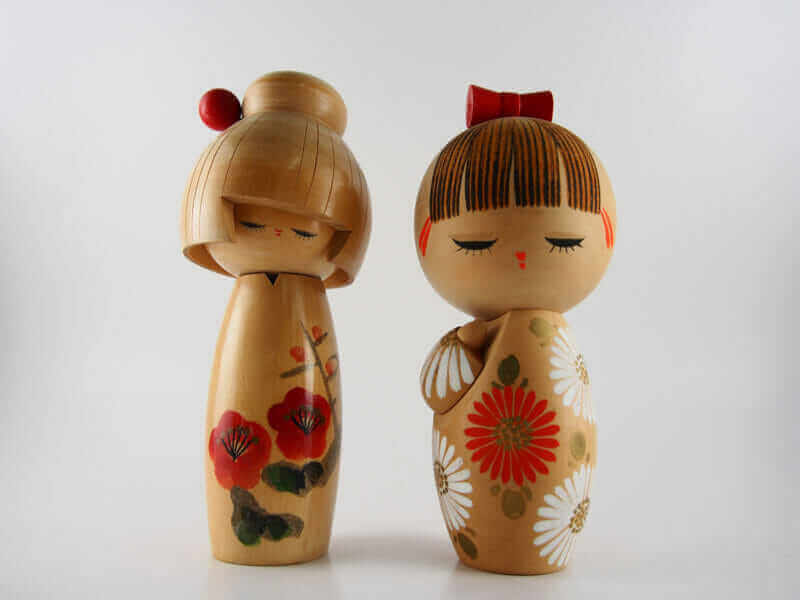 Kokeshi is a wooden doll that was made in the Tohoku region in the 19th century. As seen in the above picture, Kokeshi is made by cutting trees. In the past it was very simple, but recently, kokeshi of a very pretty design is also increasing. You probably will see Kokeshi in the souvenir shops around the country.
Kokeshi was sold as a souvenir at the hot spring resort in Tohoku district at first. The farmers who came to the hot spring bought for their children and went home. Farmers bought kokeshi for themselves as lucky to bring about good harvests.
Recently, Kokeshi has been drawing attention among women. There are an increasing number of women buying kokeshi to decorate the room. Kokeshi is going to evolve further as an interior in a modern life.
If you want to know more about Kokeshi, travel in Tohoku region would be nice. You are planning to travel in the Tohoku region of Japan, please refer to this page.
Video of the process of making kokeshi dolls
Kokeshi doll making is also a popular hands-on program. Please check out the various menus available.
Wagashi (Traditional sweets)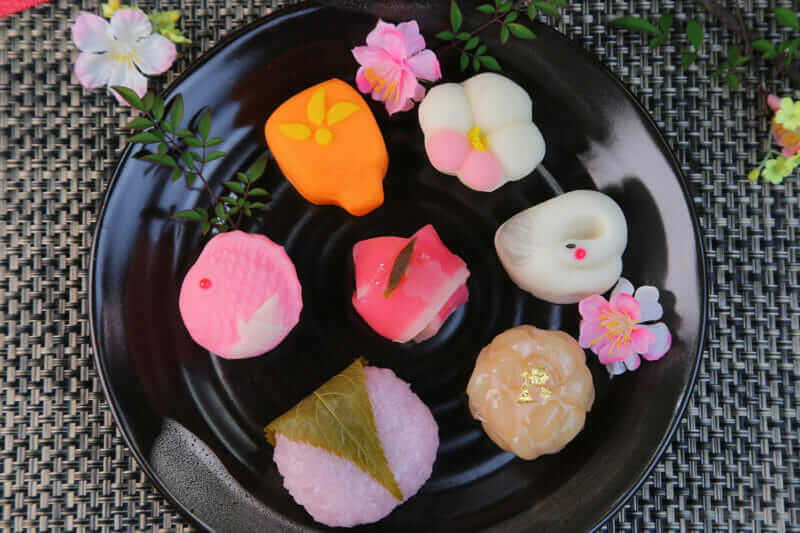 Since sweets were imported from overseas in the 19th century, traditional Japanese sweets became collectively called "Wagashi" in Japan. This means "Japanese sweets". If you go to a cake shop such as a department store or shopping center in Japan, there is still a corner of "Wagashi".
In Japan, there was a custom to eat Wagashi when drinking green tea. Green tea is bitter, so we enjoyed a kind of harmony by eating sweet Wagashi. Because there is such a background, I recommend you to drink green tea together when you eat Wagashi. There are many stores in Kyoto etc. where you can enjoy Japanese sweets and green tea.
The appearance is important for Wagashi. Japanese sweets craftsmen will change the ingredients and design of Wagashi according to changes in the spring, summer, autumn, and winter seasons. When we see Wagashi, we feel the change of the season. And we ate Wagashi and enjoy the season.
Video explaining the production of Japanese confectionery
In Japan, the traditional Wagashi remains, especially in Kyoto, Kanazawa, Matsue. Since every city is a beautiful traditional city, please explore the city and eat Wagashi and have fun.
There is also a program to experience making Japanese sweets. Of course, you can eat what you make.
Washi(Japanese Paper)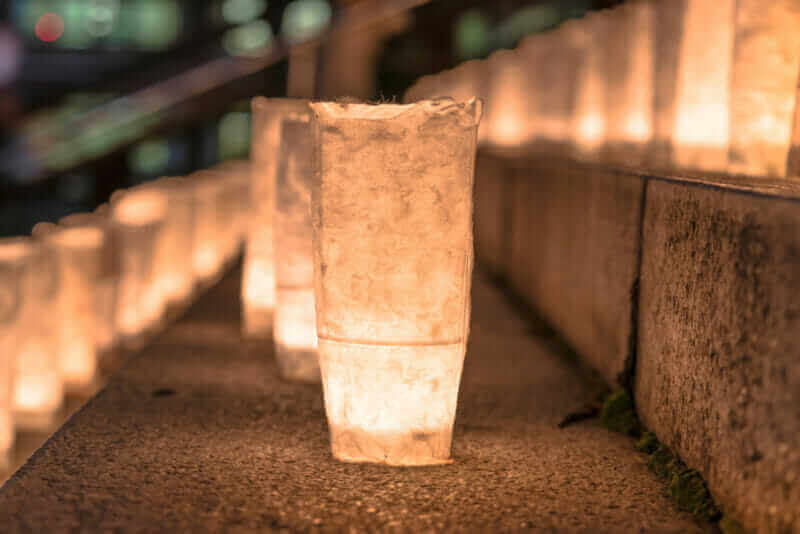 When you go to a souvenir shop in Japan, you will see a beautiful Washi (Japanese paper) being sold. Since the production cost is higher than that of ordinary paper, Washi has become less popular since the modern era. However, Washi has a unique beauty. Washi also has durability enough to be said that it will not crumble for more than 1000 years. Please try picking Japanese paper when you stop by Japanese souvenir shop or stationery store (Itoya, etc. in Ginza etc.).
Since ancient times, we have been using Washi for various purposes in our lives. For example, when building a house, in Japan, Washi may be placed instead of glass in the window. Then, we can keep privacy from outside. At the same time, we can get the outside light moderately.
In bedrooms and so on, we may use luminaires covered with Washi. Then the light passes through Washi and become gentle. The atmosphere of the whole room also become mild. As you can see in the photo above, lighting fixtures using Washi are also used extensively in events and so on. You will be able to see these lighting fixtures at large furniture stores and so on.
Video showing how to make Japanese paper
There is a program to experience traditional Japanese paper making. Please click the button below and follow the link for details.
Aizome (Indigo dye)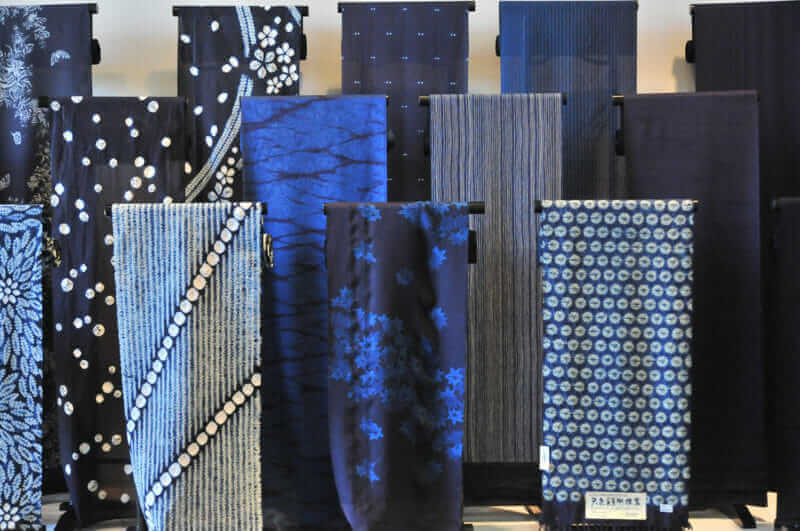 In Japan, "indigo dye" is called "Aizome". In this country indigo dyeing clothes have been made in various places and have been popular since long ago.
In Japan, indigo dye used to be truly general. So foreigners who came to Japan in the 19th century described in various ways that Japanese wear a lot of blue clothes. A British chemist called the color of the clothes the Japanese is wearing as "Japan Blue." A famous novelist Lafcadio Hearn described "Japan is a country full of mysterious blue". Based on this tradition, uniforms of the Japanese national team such as football and baseball are often Japan Blue.
The reason why Japanese often wore indigo dresses was because it was banned from wearing fancy color clothes in the Tokugawa shogunate era. In that era there was no war, so farmers and craftsmen could concentrate on their work. And the suitable clothing for the job was indigo dye cotton clothes. They wore dark indigo clothes so that they would not be noticeable even if they were soiled with soil. Meanwhile, Samurai also wear indigo dyeing clothes when practicing Kendo(japanese fencing). Modern Japanese also like indigo. Indigo dye is a symbol of Japan's life in a sense.
Video of Introducing the Indigo Dyeing Experience
If you would like to learn more about Tokyo's traditional indigo dyeing, you can actually experience indigo dyeing. Click the button below to see the program.
Oshima Tsumugi (Silk Pongee)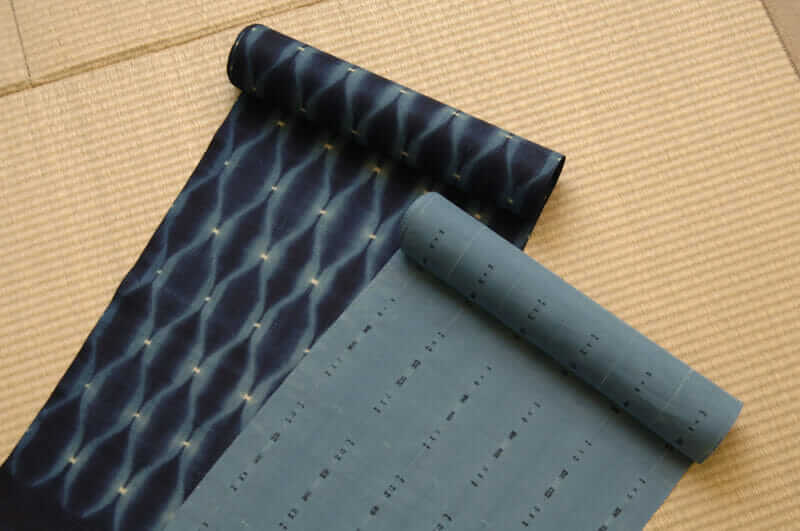 If I would choose only one of the most elaborate art pieces from among traditional Japanese crafts, I would choose Tsumugi. Tsumugi is a type of silk fabric. As for the kimono made with that silk cloth, we call it "Tsumugi". It's very expensive.
I recommend you "Oshima Tsumugi" which is particularly elaborate here. Oshima Tsumugi is a tsumugi made from ancient times in Amali Oshima Ialand in Kagoshima Prefecture. It is difficult to explain briefly about its manufacturing method. When dyeing cloth, as shown in the movie above, dye one thread at a specified interval. When the craftsmen weave these threads, a beautiful pattern is born there. The craftsmen carefully repeat the unbelievable detailed work and build up the cloth.
Video of Introducing Oshima Tsumugi
>> For details of Oshima Tsumugi, please refer to the official website
There are various Oshima Tsumugi experience programs. Please check the links from the buttons below.
Now, let's plan to make your vacation in Japan the best experience ever!