Saga Prefecture is located in the northwestern part of Kyushu, adjacent to Fukuoka Prefecture. The most famous tourist spot in Saga Prefecture is the Yoshinogari Ruins, which are the ruins of a large-scale moat settlement from the Yayoi period (10th century B.C. – mid-3rd century A.D.) that remains over 117 hectares. Saga Prefecture is also known as a production area of pottery. In the past, pottery craftsmen who came from the Korean Peninsula and China settled in this area and created a unique pottery culture. If you go to Arita, Karatsu, Imari, etc., you can experience such pottery culture.
On this page, I will guide you on your trip to Saga, including the attractions of Saga, places to visit, and things to do.
Outline of Saga
Recommended: Yoshinogari and pottery towns
Saga Prefecture is located halfway between Fukuoka City, Kyushu's largest city, and the cities of Nagasaki and Kumamoto, and tends to be a transit point. However, there are actually a number of areas in Saga Prefecture that you may want to take the time to explore. A visit to the Yoshinogeri Ruins or the pottery towns of Arita and Karatsu will surely make your trip a memorable one. In Karatsu, a castle town facing the Genkai Sea, traditional buildings such as Karatsu Castle are worth seeing.
Access
Saga Prefecture has Saga Airport, with routes connecting to Haneda Airport and Narita Airport in Tokyo. There are also international flights to Shanghai, Xi'an, Taiwan, and Seoul. However, there are not many flights. In some cases, it may be more convenient to take a bus from Fukuoka Airport to your destination. *Check flights to and from Fukuoka Airport with Skyscanner
It takes about 40 minutes from JR Hakata Station in Fukuoka City to Saga Station by express train. In addition, Saga Prefecture is home to Shin-Tosu Station on the Kyushu Shinkansen Line.
In September 2022, the Western Kyushu Shinkansen (Kyushu Shinkansen Western Route) opened, connecting Takeo Onsen Station in Saga Prefecture to Nagasaki Station. If you take a conventional limited express train from Hakata Station to Takeo Onsen Station via Saga Station, the Shinkansen is waiting for you on the same platform. You can now travel efficiently to Nagasaki Station on this Shinkansen. Using this Shinkansen, you can get from Hakata Station to Nagasaki Station in as fast as 1 hour and 20 minutes.
There are several passes available for efficient travel in Kyushu. >>Click here for details.
Yoshinogari Historical Park
The Yoshinogari ruins are a group of ancient ruins representing Japan. You can travel back in time to the Yayoi period (10th century B.C. – mid-3rd century A.D.), when rice cultivation was brought to Japan.
The site of about 110ha includes (1) an entrance area with video facilities and restaurants, (2) an area where a giant moat settlement has been restored, (3) a vast grassy area where outdoor cooking can be done, and (4) ) There is an area that reproduces the ancient forest of Japan. If you take a tour bus, you will be able to go around in about 2 hours. However, it may take a day to see it properly.
There are two stations near the Yoshinogari Ruins. It is about 700m from JR Yoshinogari Koen Station to the Yoshinogari Ruins East Exit, and about 600m from JR Kanzaki Station to the Yoshinogari Ruins West Exit. You can also take a taxi from each station.
There is one round trip per day from Fukuoka Airport to the Saga Second Office. If you get on this bus and get off at "Yoshinogari Historical Park Mae", you can go smoothly.
>>Please check the Yoshinogari Historical Park information on Trip Advisor!
Karatsu
Karatsu is an old castle town facing the Genkai Sea. There are many sightseeing spots that make you feel old Japan such as Karatsu Castle and Karatsu Shrine. The "Takatori House", a large private residence built in 1905 for a local wealthy man, is also worth seeing. The Former Karatsu Bank Head Office, designed by Kingo Tatsuno, a famous architect who designed Tokyo Station and the Bank of Japan Head Office, also conveys the atmosphere of the early 20th century. Karatsu faces the Genkai Sea, so let's take a look at the beautiful sea. In Karatsu, seafood is fresh and delicious.
Karatsu is famous for its pottery called Karatsu ware. As you walk through the town of Karatsu, you will find pottery shops, so please take a stroll. There are also tours and events where you can experience pottery.
>>Please check the Karatsu information on Trip Advisor!
Arita
Arita-cho is a town with a population of about 20,000 located in the western part of Saga Prefecture, and is known as the production area of Arita-yaki. The old townscape is beautiful. As you walk through Arita-cho, you'll find houses of potters who make pottery the old-fashioned way. In Arita Town, there are tours where you can actually make pottery at the workshops of the potters.
>>Please check the Arita information on Trip Advisor!
Takeo Onsen
Takeo Onsen is a well-known hot spring resort from ancient times, mentioned in an ancient book compiled in the Nara Period. It is famous as a "hot spring for beautiful women.
The photo above shows Takeo Onsen Roman Gate, the symbol of this hot spring resort. It is said that the entire area seen from here was used as the model for the Ghibli movie "Spirited Away.
Behind this gate, there are three types of stopover baths. Recommended is the "Tono-sama-yu," which was built exclusively for the lord of the Edo period. This place is exclusively for private use, so you can use it in a relaxed atmosphere. Soak away the fatigue of your trip.
If you wish to stay overnight, we recommend the "Mifuneyama Rakuen Hotel. It is an artistic hot spring hotel whose decoration in collaboration with TeamLab (see video below) is the talk of the town.
Mifuneyama Rakuen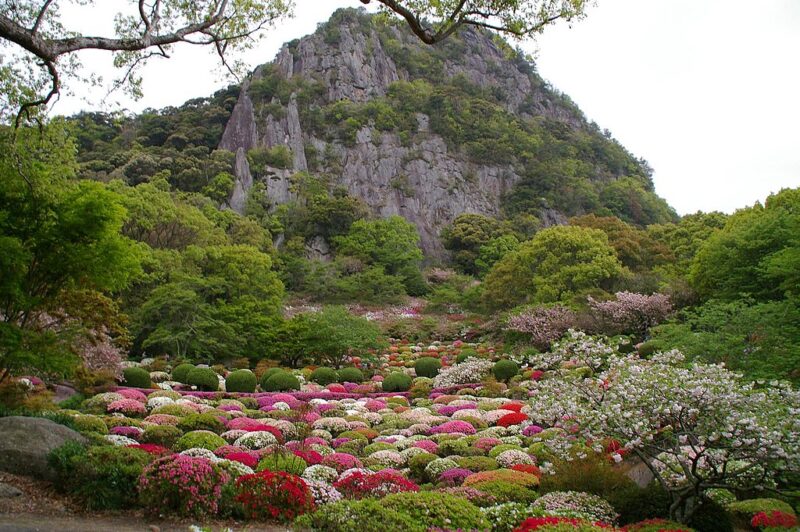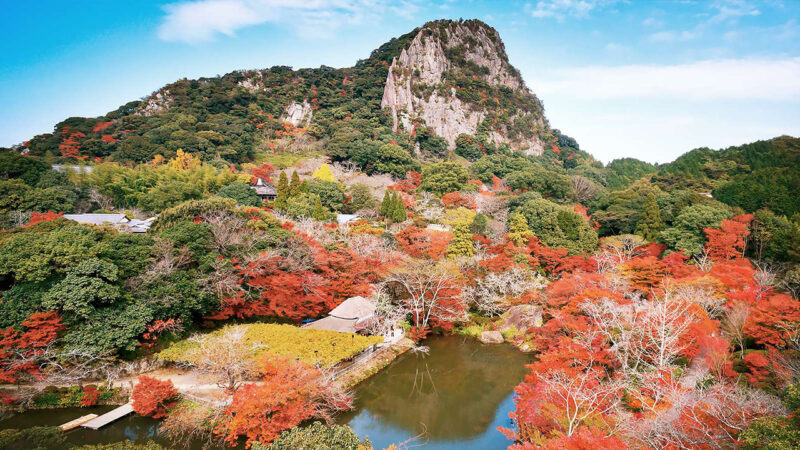 The above-mentioned Mifuneyama Rakuen Hotel is located in the Mifuneyama Rakuen Garden, a vast Japanese garden with the steep cliffs of Mount Mifune, Takeo's symbol, in the background.
This garden was created at the end of the Edo period by an invited painter from Kyoto, and is home to hundreds of thousands of plants. It is a famous place where seasonal flowers bloom as beautifully as in a painting.
In spring, at the end of March, 2,000 cherry trees are in bloom, and at night they are illuminated, creating a magical scene. And in April, about 200,000 azaleas of various varieties color the mountainside gorgeously. The large wisteria tree, estimated to be 170 years old, also blooms with two types of flowers, white and purple.
The projection mapping by the art group "TeamLab" is very popular from summer to fall, providing visitors with a new and exciting experience.
>>Please check the Mifuneyama Rakuen information on Trip Advisor!
Thank you for reading to the end.
For a good trip, please check Saga's tour menu. from here.
Now, let's plan to make your vacation in Japan the best experience ever!
Back to "Best of Kyushu Region"