February is the coldest time in Japan. Except for a few areas such as Okinawa, you need a coat or jumper when walking in the city. At this time, ski resorts are at their best conditions. In snowy areas, you can see the beautiful snowy scenery that you might see on a guide book. In addition to these things, there is another fun thing when you travel in February. Winter festivals are held in various parts of Japan. On this page, I will mainly introduce these winter festivals.
February: Weather and Clothing Information for All of Japan
If you are planning to go anywhere in Japan in February, the following articles provide information on weather and clothing for major tourist destinations. Click on the name of a destination to see articles about the weather and clothing for that destination in February.
Winter festivals held every February
Here are the winter festivals I would like to recommend to you.
Yokote Kamakura Snow Festival
First of all, let me start with the famous festival held every year in Yokote, Akita Prefecture in northern Honshu. In mid-February every year, locals hold the "Yokote Kanakurasa Festival" as seen in the top photo.
A "Kamakura" is a small dome made of snow. Since there is a lot of snow every year in Yokote City, people harden the snow and cut through it to make "Kamakura".
During this festival period, in Yokote City, 100 "Kamakura" with a height of about 3 meters are made. As can be seen in the picture below, there are also many small "Kamakura".
In a Kamakura local people may welcome you and give you warm drinks with rice cakes. On cold nights, the lights lit in the Kamakura look very fantastic and beautiful. It is an attractive part of this festival that you can interact with locals.
Sapporo Snow Festival
The most famous of the Japanese winter festivals held in February is the "Sapporo Snow Festival". Sapporo is the representative city of Hokkaido. This festival is held in Sapporo every year in the first half of February. There are millions of tourists from both Japan and abroad.
There are three main venues of this festival. At Odori Park, in the center of Sapporo, lots of huge snow statues are lined up. In Susukino 's entertainment district, Susukino, you can find ice statues. In addition, amusement facilities such as a huge snow slide are installed on the outskirts of Sapporro.This is very popular with children.
Many shops selling warm drinks and food are opened at the festival venues. The average temperature in Sapporo during this period is around negative 3 degrees Celsius. Although it is very cold, visitors drink warm drinks while viewing the wonderful snow statues. Why don't you join this festival too?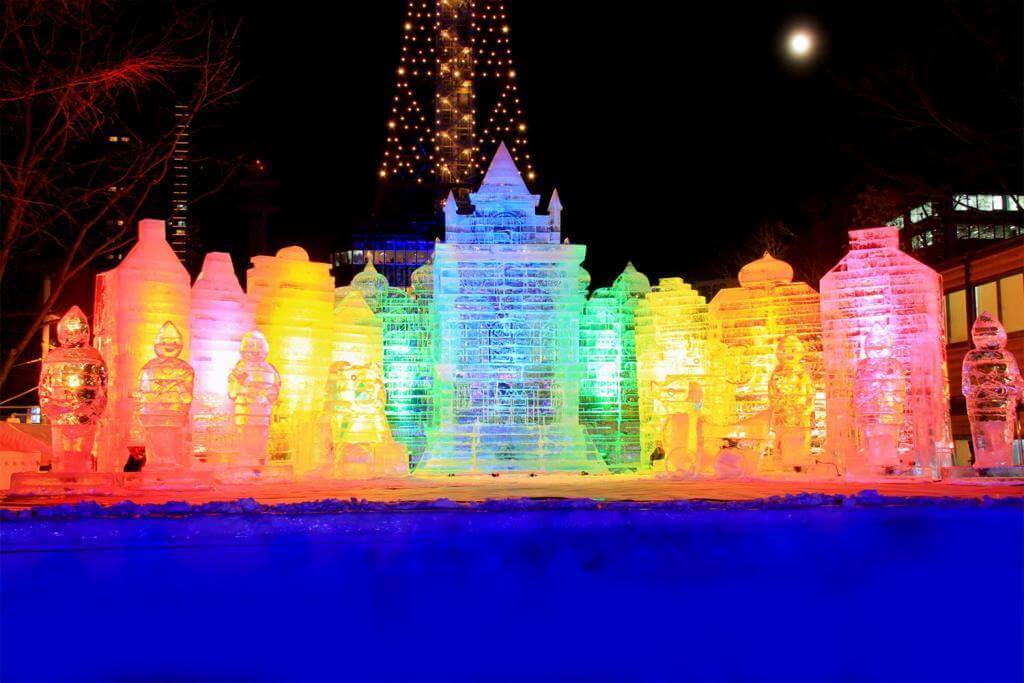 Asahikawa Winter Festival
Every year in Hokkaido, "Asahikawa Winter Festival" is held in Asahikawa city at the same time as The Sapporo Snow Festival. This festival is also very popular and around 1 million tourists come every year to attend.
This Asahikawa festival has two charms different from Sapporo. First of all, at The Asahikawa festival, the world's largest snow sculpture is displayed. Asahikawa has fewer snow statues than Sapporo, but there are huge snow statues that you cannot see in Sapporo.
The second charm is that tourists visiting Asahikawa can see the famous Asahiyama Zoo in addition to this festival. At Asahiyama Zoo, you can see many unique winter shows, including penguins marching at this time of year. When you visit Asahikawa, the combination of both the winter festival and Asahiyama zoo will be fun and satisfying.
Now, let's plan to make your vacation in Japan the best experience ever!
Back to "How to enjoy Japanese Winter"