Tokushima Prefecture is the closest Shikoku region to the Kansai region, which includes Kyoto, Osaka, and Kobe. Tokushima Prefecture is famous for the Awa Odori, which is held in summer. There are many other attractions such as the Naruto Whirlpools and the Otsuka Museum of Art. On this page, we will guide you through your trip to Tokushima, including the attractions of Tokushima Prefecture, places you should definitely visit, things to do, and more.
Outline of Tokushima
Geography
Tokushima Prefecture is located in the northeastern part of Japan's Shikoku Island. Except for the Tokushima Plain in the northern part of the prefecture, it is an area with many mountains. Especially, the Shikoku mountains located in the southern part of the Tokushima Plain are one of the most rugged mountainous areas in western Japan. Many rivers are flowing from these mountains.
Access
Airport
There is Tokushima Airport in Tokushima Prefecture. This airport is located 9 km northeast from the center of Tokushima city which is the center of the Tokushima Plain. At Tokushima Airport, scheduled flights are operated with the following airports.
Tokyo / Haneda
Fukuoka
Sapporo / Shin Chitose = operating in the summer
Railway
Shinkansen is not operated in Tokushima Prefecture. JR Shikoku operates the following routes within Tokushima Prefecture. By these railways, Tokushima prefecture is connected with other prefectures of Shikoku Island.
Tokushima line
Kotoku line
Naruto line
Mugi line
Dosan line
Buses
To Tokushima station, there are direct buses using Akashi Kaikyo Bridge from Kansai region cities such as Kobe and Osaka. There is also a direct bus from Kansai Airport. Approximate travel time from major cities is as follows.
From Sannomiya Station (Kobe): 1 hour 50 minutes
From Kansai Airport: 2 hours 40 minutes
From Kyoto station: 2 hours 50 minutes
Furthermore, direct buses are running from Tokushima Station to other main stations of Shikoku Island.
From Takamatsu station (Kagawa Prefecture): 1 hour 30 minutes
From Matsuyama shi station (Ehime prefecture): 3 hours 10 minutes
From Kochi Station (Kochi Prefecture): 2 hours 40 minutes
There are several passes available for efficient travel in Shikoku. >>Click here for details.
Awa Dance (Awa Odori)
Awa Dance (Awa Odori) is one of the most famous summer festivals in Japan. It is held in various parts of Tokushima Prefecture. In Tokushima Prefecture, in preparation for this festival, many people continue practicing a unique dance of two beat. In August, tourists come to Tokushima City from all over the country. With great enthusiasm, people continue dancing Awa Dance.
Regarding Awa Dance, I introduced in an article about Japanese festivals. If you are interested, please drop in the article below.
>>Please check the AwaDance information on Trip Advisor!
Naruto Whirlpools (Naruto Uzushio)
Naruto Whirlpools (Naruto Uzushio) is a large vortex that occurs at the time of high tide and low tide in the Naruto Strait between Awaji Island and Naruto City, Tokushima Prefecture. You can take a ride and see the Naruto Whirlpools.
I have also taken a boat. This ship is worth riding. Looking closely at the Naruto Whirlpools, you surely will be overwhelmed by its power.
The ship traveling around the Naruto Whirlpools is operated from both the Naruto side and the Awaji Island side. The boarding time is about 20 minutes.
>>Please check the Naruto Whirlpools information on Trip Advisor!
Otsuka Museum of Art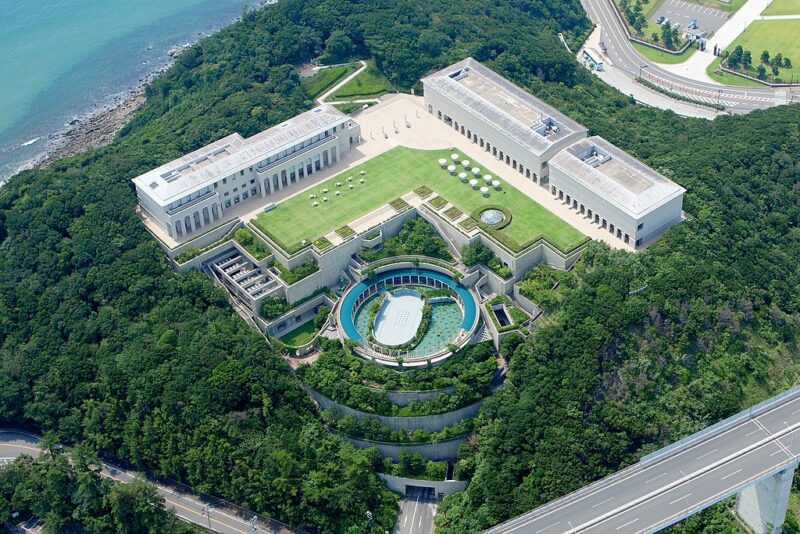 Otsuka Museum of Art is a huge museum in Naruto city, Tokushima prefecture. If you go to this museum, you can see duplicates of masterpieces from all over the world. They are made of ceramic, so you can touch them without problems.
If you visit the Naruto Whirlpools in the Naruto Strait, I recommend you to stop by this museum.
I introduced Otsuka Museum of Art in an article about the museum in Japan. If you are interested, please read the following article.
>>Check here for more information about The Otsuka Museum of Art!
Iya Kazura Bridge
The southern part of Tokushima Prefecture has a series of steep mountains. The rivers flowing from the mountains make deep valleys. The Iya Valley is one of them. Here, as seen in the picture above, there is an ancient vine bridge called "Iya Kazura Bridge".
In this area, it is said that Samurai who lost in battle lived hiding in the past. This bridge was used from that time.
The surrounding of this bridge is covered with a deep forest. From above the bridge you can see a river in the bottom of a deep valley. You will find wild Japan here.
The Iya Kazura Bridge is about an hour by bus from Awa Ikeda Station or Oboke Station of Dosan line.
>>Please check the Iya Kazura Bridge information on Trip Advisor!
Thank you for reading to the end.
If you want to check the tour menu and deals for the entire Tokushima prefecture, click here.
Now, let's plan to make your vacation in Japan the best experience ever!
Back to "Best of Shikoku Region"