While many traditional cultures remain in Japan, very modern pop culture and services are born one after another and are gaining popularity. Some foreign tourists who come to Japan are surprised by the coexistence of tradition and modernity. On this page, we will introduce popular attractions that you can actually experience when you visit Japan from among the new cultures of modern Japan.
Cosplay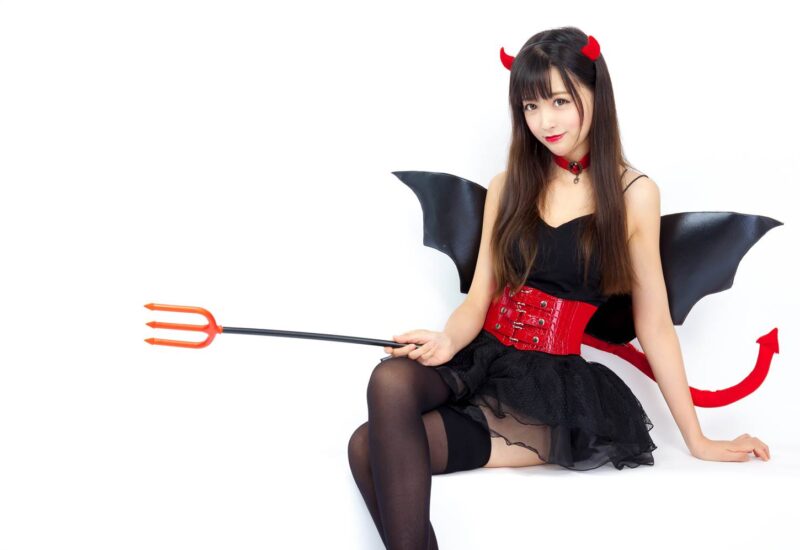 Cosplay is a word coined in Japan that combines "Costume" and "Play". Refers to recreating the costumes and appearance of specific characters, fictional characters, anime, manga, games, movies, TV shows, etc. It is said that in the olden days, people often dressed up for festivals. It is said that there was also an event in which Kyoto geisha dressed up as characters from stories and walked around the city. Modern cosplay may be based on such Japanese traditions.
Cosplay is generally done as a way for fans and enthusiasts to become their favorite characters or works. People who enjoy cosplay are called cosplayers. Cosplayers faithfully reproduce the characters' costumes, hairstyles, makeup, accessories, etc., and interact with other people at photo sessions and cosplay events, as well as show off their own works.
The range of cosplay is very wide, and there are various genres and themes, from anime and manga character cosplay, to movie and game character cosplay, to historical and fictional figures. Cosplayers may also use their own creativity to recreate the characteristics and appearance of their characters.
Cosplay is now widely accepted as a part of entertainment and fan community not only in Japan, but all over the world, and can be seen at many events and conventions. Also, with the spread of the internet, it has become easier to share cosplay photos and tutorials, and more people have the opportunity to participate in cosplay.
In Japan, there are many events and festivals where cosplayers gather. A typical event that foreigners can casually participate in is the "Comic Market" held at Tokyo's Big Sight. Please refer to the following site.
>> The official website of COMIC MARKET is here
There is also an event called "World Cosplay Summit" where cosplayers from all over the world gather.
>>WORLD COSPLAY SUMMIT official site.
Also, there are many shops in Japan that sell clothes for cosplayers. Especially if you go to Akihabara in Tokyo, you can enjoy the atmosphere.
If you experience cosplay in Japan, there are costume rentals, photo and video shooting services for cosplay. Some of them can be booked on this site.
Maid Cafe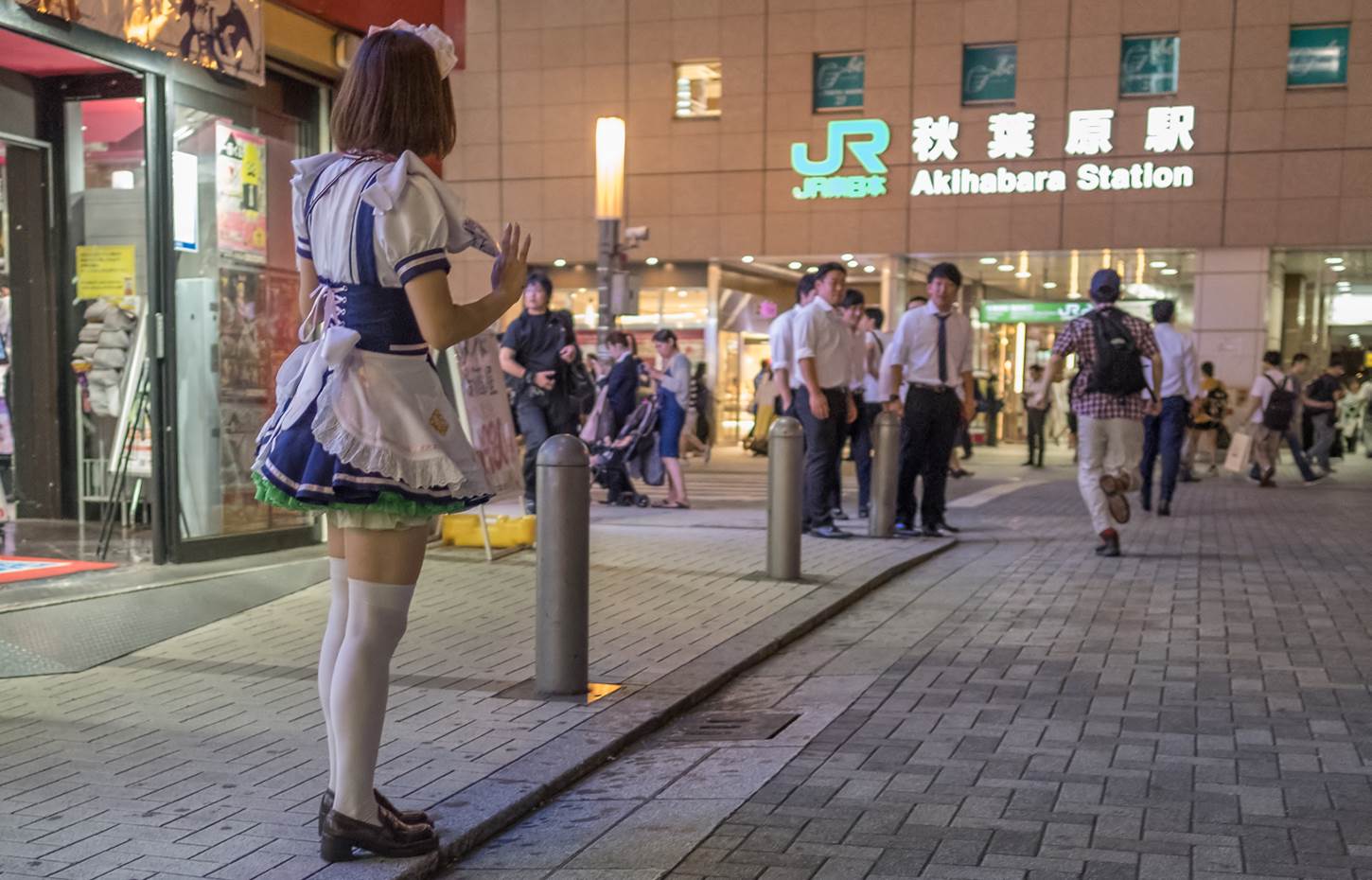 A maid cafe is a unique style of cafe that originated in Japan. This is a cafe where female staff dressed in maid uniforms provide maid-like service to customers. Maid cafes are mainly associated with Akiba-kei culture (pop culture centered around Akihabara) and are gaining popularity both in Japan and abroad.
At maid cafes, customers are called "master" or "lady", and the maids serve them with cute gestures and words. They will pour you tea and provide entertainment such as games and karaoke. Also, at maid cafes, maids sometimes perform songs and dances.
In general, the interior of maid cafes is cute and incorporates a lot of Moe elements. The inside of the store is based on pink and white, and is decorated with stuffed animals, anime character goods, and accessories. Customers can also take pictures with the maids and enjoy talking and shaking hands with them.
Maid cafes are popular in Japan, especially among the younger generation, but they are also popular with tourists and foreign visitors. Maid cafes can be found in major cities across the country, but Akihabara is especially popular. The following two shops are famous as cafes popular with foreigners.  There are many female customers as well as male customers.
>> The official website of AkibaZettai is here
>> @ home cafe's official website is here
Several maid cafes in Tokyo, Osaka and Nagoya can be reserved on this site.
Robot Restaurant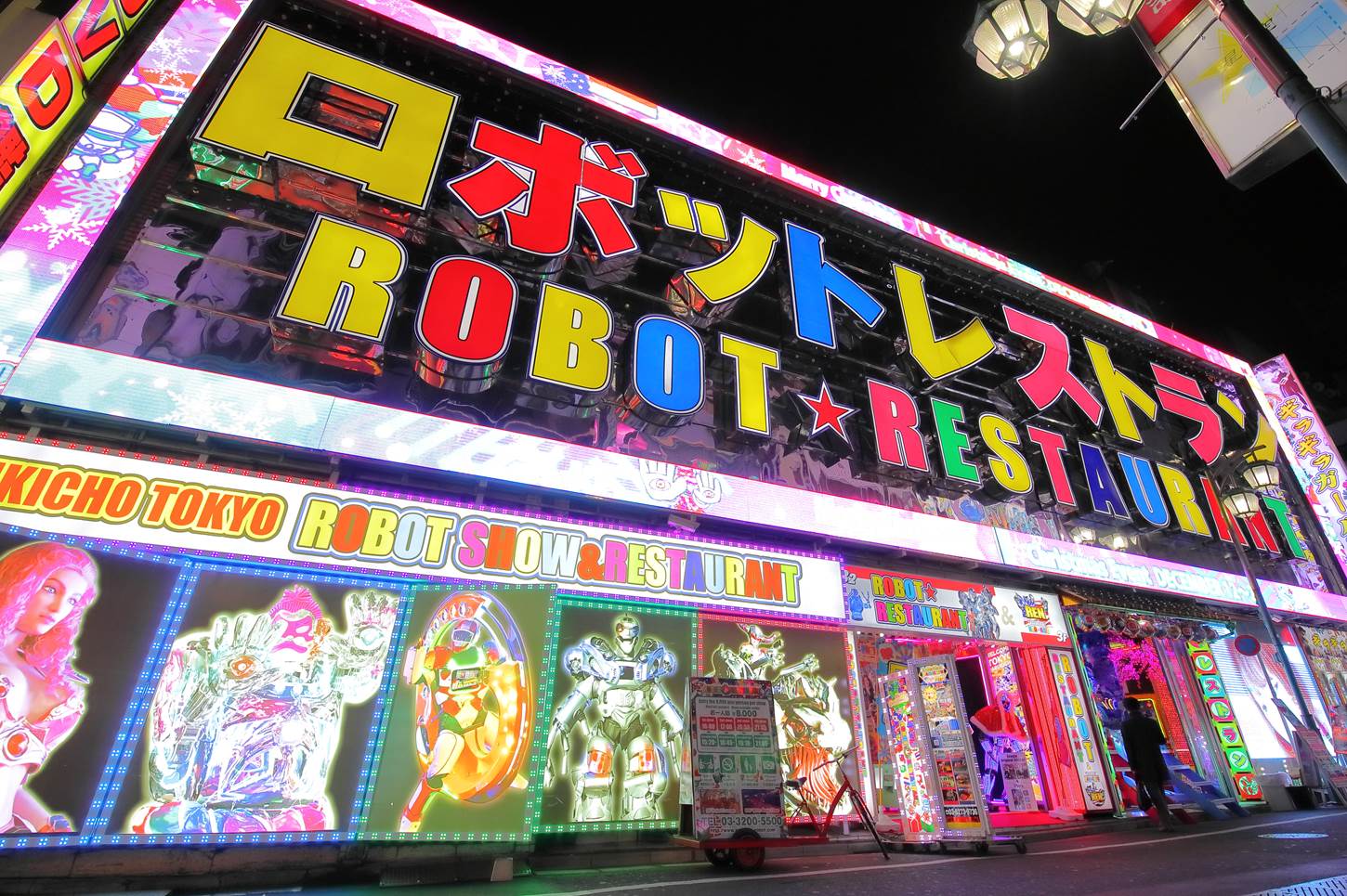 "Robot Restaurant", which is very popular with foreign tourists, unfortunately closed in April 2021.
In July 2012, "Robot Restaurant" opened in Kabukicho, Shinjuku, Tokyo, Japan's number one entertainment district. This is a show-viewing restaurant where the confrontation between Japanese culture and robots unfolds on a dynamic scale in a glittering space that makes you feel as if you have wandered into the world of a game. It was especially popular with foreign tourists. However, due to the decrease in tourists due to the prevention of coronavirus infection, unfortunately it closed in April 2021.
Check out its legendary history on youtube videos and Wikipedia.
If you want to see robots at the tip of Japan, I recommend you go to the National Museum of Emerging Science and Innovation below. Children and adults can be enjoyed at this museum. Here are excellent guides. Before, I have interviewed one of the guides. I was impressed by their enthusiasm to convey the cutting-edge science to people in an easy-to-understand manner.
>> The official website of National Museum of Emerging Science and Innovation (Miraikan) is here
MariCAR
MariCAR is a go-kart running on a public road. If you desire, borrow your favorite costume, you can grasp the handle with feeling as if you were a character of a game or anime.
The companies that lend MariCAR have increased significantly in recent years. As a result, you can enjoy driving MariCAR in various cities such as Tokyo, Osaka, Kyoto, Sapporo and so on. Pedestrians going through the city will surely be surprised by your cart and costumes. As you can see compare the above YouTube videos, the scenery you see from MariCAR is quite different between day and night. Which time do you want to run in the daytime or in the evening?
When driving, you can also borrow a special video camera that shoots the scenery around you and the surroundings.
In order to use this service, you need advance reservation. You must present an international driver's license and your country's license at the store.
Since MariCAR is regarded as Kei Car (Japanese category of small vehicles), helmets are not mandatory. However, since the top speed is nearly 60 kilometers per hour, I strongly recommend borrowing a helmet. There are many cars running on roads such as Tokyo. There are also many passersby, so please be careful when driving.
In 2017, Nintendo filed a lawsuit against copyright infringement etc. for one company operating this go-kart. Indeed, MariCAR looks exactly like Mario Kart, and if you wear costumes, you will feel the mood that you turned into Mario. In September 2018, Nintendo won the suit. For this reason, I do not know how long MariCAR's service will last. Even if you book in advance, I recommend that you check whether the service is on or before you leave for Japan.
>>Check here for Mario Kart-related activities that you can experience in Japan.
Shopping in Harajuku
Harajuku is a neighborhood in the Shibuya Ward of Tokyo known as the center of pop culture. Harajuku has a unique culture that combines elements such as youth culture, street fashion, music, and art.
As one of pop culture, Harajuku street fashion is very famous. In Harajuku, you can see unique styles and flashy fashion on a daily basis. There is a mix of styles from various subcultures such as half scoot, gothic lolita and street fashion. Shopping streets such as Omotesando and Takeshita Street in Harajuku have many shops and boutiques where you can get fashion items that incorporate the latest trends.
Music is also an important part of Harajuku's pop culture. Harajuku is also known as the birthplace of J-POP and idol groups. Artists and bands of various genres regularly hold live performances at a live house on a corner of Takeshita Street. There are also many music shops and record stores around Harajuku.
In addition, Harajuku is rich in art and creative elements. In one corner of Harajuku, there are places where you can see graffiti art and street art. There are also many art galleries and art spaces in Harajuku, where exhibitions and events by young artists are sometimes held.
Harajuku's pop culture is an important venue for youth creativity and self-expression. Many people from all over the world visit this place as a place where various fashion, music and art elements intersect and new trends and styles are born.
If you like this kind of fashionable street, please go there. Surely, you should be able to observe the forefront of Japanese pop culture.
>>Check out Harajuku's tour menu and discount passes here!
100 yen shop
Have you heard of Japan's 100 yen shop? There are many 100 yen shops in Japan. Basically, each item sold at these stores is 100 yen (consumption tax will be added).
The goods of 100 yen shops are very popular among tourists who came from abroad. Because for 100 yen shops, it is not only cheap. There are so many pretty items and useful items etc. There are many Japanese items that are perfect for souvenirs.
As famous 100 yen shops, Daiso, Can Do, Seria can be mentioned.
Actually, I love 100 yen shops, I've written the feature articles of 100 yen goods that I recommended many times before. What kind of 100 yen goods I recommend to you depends on what you want. However, if you want to enjoy shopping at the 100 yen shop to your heart's content, I recommend you go to Daiso in Kinshicho, Tokyo. This store is featured in the following video. Daiso is located throughout the country, but the store in Kinshicho is overwhelmingly wide, and everything is sold for Daiso's goods. Many foreigners are coming to the store.
Japan's largest 100-yen shop, DAISO in Kinshicho, Tokyo, is located in the Arcakit Kinshicho Building.
>>Please check the Arcakit Kinshicho information on Trip Advisor!
Depachika
Depachika means the food corner of department stores. In Japanese department stores, the food corner is on the floor of the basement (which is called "chika" in Japanese). Because it is in "chika" of department store, it is called "Depachika".
Depachika generally carry a wide variety of high-quality food and beverages, and are home to a wide variety of specialty stores and brands. A typical department store basement has a bakery corner, a fresh fish corner, a butcher, a delicatessen (side dish), a Japanese/Western/Chinese take-out corner, a confectionery/sweets corner, and a wine/liquor corner.
Depachika are a guarantee of luxury and quality, and are especially popular with those looking for gifts and ingredients for special meals. In addition, events such as food tasting and special sales are often held, and it is also known as a place where food culture is transmitted.
All of the foods are packaged beautifully, so it's fun to just watch. Very good smells are drifting, so surely you will want to buy a lot of food.
Depachika exist widely in urban areas of Japan, especially in commercial districts such as Ginza in Tokyo and Shinsaibashi in Osaka.
There are also many good Bento sold in Dapachika. If you go on a bullet train ride from Tokyo Station and travel somewhere, I recommend you to buy Bento at Depachika in the Daimaru Tokyo store just beside Tokyo Station before you get on the Shinkansen. Choosing Bento et al will also be a pleasant memory.
>>Please check the Daimaru Tokyo information on Trip Advisor!
Convenience Store
Convenience store is a business style born in the United States. Seven Eleven was first successful in America. However, the convenience stores that are currently operating in Japan, Asia, etc. are not of this American type. These shops are the type of shops where supermarkets of Japan first arranged tie-ups with companies in the United States to accumulate know-how, then arranged to best match Japanese consumers.
Japanese style convenience stores have three major features.
First of all, there are so many kinds of products. The average sales floor area of ​​convenience stores is around 100 square meters. It is much smaller than the supermarket. However, there are more than 3000 kinds of products in one store. As most consumer products are available, consumers can get whatever they want by going to a convenience store.
Secondly, convenience stores are grasping detailed information for each store as to what kind of consumers will come to visit. And they are devoting a precise information strategy to see what kind of goods are displayed at each shop. So, the satisfaction level of the people who came to the store is very high. There is almost no case that at least the items you want are sold out
I have been interviewing convenience stores for a long time in the past. At convenience stores, they collect information on the sex and age group of customers who came to the cash register in real time. At the same time, they are grasping information such as snowing in their area or raining after a few days, for example. If heavy snow falls after a few days, the housewives in the neighbor purchase a lot of milk etc. before the snow, so they were displaying a lot of milk. I thought that this precise method of selling is extremely Japanese.
Third, the quality of the item is very high. They continue to develop products that are pleasing to consumers. For already popular items, they continue to improve them further.
Of course they sometimes make mistakes. In one major convenience store, they sold "Matsutake mushroom bento" in autumn. The executives of the company love matsutake, they believed that this lunch will definitely be a big hit. However, the lunch box was not sold. Because the young people who come to the store did not like matsutake but beef, unlike older officials.
Continuing such trial and error, Bento Box, sweets, coffee, etc. sold at convenience stores are becoming more and more delicious. By all means at domestic convenience stores, please check it.
Capsule Hotel
Have you stayed at the capsule hotel?
The capsule hotel, as its name suggests, is a lodging facility with lots of encapsulated (boxed) bedspaces.
The user enters this capsule and sleeps. Besides bedding, lights and alarm clocks, televisions and air-conditioning equipment are provided in the capsule. The user can operate these while staying asleep.
Most capsule hotels feature a shower or large public bath. Recently, the number of capsule hotels that have luxurious space that you can relax before going to bed is increasing.
Capsule hotel was born in Osaka in 1979. And soon it was built in Tokyo too. Recently, the number of tourists coming from abroad is increasing, so new hotels are appearing more and more.
Conveyor Belt Sushi
When you enter the "Conveyor Belt Sushi" shop, you will see the sight that the belt conveyor is installed in front of the counter and a lot of sushi on the dishes are flowing over it .
In a typical sushi restaurant, veteran sushi craftsmen receive orders from customers and create sushi. Sushi is fresh because they make it after receiving orders from customers.
In contrast, at the store of Conveyor Belt Sushi, staff members make steadily more popular sushi for customers and put them on a belt conveyor. They work very efficiently as they make steadily more sushi. They do not even have to bring sushi to the customer.
In the past, sushi was very expensive, and even people in Japan were not quite able to eat commoners. However, in 1958, the store of Conveyor Belt Sushi opened in Osaka for the first time. Eventually this type of shop grew more and more. In this way, now many people can eat sushi.
I think the stores of Conveyor Belt Sushi are amazing. Because these stores are constantly evolving. There I feel the culture of Japanese "Kaizen".
In many Conveyor Belt Sushi shops, the robot makes Shari (part of rice) with high speed. Recent robots hold rice the same way craftsmen hold rice with soft hands. Thus Shari which we eat at the stores of Conveyor Belt Sushi is getting very tasty.
In addition, at the store of Conveyor Belt Sushi, they are devised various ways so that customers can have a good time. For example, as introduced in the movie below, some shops make it possible for customers to enjoy a kind of game whether to get a toy on the monitor screen during meals.
Vending Machine
If you come to Japan you will find that there are quite a lot of vending machines in Japan. Vending machines are not only in urban areas but also in small towns in rural areas. Today, more than 5 million units of vending machines are operating nationwide.
Why are there many automatic vending machines in Japan? I have interviewed a person in charge of a beverage maker that has installed many vending machines before. He emphasized that it is because security is good in Japan and it is possible to put vending machines with confidence.
In Japan, many people work long hours late at night. They often buy drinks at a nearby vending machine at night. Vending machines are said to have been supported by people working until midnight.
If the landlord sets up a vending machine, he will have some money. Installing vending machines is a good side job for landlords. This seems to be the reason behind the increase in vending machines.
Thus, many vending machines are installed in Japan. But in Japan, there are rivals for vending machines. They are convenience stores that open 24 hours. The convenience store in Japan sells products in various fields. For this reason, vending machines increased sales mainly in the drinks field. Vending machines are closer to consumers than convenience stores. Vending machines have expanded their influence in the field of drinks with the advantage of being able to buy drinks more easily and freely than convenience stores.
Conversely, the vending machines may not have won the convenience stores too much in fields other than drinks. However, if it is a strange product that the convenience stores do not sell, it can also be sold by vending machines. For this reason, there are many vending machines that sell unique items. Those vending machines draw attention from the people going through and are sprinkling the topic. I think that vending machines appearing in the second movie above are exactly such types.
Vending machines are emitting strong lights throughout the city at night. I think that vending machines, together with convenience stores, create cities that will not sleep. If you come to Japan, please try paying attention to vending machines at night. I think that a very Japanese sight is spreading.
Toilets
Currently, in Japan, most of the toilets in airports, hotels, department stores, etc. have a hot water cleaning function. When you press the button on the side of the toilet, hot water comes out of the inside of the toilet and your butt quickly gets washed.
In addition to this, the Japanese toilets are equipped with various functions. Firstly, the lid opens automatically when you get close. And toilet seat will be warm in a moment. The toilet will let you hear music, water tones, etc. while you sit. These sounds are coming out to make sure that the sounds you add do not hear to people near your toilet. If you get up from the toilet seat, water will flow automatically.
However, depending on the toilet, water will not flow unless you push the button or put your hand over the sensor. Sometimes foreigners do not know that water does not flow unless they hold their hands on the sensor and they may panic. Please observe carefully how you can drain water!
The hot water cleaning function was born by the unity of many employees of the toilet maker. At the toilet maker, the development staff did not have any idea at first which point should be sprayed with hot water. Therefore, the development staff inquired in-house. Many people in the company actually sat on the toilet, set marks on their respective best points, and tell the staff. Not only men but also women cooperated. In this way, a toilet was created that could apply hot water to the precise point.
Today, at Japanese toilet makers, engineers are studying how to make the best way to drain water, so that the water flowing to the toilet bowl can be reduced even a little. A toilet bowl that has surprisingly reduced the necessary amount of water has already appeared.
The world is said to face a serious water shortage in the future. For this reason, Japanese engineers are engaged in research so that water consumption can be reduced even a little.
Thank you for reading to the end.
Now, let's plan to make your vacation in Japan the best experience ever!