Tottori Prefecture is located on the Sea of Japan side of the Chugoku region. This prefecture is one of the most depopulated areas in Japan. The population is only 560,000. However, in this quiet world, there are many places that can soothe the soul. On this page, we will guide you on your Tottori sightseeing, including the attractions of Tottori Prefecture, places to visit, things to do, etc.
Outline of Tottori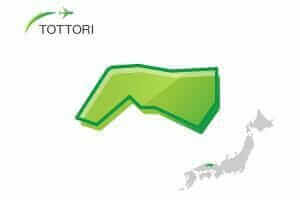 Points
Tottori prefecture is located on the Japan Sea side of Chugoku region. It is an elongated area of about 125 kilometers east-west and about 60 kilometers north-south. For this reason, Tottori prefecture is often explained separately on the east side and the west side.
The center of the west side of Tottori prefecture is Tottori city. The best tourist attraction in this town is Tottori Dune. This sand dune spreads about 16 kilometers in the east and west, about 2.4 kilometers in the north and south, and it is known as the largest sand dune in Japan. Japan is rich in greenery in general, so big sand dune like this is unusual.
In eastern Tottori prefecture, snow falls often in winter. However, it does not pile up much. Here in winter, you can eat very tasty crab.
The center of the west side of Tottori prefecture is Yonago city. In this town there is a spa town called Kaike Onsen. Even in this area, crabs are very delicious in winter.
Access
Tottori prefecture has two airports:
Tottori Airport
Tottori Airport is located approximately 7 km northwest of Tottori city center. From this airport it takes 20 minutes by bus to JR Tottori station. At this airport, regular flights are only being operated with Haneda airport in Tokyo.
Yonago Airport
Yonago Airport is located 11 km north of JR Yonago Station. It is approximately 30 minutes by bus from this airport to Yonago station.
Domestic flight
Regular flights are only being operated with Haneda airport in Tokyo.
International flights
Hong Kong
Seoul / Incheon
Railway
The Shinkansen does not run in Tottori prefecture. The main railway is the JR San-in main line operated to the east and west. From Tottori Station, you can go to the Seto Inland Sea side by Chizu Express. From Yonago station you can go to Okayama direction by JR Hakubi line.
There are several passes available for efficient travel in Tottori. >>Click here for details.
Tottori Sand Dunes
Tottori Sand Dunes is a symbol of Tottori prefecture. It is approximately 20 minutes by bus from Tottori station.
Actually, you will feel this sand dunes very big. Because, this sand dune is not only wide, but the difference in elevation is large. The height difference of the whole dunes is 90 meters. The hill called "Suribachi" has a height of 40 meters. In Tottori Sand Dunes, many tourists climb this hill. It is very tough to climb here. However, when you climb, you will be able to enjoy the wonderful landscape.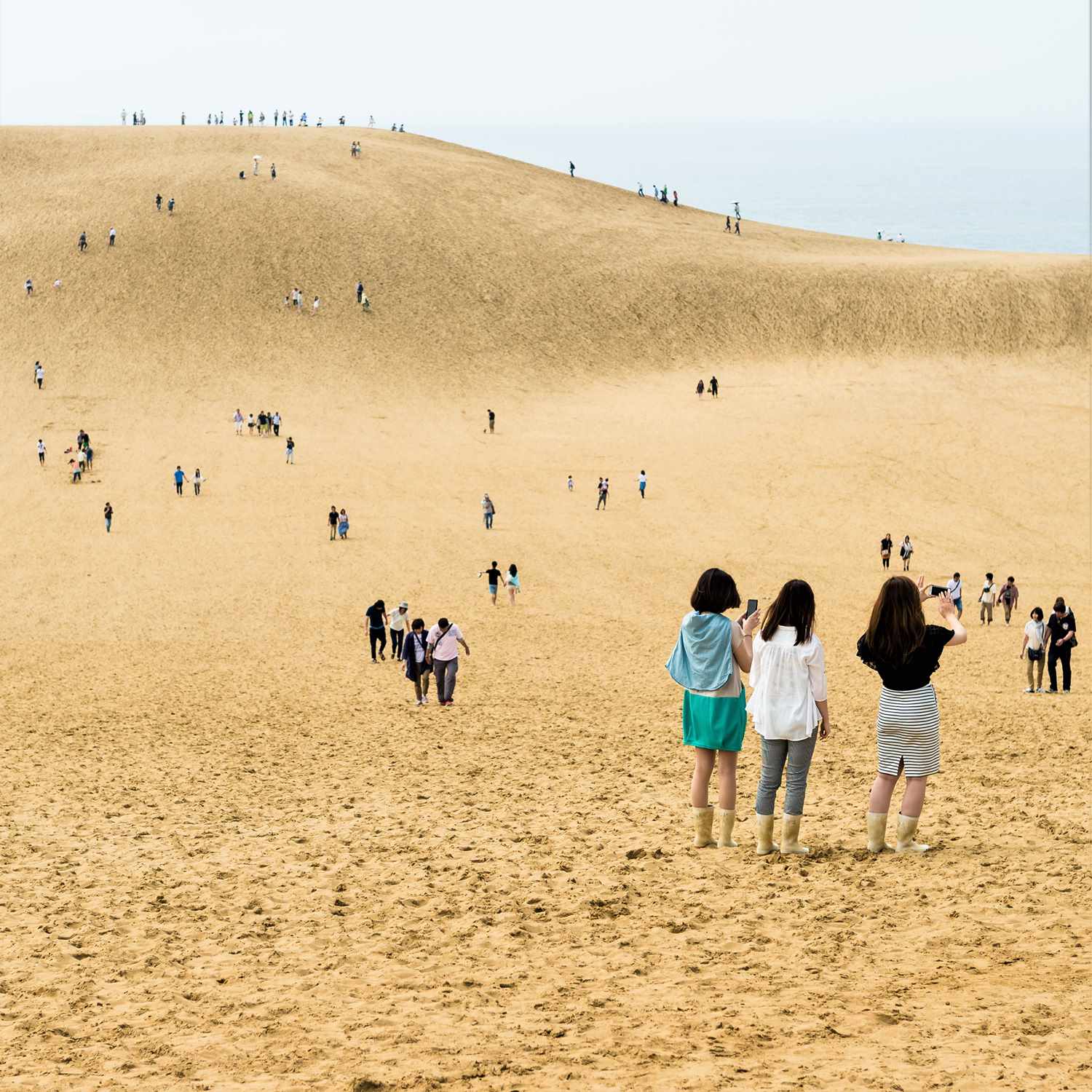 Japan is a country with many forests, but there are exceptionally dese...
>>Please check the Tottori sand dunes information on Trip Advisor!
Kaike Onsen
Kaike Onsen is a spa town located in the western part of Tottori Prefecture. It is about 20 minutes by bus from JR Yonago Station.
Tottori prefecture has several wonderful hot springs besides Kaike Onsen. Among them, I want to recommend Kaike Onsen because you can enjoy the beautiful scenery as seen in the picture above.
Before Kaike Onsen, there is a beautiful beach called "Yumigahama". You can take a walk on this beach. At that time, you will see a beautiful mountain named Daisen in front of you. This mountain is covered with snow in winter.
If you stay in Kaike Onsen Hotel or Ryokan (Japanese style hotel) in winter, you will be able to have plenty of crabs. Crab and hot springs and beautiful scenery. What else is necessary?
>>Compare nearby accommodations
>>Please check the Kaike Onsen information on Trip Advisor!
Nageiredo (Mitokusan Sanbutuji Temple)
"Nageiredo" was built halfway up Mt. Mitoku in Misasa Town, Tottori Prefecture, as if clinging to a cliff with an altitude of 520m. This mysterious building is designated as a National Treasure, but it is not clear how it was built.
Mt. Mitoku is a sacred place of mountain Buddhism. Even now, there are still many worshipers, but worshiping here is life-threatening. It is also called "the most dangerous national treasure in Japan" because there are many fatal accidents.
Anyone can visit the shrine, but shoes and clothing will be checked at the main hall (reception desk). If you are unsuitable, you will not be allowed to enter the mountain. And it is a rule to climb with two or more people. In addition, there are times when entry to the mountain is prohibited depending on the weather. *Please check the official website in advance.
It takes about 1km and takes about 45 minutes to go up a steep road, including slopes with intricately entwined tree roots, slopes that rely on iron chains to climb, and slippery rock surfaces. For those who are not confident in their physical strength, we recommend visiting from the place of worship (Yohaijo) where you can see Nageiredo from the foot of the mountain.
>>Please check the Nageiredo information on Trip Advisor!
Mizuki Shigeru Road
Sakaiminato City in Tottori Prefecture is the birthplace of Shigeru Mizuki, a famous Japanese manga artist. Many of his masterpieces depict "Yokai". Yokai is Japanese folk monster.
Mizuki Shigeru Road is a road that stretches for about 800 meters from JR Sakaiminato Station to the Mizuki Shigeru Museum. It is a unique shopping street dotted with 153 charming bronze Yokai statues and Yokai shrines.
>>Please check the Mizuki Shigeru Road information on Trip Advisor!
Mizuki Shigeru Museum
At the end of Mizuki Shigeru Road, there is the Mizuki Shigeru Museum. In addition to Shigeru Mizuki's representative yokai manga "Gegege no Kitaro," all comic books, original drawings, paintings and illustrations, yokai collections collected from all over the world, and yokai figures are exhibited here. This is a unique museum where adults and children alike can experience the world of Yokai.
*Currently closed. Scheduled to reopen in the spring of 2024. [Official site]
>>Please check the Mizuki Shigeru Museum information on Trip Advisor!
Kurayoshi Shirakabe Dozogun
Kurayoshi City, located in the center of Tottori Prefecture, is a charming city where old Japanese buildings and townscapes remain.
Among them, the Kurayoshi Shirakabe Storehouses is an area with a spectacular view of the storehouses built from the Edo period to the Taisho period, with red roof tiles, white walls, and black burnt cedar boards. Today, those buildings are used as tourist information centers, souvenir shops, cafes, and workshops.
There are many sake breweries, soy sauce breweries, and other breweries in the surrounding area, and the town is filled with a retro atmosphere.
>>Please check the Shirakabe Dozogun Akagawara information on Trip Advisor!
Thank you for reading to the end.
If you want to check the tour menu and deals for the entire Tottori prefecture, click here.
Now, let's plan to make your vacation in Japan the best experience ever!
Back to "Best of Chugoku Region"