Fukui Prefecture is known for its majestic natural scenery. There are many sightseeing spots where you can feel the history and culture of Japan, such as traditional townscapes that still remain, historic ruins, temples and shrines, and there are many things to see. This page describes the attractions of such Fukui Prefecture and a travel guide including tourist attractions to visit and things to do.
Outline of Fukui
Fukui Prefecture faces the Sea of Japan. Fukui Prefecture is sometimes referred to as the "Hokuriku Region" together with Kanazawa and Toyama Prefectures.
Access
Here are the best ways to get to Fukui from major cities in Japan.
from Tokyo
By train: Take the Hokuriku Shinkansen from Tokyo Station to Fukui Station in about 2.5-3 hours.
from Osaka
By Train: About 2 hours from Osaka Station to Fukui Station on the limited express "Thunderbird".
from Kyoto
By train: About 2 hours from Kyoto Station to Fukui Station on the Limited Express "Thunderbird".
from Nagoya (closest major city to Fukui)
By train: From Nagoya Station, take the limited express "Shirasagi" to Fukui Station, which takes about 1 hour.
from Fukuoka, Sapporo and Okinawa
If you are coming from Fukuoka, Sapporo or Okinawa, it is best to take a domestic flight to the nearby Komatsu Airport in Ishikawa Prefecture. From there you can easily reach Fukui by train or bus.
If you want to travel around Fukui, a rail pass that allows unlimited rides on the Shinkansen and local trains is a great deal. >>See here for details.
Fukui was once home to powerful samurai warriors and served as an important location for political and cultural activities at the time.
The following spots are a must see when visiting Fukui. We recommend adding it to your itinerary as a priority.
Eiheiji Temple
A Zen Buddhist temple built in the 13th century, it was built by Dogen Zenji, the founder of the Soto sect, as a meditation training hall. In the grounds of the 680-year-old cedar tree, many monks are still practicing day and night.
If you make a reservation by phone in advance, visitors can actually experience the training. In the case of a day trip, it is also possible to choose only to have zazen, Buddhist sermons, and vegetarian cuisine.
However, at Eiheiji, life itself, from waking up to going to sleep, is regarded as training. For this reason, those who choose to stay overnight practice worship, zazen, work, sutra chanting, meals, and lodging from morning to night. Training is tough anyway, so you need to be prepared.
*Those who wish to experience the experience must make a reservation by phone at least 10 days before the desired date. For details, please see the official website (Japanese only).
>>Find the Eiheiji-Cho best deal, compare prices, and read what other travelers have to say at Tripadvisor
Ichijodani Asakura Clan Ruins
The Ichijodani Asakura clan ruins are a must-see spot for those who love history and ruins.
From the 15th century to the 16th century, the Asakura clan ruled over this region. In the 278 hectares of mountains, ruins and gardens of a castle town that reflect the rich lifestyle and culture of Yoshikage V, who was not only a feudal lord of the Sengoku period but also a man of culture, were excavated one after another.
The townscape, which has been revived as it was then, looks like a movie set. Walking here will make you feel like you have slipped back in time to the Sengoku period.
>>Find the Ichijodani Asakura clan ruins best deal, compare prices, and read what other travelers have to say at Tripadvisor
Echizen Ono Castle
Echizen Ono Castle is a castle that rises on the summit of Mt. Kameyama (altitude 249m) in Ono City, Fukui Prefecture. Along with Takeda Castle (Hyogo Prefecture) and Bitchu Matsuyama Castle (Okayama Prefecture), it is famous as a "Castle in the Sky" that floats on a sea of clouds.
The castle in the sky appears from dawn to around 9:00 am. The probability of appearance is high on days when it rained the day before and the humidity is high, or when the wind is weak. In particular, castles in the sky tend to appear from October to April. November is said to be the most probable month.
>>Find the Echizen Ono Castle best deal, compare prices, and read what other travelers have to say at Tripadvisor
Tojimbo Cliff
Tojinbo has long been known as a scenic spot. It is designated as a national natural monument. There are only 3 places in the world, including this one, that are geologically unusual rock formations called "columnar joints of pyroxene andesite".
Tojinbo is also famous among Japanese people as a filming location for Japanese movies and suspense dramas. Roughly cut by wave erosion, the cliffs are as high as 25m, which is equivalent to the 8th and 9th floors of a building, and continue for about 1km along the coastline. It is a thrilling scenic spot with no railings.
>>Find the Tojinbo best deal, compare prices, and read what other travelers have to say at Tripadvisor
Fukui Prefectural Dinosaur Museum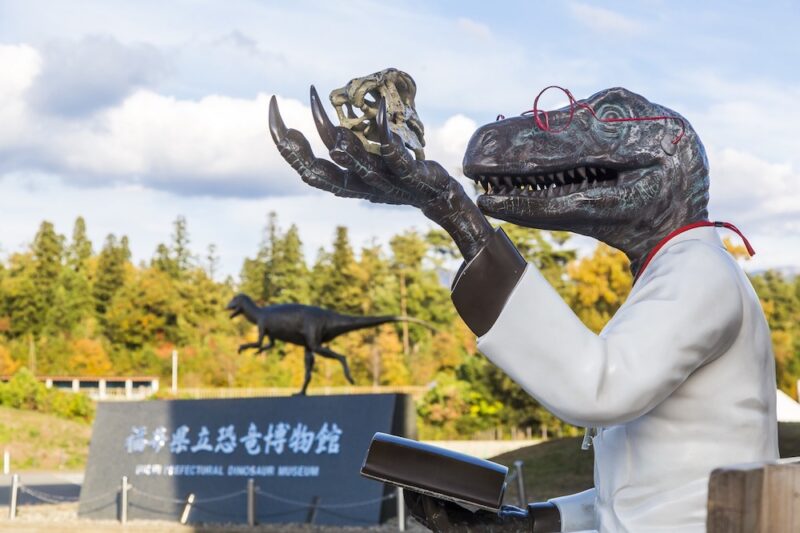 Fukui has the largest dinosaur museum in Japan. The museum was opened in 2000 because fossils such as teeth, bones, and footprints of dinosaurs and many other vertebrates were discovered in Katsuyama City, Fukui Prefecture.
Here, over 1,000 specimens, including 44 full-body skeletons of dinosaurs such as Fukuiraptor, and large-scale restored diorama images are on display.
In addition, at the open-air dinosaur museum, where you can take a private bus, you can see the site where dinosaur fossils are being excavated up close, and you can experience excavation by tapping stones brought from the excavation site.
The Fukui Prefectural Dinosaur Museum is currently attracting attention from all over the world. I think that many people, from children to adults, and even researchers, can enjoy it.
>>Find the Fukui Prefectural Dinosaur Museum best deal, compare prices, and read what other travelers have to say at Tripadvisor
Thank you for reading to the end.
If you want to check the tour menu and deals for the entire Fukui prefecture, click here.
Now, let's plan to make your vacation in Japan the best experience ever!
Back to "Best of Chubu Region"