Okayama prefecture is a temperate area facing the Seto Inland Sea. In Kurashiki city in this area, traditional Japanese streets are preserved. Okayama City has Okayama Castle and Korakuen Garden. Okayama prefecture is relatively close to Osaka and Hiroshima, so if you travel in western Japan, you can drop in easily. Since Okayama prefecture is connected with Shikoku by a bridge, you can travel from Okayama to Shikoku. On this page, we will guide you on Okayama's travel information, such as attractions of Okayama, places to visit, and things to do.
Outline of Okayama
Okayama Prefecture is known as the "Sunny Country" and has the highest number of days with less than 1mm of rainfall in Japan, with many sunny days.
Blessed with a warm climate and abundant nature, you can enjoy delicious food throughout the four seasons. Okayama Prefecture is also known as the "Fruit Kingdom" for its white peaches and muscat grapes. Rice is also delicious, and the Seto Inland Sea offers a wide variety and quantity of seafood.
Okayama prefecture, in a word, is a very calm area. This area is blessed both climatically and economically.
Weather and climate of Okayama prefecture
The climate of Okayama prefecture is very calm throughout the year.
There are mountains in the northern part of Okayama prefecture. So even if moist air comes from the northern Japan Sea in the winter, the mountains block it. That is why snow hardly gets down.
In the summer, rain clouds come from the Pacific Ocean on the south side, but the mountains of Shikoku located south of Okayama Prefecture block it. So it will not rain so hard.
The economy of Okayama prefecture
Okayama prefecture is not bad economically.
Okayama prefecture is near Osaka and transportation convenience is good. So Okayama Prefecture has diverse industries. Many factories are located in the coastal area.
Furthermore, because the weather is stable, fruit cultivation such as peach is also popular in this area.
In addition, Okayama Prefecture has the best leisure spots for all four seasons, such as swimming in the Seto Inland Sea in the south, escaping the heat in the Hiruzen Highlands with an altitude of more than 500m called Karuizawa in Kansai in the summer, and skiing in the winter.
Access
Okayama has "Okayama Airport", and the Shinkansen also stops there.
It takes about 1 hour and 15 minutes from Haneda Airport in Tokyo to Okayama Airport.
From Osaka to Okayama, it takes about 1 hour by Shinkansen.
There are 10 railway lines in Okayama Prefecture, so if you use the train, you can go sightseeing without stress. In addition, Okayama City also operates a tram, which is rare in Japan.
Okayama prefecture is a blessed area like this. If you go to Okayama, you will feel the calm atmosphere of this area.
There are several passes available for efficient travel in Okayama. >>Click here for details.
Seto ohashi Bridge
Kurashiki city of Okayama Prefecture and Kagawa prefecture of Shikoku on the other side of the Seto Inland Sea are connected by a huge Seto Ohashi bridge.
To be accurate, the Seto Ohashi Bridge is a generic name for 10 bridges over remote islands in the Seto Inland Sea. The total length of the Seto Ohashi bridge is 12,300 meters.
There are JR train lines and roads on this bridge. You can cross this bridge by train or car. If you drive a car, you can cross this bridge in about 15 minutes. Crossing the Seto Ohashi bridge, you can enjoy the calm view of the Seto Inland Sea.
>>Book your 7 consecutive days rail pass that covers unlimited rides in the Setouchi Area of Japan at a great price
Kurashiki (Kurashiki Bikan Historical Quarter)
Kurashiki, which is about 17 minutes by train from JR Okayama Station, is a very calm and beautiful city. In this town, there is an area that stores traditional wooden buildings built in the Tokugawa shogunate era. As you can see the picture above, the old street continues.
Kurashiki was a trading base that collects rice and other supplies of surrounding rice and sends it to various places in the Tokugawa shogunate era. The buildings remaining in this town were used at that time. Here, the river was used when carrying goods. As you can see the picture on the top, you can ride a boat on this river.
In the vicinity of this river there is also the Ohara Museum which is a private art museum representing Japan. I have already introduced the Ohara Museum in another article. Please drop by this article if you like.

>>Click here if you want to know the overview of Kurashiki Bikan Historical Quarter and the tour menu etc.
Korakuen Garden
Okayama City, the center of Okayama Prefecture, has a famous Japanese garden called "Korakuen". This vast Japanese garden was built by the castle owner of Okayama castle during the Tokugawa shogunate era.
About Korakuen I have already introduced in another articles. If you are interested, please drop in the articles below as well.
>>Please check the Korakuen information on Trip Advisor!
Okayama Castle
Next to Korakuen, there is Okayama Castle. Okayama Castle is one of the landmarks representing Okayama Prefecture. It is also called "Crow Castle" because of its black appearance. This castle has already been introduced in another article, so please refer to it if you like.
>>Please check the Okayama Castle information on Trip Advisor! 
Kibitsu Shrine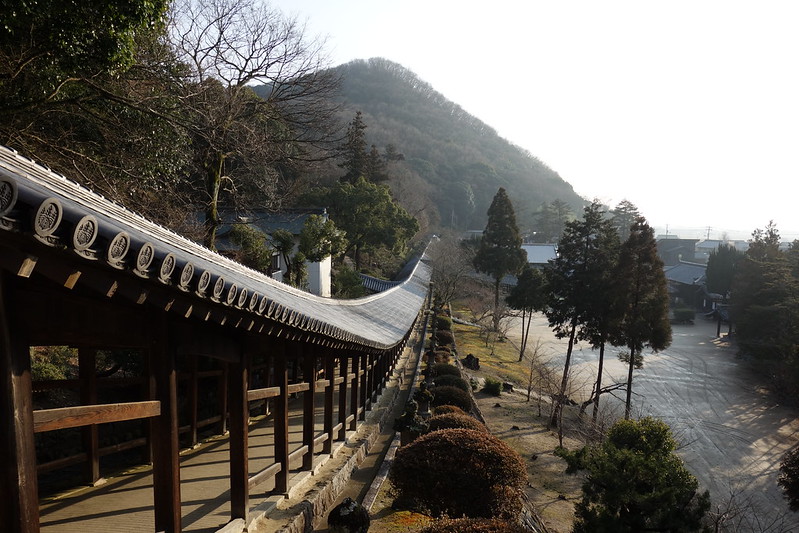 Kibitsu Shrine is said to be the origin of the famous Japanese folk tale "Momotaro". The site is vast and is the second largest after Yasaka Shrine in Kyoto.
The highlights are the main hall and worship hall, both of which are national treasures. It is a magnificent one that uses the only architectural style in Japan. In addition, the 360m-long corridor extending from the main hall, which was built using the natural terrain as it is, is spectacular. There are also seasonal flowers such as the button garden at the end of the corridor, azaleas, azaleas, cherry blossoms, and plums. About 1,500 hydrangea circles are also famous.
>>Please check the Kibitsu Shrine information on Trip Advisor!
Kojima Jeans Street
Okayama prefecture has one interesting sightseeing spot. It is "Kojima Jeans Street". This street is located in the Kojima district of Kurashiki city.
At Kojima Jeans Street, manufacturers producing very high quality jeans are gathered. Here, people who like jeans come from both inside and outside. Of course you can buy jeans here.
>>Please check the Kojima Jeans Street information on Trip Advisor!
Thank you for reading to the end.
If you want to check the tour menu and deals for the entire Okayama prefecture, click here.
Now, let's plan to make your vacation in Japan the best experience ever!
Back to "Best of Chugoku Region"