There are four main types of accommodations in Japan. This page provides an overview of them and how to use them.
Please access and refer to the following link for information on how to make reservations at Japanese inns.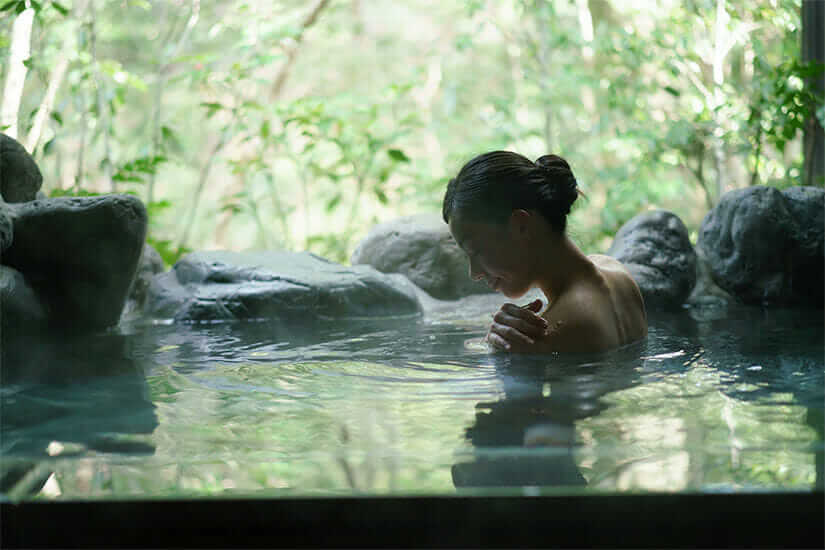 I use hotels all over the world for work and vacation. Depending on t...
Japan has four types of hotels
Luxury Hotels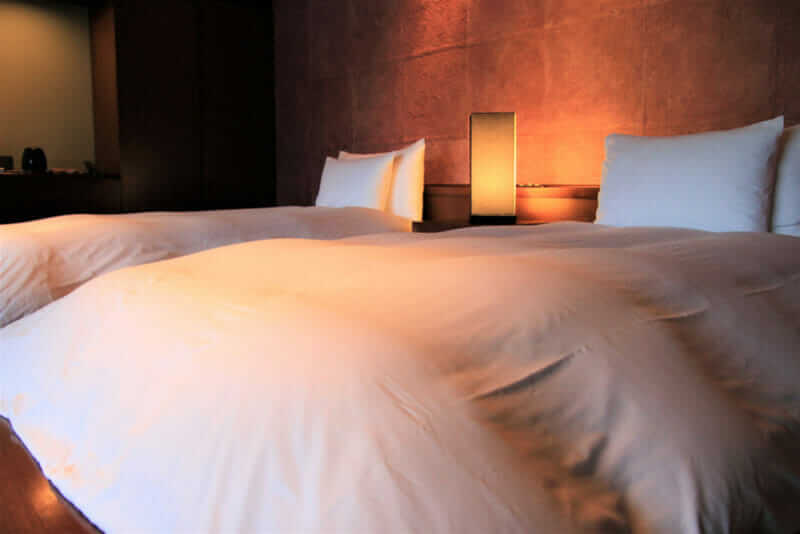 There are many luxury hotels in major cities in Japan. In those hotels, in many cases, twin rooms are main rather than double rooms. You basically do not need to hand chips at the hotel.
Luxury hotels with concierge are gradually increasing even in Japan. I have interviewed concierges many times. They are young compared to European concierges, but they have high professional consciousness and hospitality feelings. Please feel free to talk to them as they wish to be useful.
>> Please see this article about concierge
Recently, in addition to the regular floor, there are more hotels to prepare special club floors. The rooms of the club floors are more elegant. By booking on the club floor, you can check in at the club floor lounge instead of the reception. In the lounge you can also use free drink service and breakfast buffet.
The luxury hotels in the spa town are equipped with luxurious public baths. In some hotels, guest baths are also hot springs. Some hotels have outdoor baths for each guest room.
Business Hotels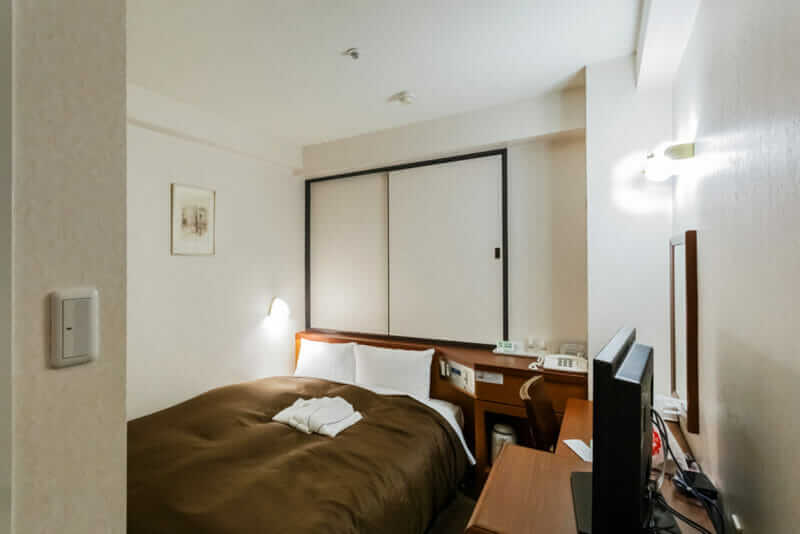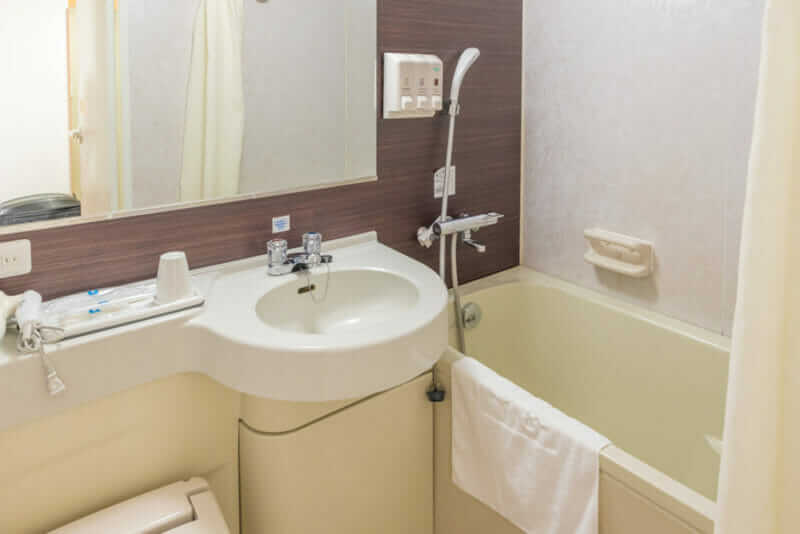 There are so many hotels called "business hotels" in Japan. Business hotels are made for business people who travel. Many of the rooms are single rooms. However, if the hotel has single rooms with double size bed, two people can use it. These rooms are very small, about 10 – 20 square meters. Every room has a "unit bath" with a bath and a toilet.
The rooms of the business hotels are narrow, but in many cases they are very clean and sophisticated. There is a TV, a mini fridge and a small writing desk. Hair dryer, shampoo, toothbrush etc are also provided.
There are more hotels offering double rooms and twin rooms. Recently, new hotels with many twin and double are increasing for tourists from abroad. Some hotels have public baths.
Accommodation costs vary completely depending on the area. In the case of Tokyo and Osaka, the hotel fee is generally high, so hotel accommodation fee of these hotels will be about 5,000 yen, 15,000 yen. There are many hotels with prepaid fee.
Capsule Hotels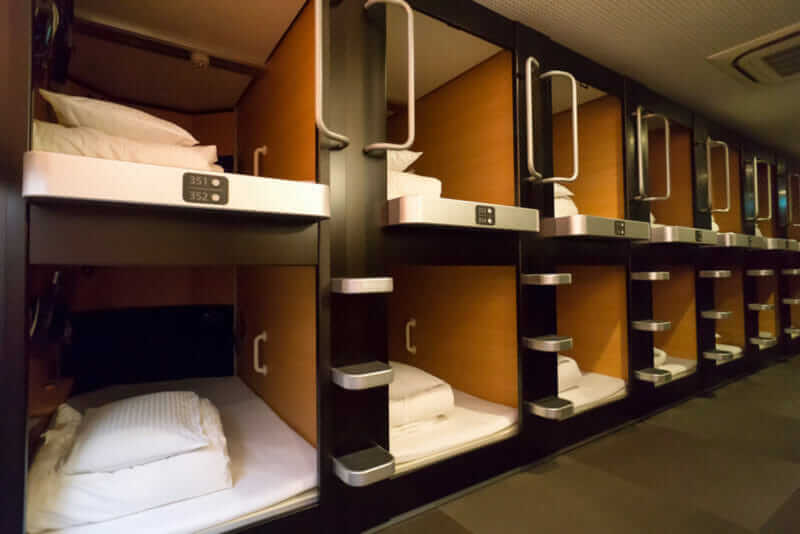 Capsule Hotel is a unique simple hotel that first appeared in Osaka in 1979. As it can be seen in the photo above, guests stay in the space of the capsule shape, respectively.
The capsule room is basically prepaid in advance. These hotels include a public shower room, powder room, toilet room, lounge and vending machine.
Each capsule can not be locked by law. Capsules are divided between men and women. Often men and women have separate floors. Recently, capsule hotels dedicated to women have also appeared.
Guest Houses
Recently, tourists from overseas have increased very much in Japan. New guest houses are appearing more and more so that these guests can stay comfortably and reasonably. They also devised interiors and fixtures so that guests can enjoy the traditional Japanese atmosphere. In many guest houses, guests will share bunk beds.
At the capsule hotel, you can enjoy a futuristic mysterious atmosphere, but you will spend a long time alone. On the other hand, guests often talk with each other in the guest house. It will surely be a pleasant trip!
Ryokan (Japanese style hotel)
Overview
In Japan, hotels offering Japanese style rooms are called "Ryokan". If you want to enjoy the Japanese atmosphere, you may try staying at Ryokan.
Ryokan differs from the hotel in the following ways.
Facility
Many of Ryokan are buildings of Japanese exterior appearance. And it is also a Japanese style interior in the building. In many RYokan, you have to take your shoes off at the entrance. The rooms are also basically Japanese style. Because tatami mats are laid, you can lie down on the floor pleasantly. If it is a high-class Ryokan, in the evening, a clerk will come to your room and lay down a futon. Please sleep with your futon. If it is cheap RYokan, let's sleep with your futon spreading yourself.
Bath
RYokan has a public bath. Luxury Ryokan features a very gorgeous public bath. The guests basically use these public baths. In the case of luxury Ryokan, guest rooms also have a fine bath. In the Japanese bath there is space to wash the body besides the bathtub.
Meal
Ryokan basically has dinner and breakfast. You will eat them in your room.
Chip
Basically, no chip is necessary. However, some Japanese guests staying at luxury RYokan hand chips to staff (Nakai-san) who is in charge of their room.
Luxury Ryokan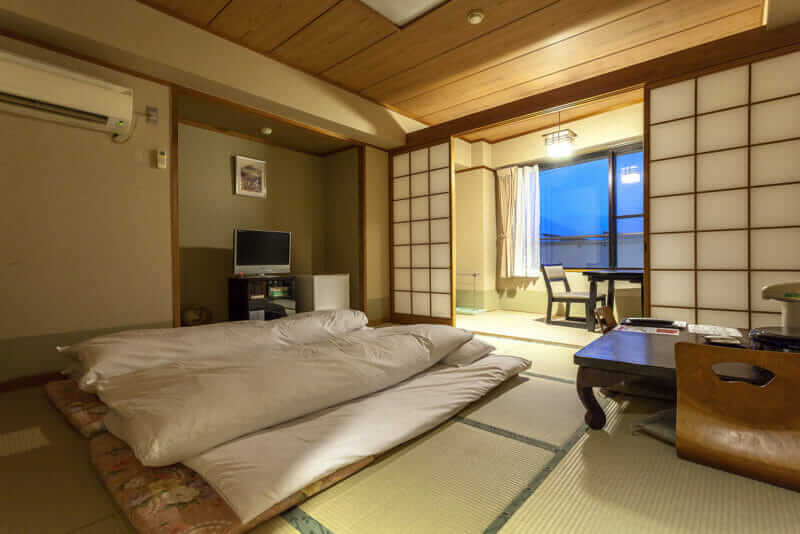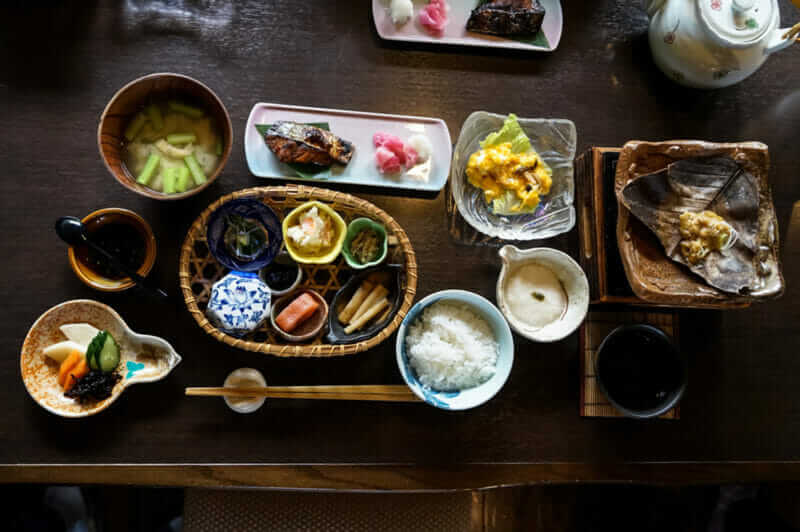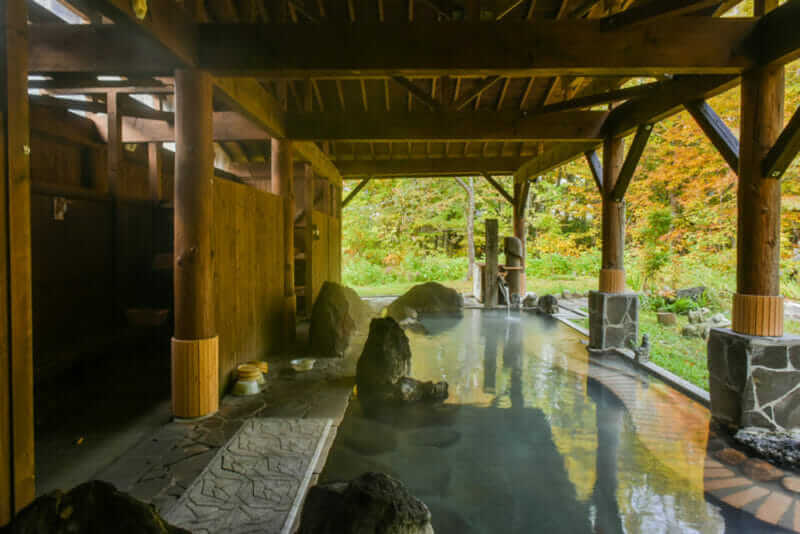 If you go to famous sightseeing spots or spa resorts, you can stay at luxury Ryokan. Also in Tokyo, there is a new upscale RYokan named Hoshinoya in Otemachi.
Luxury Ryokan is focusing on delicious dishes and luxurious baths. You can eat delicious food of that place in your room. And you can heal your body and mind with a big bath.
The high-class Ryokan has personnel in charge for each room. Most of them are female, they are wearing kimonos. They are called "Nakai-san" in Japanese. Nakai-san will guide you to your room and will give you Japanese tea first. Nakai-san carries meals to your room. In the evening, besides Nakai-san, a female owner (Okami) wearing a kimono will come to your room and greet you. Please enjoy talking with them. When you leave Ryokan, they will see you at the front door.
Casual Ryokan
There are many casual Ryokan in Japan. Perhaps, these Ryokan may inherit the appearance of old Japanese accommodation the most.
In those Ryokan, there is no Nakai-san per room. The staff will not lay your futon at night. However, the owner and staff of Ryokan are very close, so you can feel free to talk with them. They may not be good at English, but they will surely talk to you in good faith.
In these inns, the baths should not be very large. When the bathtub is small, you take turns bathing. Some ryokan allow you to lock the bath and rent it out.
Homestay, Farmstay, Vacation Rental, etc.
Airbnb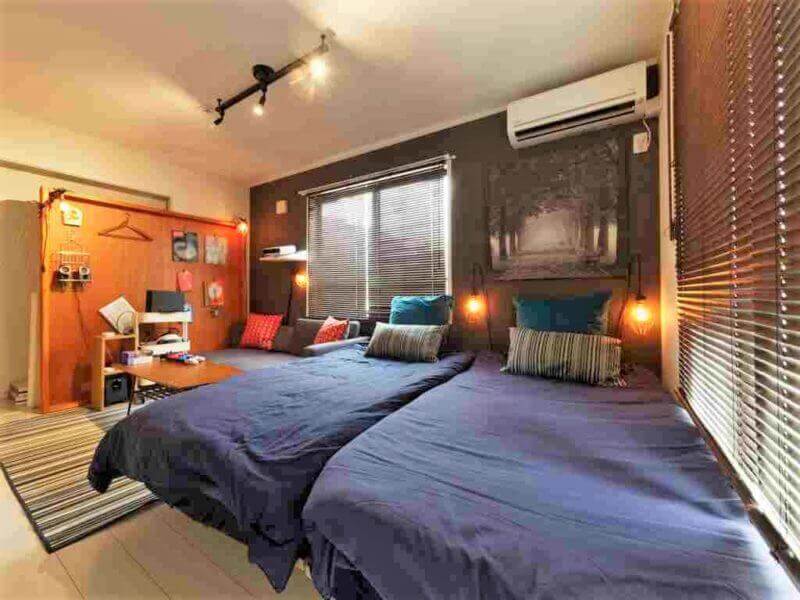 In Japan, you can stay in a private house. The private houses where guests can stay are called "Minshuku". Minshuku means "home inn" in Japanese. In the past farmers and others operated Minshuku.
Many of Minshuku have not contracted with travel agents. However, Minshuku which can be booked with Airbnb is increasing recently. You can make an accommodation reservation at Mnshuku using Airbnb.
In Airbnb, there are many Minshuku types that rent private rooms. I'm not sure if I can call them "Minshuku". In any case, Airbnb allows you to find accommodation facilities reasonably in Japan just like any other country.
Traditional Minshuku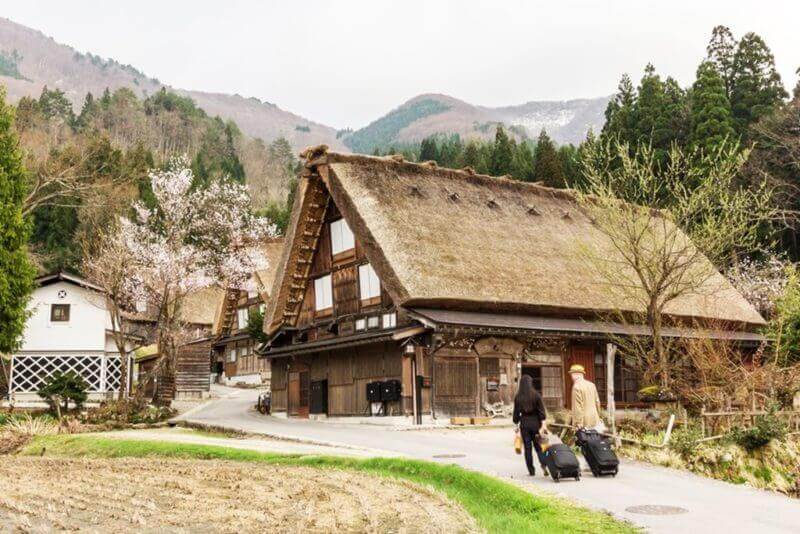 You can stay in traditional Japanese houses. Perhaps the most popular is Minshuku in Shirakawago. Shirakawa-go is a beautiful mountain village in Gifu Prefecture in central Honshu. Because there are so many snow, the houses of Shirakawago have sharp roofs. Why do not you stay at this unique house and experience the lives of Japanese mountain villages?
>> For details of Minshuku in Shirakawa-go, please see the official website
There are many other attractive Minshuku in rural villages in Japan. For example, Miyama-cho in Kyoto Prefecture also has many wonderful Minshuku with thatches.
>> For details of Minshuku in Miyama Town please visit the official website
My favorite Minshuku is Daraku-so in the mountains of Okuizumo-cho, Shimane Prefecture. This Minshuku is using the thatched house of 250 years of construction. Please do find your favorite Mnshuku by all means!
>>For more information about Daraku-so, please visit Shimane Rural Tourism official website
Shukubo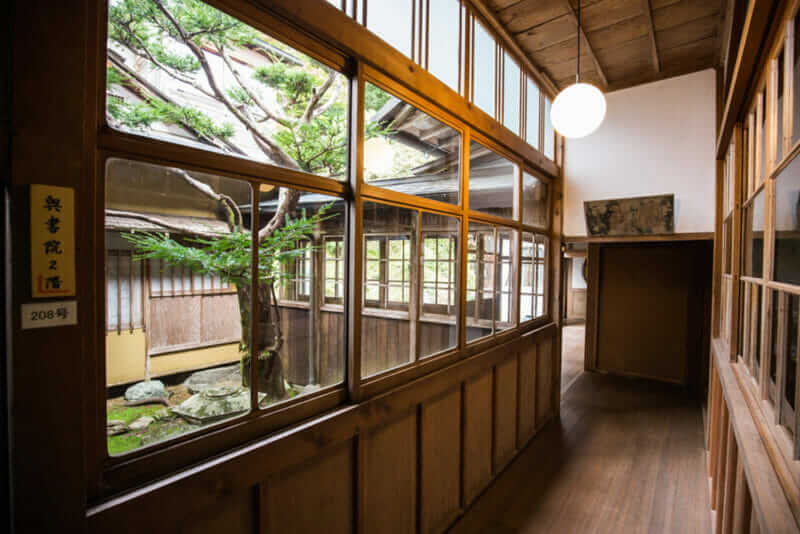 Shukubo is accommodation facilities in temples and shrines. In the past, it was managed for people to practice and worshipers. Today, tourists can stay in some Shukubo.
If you stay at Shukubo, you can feel the temples and the shrines so close. You can also experience Zen meditation and transcription.
However, Shukubo has various types. Some Shukubo are modern buildings. If you want to stay in a traditional Japanese house, please collect information.
The most popular Shukubo among foreign tourists is facilities located in Koyasan, Wakayama Prefecture. Koyasan has various types of Shukubo. There are even Shukubo with hot springs. Please see the official website below.
>> For details of Koyasan's Shukubo please visit the official website
If you are interested in Japanese minshuku and lodgings, short-term farmer's inns and homestays, please visit our specialized website stayjapan.com.
How to Book Accommodations in Japan
Click on the button below to learn more about how to book accommodations in Japan with certainty and at the best price!
Now, let's plan to make your vacation in Japan the best experience ever!