Kochi Prefecture is a prefecture located in the southern part of Shikoku. The region is home to pristine rivers, rugged headlands and spectacular beaches overlooking the Pacific Ocean. In Japan, many young people travel to Kochi, yearning for this atmosphere. In addition, the coastal bonito and tuna fisheries are thriving, and fresh seafood is abundant. The bonito tataki, which is grilled with straw, is especially famous. If you go to Kochi, I'm sure you'll have a fun trip.
On this page, we will guide you on your Kochi trip, including the attractions of Kochi, places to visit and things to do.
Outline of Kochi
A vast Shikoku mountain range spreads to the north side of Kochi prefecture. This prefecture is a mountainous area with 89% of the total area. The rivers flow from these mountains. Those rivers still leave the atmosphere of the Japanese river of the old age.
On the southern side of the mountains there is a splendid Pacific Ocean. If you go to the cape, you can enjoy a very powerful scenery.
In such an environment, the people of Kochi had thought about the foreign countries beyond the sea. The samurai of Kochi was very active in modernizing Japan by ending the era of the Tokugawa shogunate in the latter half of the 19th century. You can image the times of the samurai in Kochi Castle and beaches.
Climate and weather in Kochi prefecture
Kochi Prefecture has many sunny days, but at the same time it rains a lot.
Kochi Prefecture's annual sunshine hours exceed 2000 hours and are top class in Japan. However, on the other hand, the annual rainfall is 2500 mm even in the plains, and over 3000 mm in the mountains.
Rivers such as the Shimanto River will rise sharply when it rains. To be honest, I went camping to the Shimanto River when a typhoon came about 20 years ago, and I felt scared.
Cape Ashizuri and Cape Muroto are extremely dangerous in typhoons. Please be careful.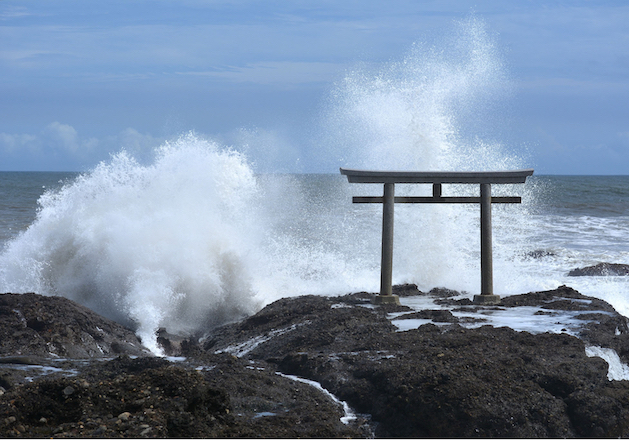 In Japan, the seasons change, and each season brings its own unique we...
Access
Airport
Kochi Airport is located about 18 kilometers east of Kochi City. At this airport, scheduled flights are operated with the following airports.
Tokyo / Haneda
Tokyo / Narita
Nagoya / Komaki
Osaka / Itami
Osaka / Kansai
Fukuoka
It is approximately 30 minutes by bus from Kochi Airport to JR Kochi Station.
Railway
Shinkansen is not operated in Kochi prefecture. In this prefecture, the following railroads are operated. Besides this, trams are running in Kochi City.
JR Shikoku
・Dosan line
・Yodo line
Tosa Kuroshio Railway
・Nakamura Line
・Sukumo line
・Asa Line
Asa Coast Railway
・Asato line
Because Kochi prefecture is very large, traveling by train takes time. There are several passes available for efficient travel in Shikoku. >>Click here for details.
Kochi Castle
Kochi Castle is on the mountain (44 meters altitude) in the middle of Kochi Plain. It is approximately ten minutes by tram from JR Kochi Station to this castle.
Kochi Castle was built by Kazutoyo YAMANOUTI, the lord in 1611. It was destroyed in 1727 due to a fire, but it was rebuilt in 1749. Many of the remaining wooden buildings, including the castle tower, were built in this era.
Many of the wooden buildings of Japanese castles have been lost due to fire, lightning strikes, earthquakes, etc., but there are so many left in Kochi Castle. In Kochi Castle, not only the castle tower but also the huge wooden building of Honmaru (the inner citadel) is left, so you will be able to feel the atmosphere of the time of Samurai strongly.
>>Please check the Kochi Castle information on Trip Advisor!
Hirome Ichiba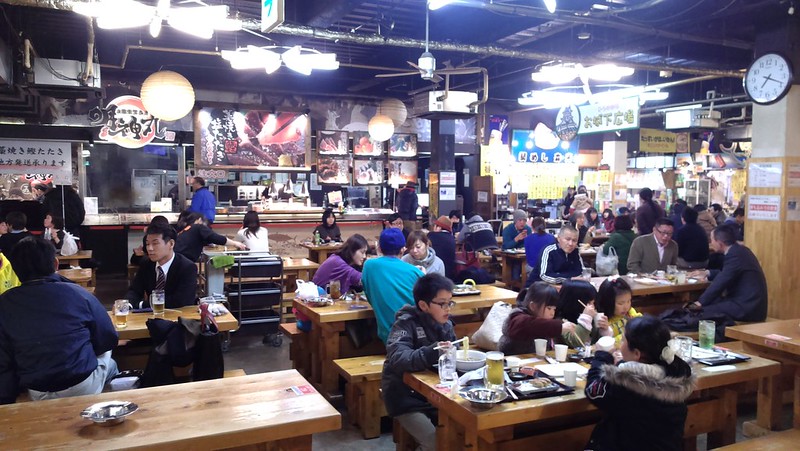 Hirome Ichiba is a food stall street where Kochi gourmet gathers. At this indoor market with about 60 stores, you can taste various Kochi specialties in small portions.
Be sure to try the most famous Kochi specialty, bonito tataki. Other recommended dishes include Tosa red beef, whale, and shamo chicken. Local sake is also recommended.
It is located near Kochi Castle, so please stop by before or after sightseeing.
>>Please check the Hirome Ichiba information on Trip Advisor!
Shimanto River
The Shimanto River is a beautiful river that flows through the western part of Kochi Prefecture. With a total length of 196 km, it is the longest river in Shikoku. No dams have been built on this river. So, if you come here, you can enjoy old Japanese scenery.
Many bridges on the Shimanto River do not have railings. These bridges are designed to be submerged during floods. The bridge is designed so that it is difficult to overlook. Such bridges are called "low-water crossing bridges". The video below is a shot of the scenery of the Shimanto River Bridge.
I like this river and visited it again and again for a period of time. This river has no special decorations. However, this river is full of kindness that heals with people.
You can take a pleasure boat on the Shimanto River. You can also experience canoeing.
>>Please check the Shimanto River information on Trip Advisor!
Cape Ashizuri
If you go to the Shimanto River, why do not you visit Cape Ashizuri?
Cape Ashizuri is at the southwest end of Shikoku. The cliff protruding in the Pacific Ocean has a height of 80 meters. The Pacific Ocean from here is very exciting. You should feel that the earth is round.
It is approximately 1 hour and 40 minutes by bus from Nakamura station to Cape Ashizuri.
>>Please check the Cape Ashizuri  information on Trip Advisor!
Thank you for reading to the end.
If you want to check the tour menu and deals for the entire Kochi prefecture, click here.
Now, let's plan to make your vacation in Japan the best experience ever!
Back to "Best of Shikoku Region"