Ishikawa Prefecture, located on the Sea of Japan side, is an attractive tourist destination where history, culture and nature are integrated. Ishikawa Prefecture is also called "Hokuriku Region" together with Toyama Prefecture and Fukui Prefecture. Kanazawa, the prefectural capital of Ishikawa Prefecture, is the largest tourist city in the Hokuriku region. Here, there are many popular sightseeing and experiences where you can immerse yourself in the atmosphere of old Japan. On this page, we will introduce carefully selected sightseeing information, such as the attractions of Ishikawa Prefecture, places to visit, things to do, etc.
Outline of Ishikawa
Features
Ishikawa Prefecture is located on the Sea of Japan side of Honshu. One of the highlights of Ishikawa Prefecture is Kanazawa City, the prefectural capital, where the streets of the Edo period still remain. It is a popular tourist spot where you can immerse yourself in the atmosphere of the good old days of Japan. You can come into contact with various traditional cultures.
The Noto Peninsula is also a must-see in Ishikawa Prefecture. This picturesque region offers stunning coastal landscapes of rugged cliffs, sandy beaches and picturesque fishing villages. There are also hot spring areas on the Noto Peninsula, where you can relax while enjoying the panoramic view of the Sea of Japan.
Ishikawa Prefecture is also famous for its traditional crafts and arts. Kutani is famous for its delicate porcelain and Wajima for its lacquerware. You can visit workshops and galleries to see how craftsmen work, and even create your own creations.
Foodies will be fascinated by Ishikawa's gourmet scene. Ishikawa Prefecture is famous for its fresh seafood, especially snow crab and yellowtail. Kanazawa is also known for its unique local cuisine, such as kaisendon (seafood bowl) and gold leaf ice cream, which add a touch of luxury to your meal.
Ishikawa Prefecture is a destination where you can experience the beautiful history and traditional culture of Japan, eat delicious seafood from the Sea of Japan, and enjoy the beautiful snowscape in winter.
History and Culture
Ishikawa Prefecture was governed by the Maeda family (Kaga clan), the number two feudal lord after the Tokugawa shogunate family during the Edo period (1603-1867). The Maeda family put more emphasis on culture than on the military in order to appeal that it was not a feudal clan against the Tokugawa family.
As a result, Ishikawa Prefecture has nurtured a rich traditional culture that represents Japan. Those cultures are especially preserved in Kanazawa, the prefectural capital of Ishikawa. If you visit Kanazawa, you will surely enjoy Japanese traditional culture, second only to Kyoto and Nara.
AccessClimate
For access to Ishikawa Prefecture, it is convenient to use Komatsu Airport, which has both domestic and international flights. From Komatsu Airport, you can easily go to Kanazawa City and other parts of the prefecture by train or bus.
In addition, it takes about two and a half hours by Shinkansen from Tokyo and by limited express train from Osaka.
If you want to travel around Kanazawa, a rail pass that allows unlimited rides on the Shinkansen and local trains is a great deal. >>See here for details.
Climate
Since Ishikawa Prefecture is located on the Sea of Japan, it often snows in the winter. During the winter months, there are fewer sunny days. The Noto Peninsula, located in the northern part of Ishikawa Prefecture, has a particularly strong seasonal wind. In other seasons, the climate is relatively similar to that of Tokyo, Osaka and Kyoto.
Kanazawa
Kanazawa City, the capital of Ishikawa Prefecture, is one of Japan's leading tourist cities. In Kanazawa, as in Kyoto and Nara, traditional Japanese townscapes have been preserved. At the same time, the unique culture of gold leaf and lacquerware is still richly preserved today.
For more information on Kanazawa, please refer to the articles below.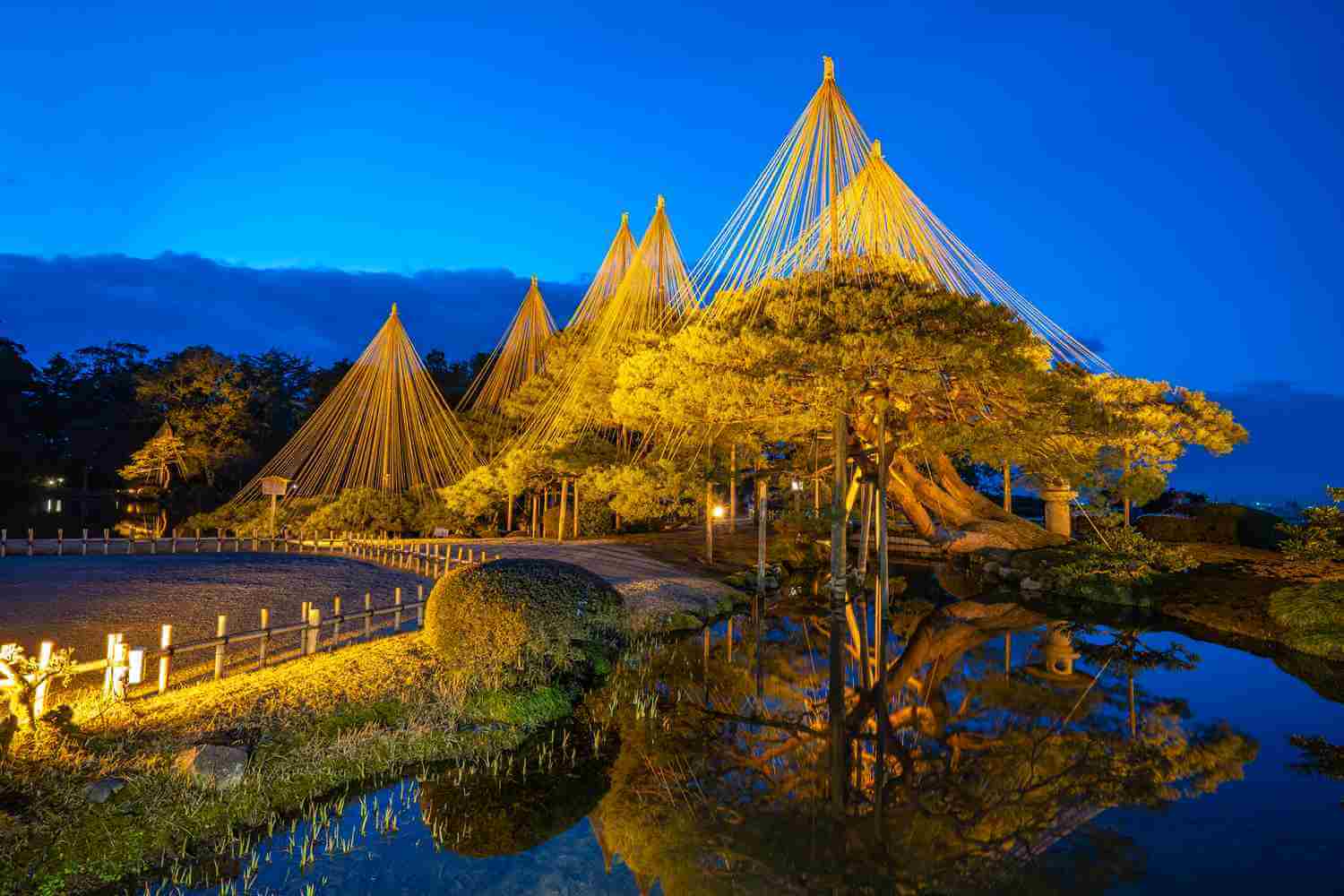 Kanazawa in Ishikawa Prefecture is a popular tourist city where tradit...
>>Check out Kanazawa's tour menu and discount passes here!
Yunokuni no Mori
Yunokuni no Mori, a traditional craft village in Kaga, is dotted with hands-on workshops on more than 50 types of traditional crafts from Ishikawa Prefecture. There are various courses such as Yuzen stencil dyeing, Wajima lacquerware, gold leaf application, glass blowing, and hand forming, so even beginners can easily experience it. Each experience course takes 20 minutes to 1 hour. Therefore, it is possible to combine several experiences.
In addition, there are tea rooms, restaurants where you can taste local cuisine, and souvenir shops that sell famous sweets, local sake, special products, and traditional crafts.
>>Find the Yunokuni no Mori best deal, compare prices, and read what other travelers have to say at Tripadvisor
Tsukumo Bay (Noto)
Tsukumo Bay is located on the eastern side of the Noto Peninsula. Here, there is a beautiful scenery designated as the Noto Peninsula Quasi-National Park, with a rias coast consisting of outstandingly transparent sea and coves of various sizes.
While enjoying a stroll along the coastal excursion trail, you can see the scenery created by the clear water surface and the lush trees along the coast, as well as observe sea creatures.
Also, if you take a sightseeing boat that tours Kujuku Bay, you can enjoy the scenery from the boat, and you can also experience feeding fish at the fish tank that stops along the way.
If you stay at a nearby inn, you can fully enjoy the scenery of Kujuku Bay from sunset in the evening to sunrise in the morning. It is also recommended to stay active by camping and barbecuing at the campsite. At the Noto Marine Fureai Center, you can learn about and experience the ocean, including snorkeling.
>>Find the Noto best deal, compare prices, and read what other travelers have to say at Tripadvisor
Shiroyone Semmaida (Wajima)
"Shiroyone Senmaida" designated as a national cultural property scenic spot. It is a spot that attracts attention as a representative terraced paddy field of Noto no Satoyama Satoumi, Japan's first Globally Important Agricultural Heritage System. It is beautiful in each of spring, summer, autumn and winter, and it is a superb view that changes its expression in the morning and evening. If you visit the Noto Peninsula, be sure to come see it.
>>Find the Wajima best deal, compare prices, and read what other travelers have to say at Tripadvisor
Thank you for reading to the end.
If you want to check the tour menu and deals for the entire Ishikawa prefecture, click here.
Now, let's plan to make your vacation in Japan the best experience ever!
Back to "Best of Chubu Region"