Gunma prefecture is located in the northwestern part of the Kanto region. Serving sericulture and textile industry in this area once, it contributed greatly to the modernization of Japan. My recommendations for places to visit in Gunma Prefecture are Ozenuma (Oze Marsh) and Kusatsu Onsen.
Outline of Gunma
Gunma Prefecture, located in the center of Japan, is a destination that offers a wide range of attractions for foreign tourists.
One of the most popular attractions of Gunma Prefecture is its hot springs, also known as onsen. The area is home to numerous onsen resorts that offer visitors the chance to relax and unwind in the soothing waters while enjoying stunning mountain views. Some of the most famous onsen resorts in Gunma include Kusatsu Onsen, Ikaho Onsen, and Minakami Onsen.
Another popular attraction in Gunma is its beautiful natural scenery. The prefecture is known for its majestic mountains, including Mount Akagi, Mount Haruna, and Mount Myogi, which offer visitors the chance to hike and explore the stunning landscape. In addition to mountains, Gunma is also home to several beautiful lakes, such as Lake Ikaho and Lake Haruna, which are popular among visitors for their serene atmosphere and picturesque views.
For those interested in history and culture, Gunma has several attractions to offer. The prefecture is home to several important historical sites, such as the Ikaho Stone Steps, which date back to the Edo period, and the Tomioka Silk Mill, which was one of the first modern silk mills in Japan and is now a UNESCO World Heritage Site.
Foodies will also love Gunma's local cuisine, which includes dishes such as Takasaki Daruma (fried meatballs), Kiryu Men (noodles), and Ota Yakisoba (stir-fried noodles).
Overall, Gunma Prefecture is a destination that offers something for everyone. Its hot springs, beautiful scenery, rich history and culture, and delicious cuisine make it a must-see destination for anyone visiting Japan.
>>Find the best deal, compare prices, and read what other travelers have to say at Tripadvisor!
Oze
Ozenuma is a popular tourist destination for visitors to Japan. It is a vast wetland located in the center of the country and is known for its stunning natural beauty.
One of the main attractions of Ozenuma is its beautiful scenery. The marshland is home to a wide variety of flora and fauna, including rare and endangered species found only in this area. It is characterized by lush greenery, clear streams, and stunning mountain views, creating a calm and peaceful atmosphere.
Ozenuma offers a variety of outdoor activities such as hiking, camping, and bird watching. There are numerous hiking trails within the marshland, allowing visitors to enjoy the beautiful scenery and observe the various plants and animals that inhabit the area. There are also numerous hot springs in Ozenuma, perfect for relaxing after a hard day's work.
Another attraction of Ozenuma is its cultural significance. Often featured in traditional Japanese art, poetry, and literature, it has been a favorite of the Japanese people for centuries.
Ozenuma is a must-visit destination when visiting Japan. Its natural beauty, variety of outdoor activities, and cultural significance are sure to attract visitors from all over the world.
However, Ozenuma is located in the wilderness of rural Japan and is not easily accessible. There are very few stores or accommodations in the vicinity. Therefore, tour programs are limited. This may be one of the charms of Ozenuma.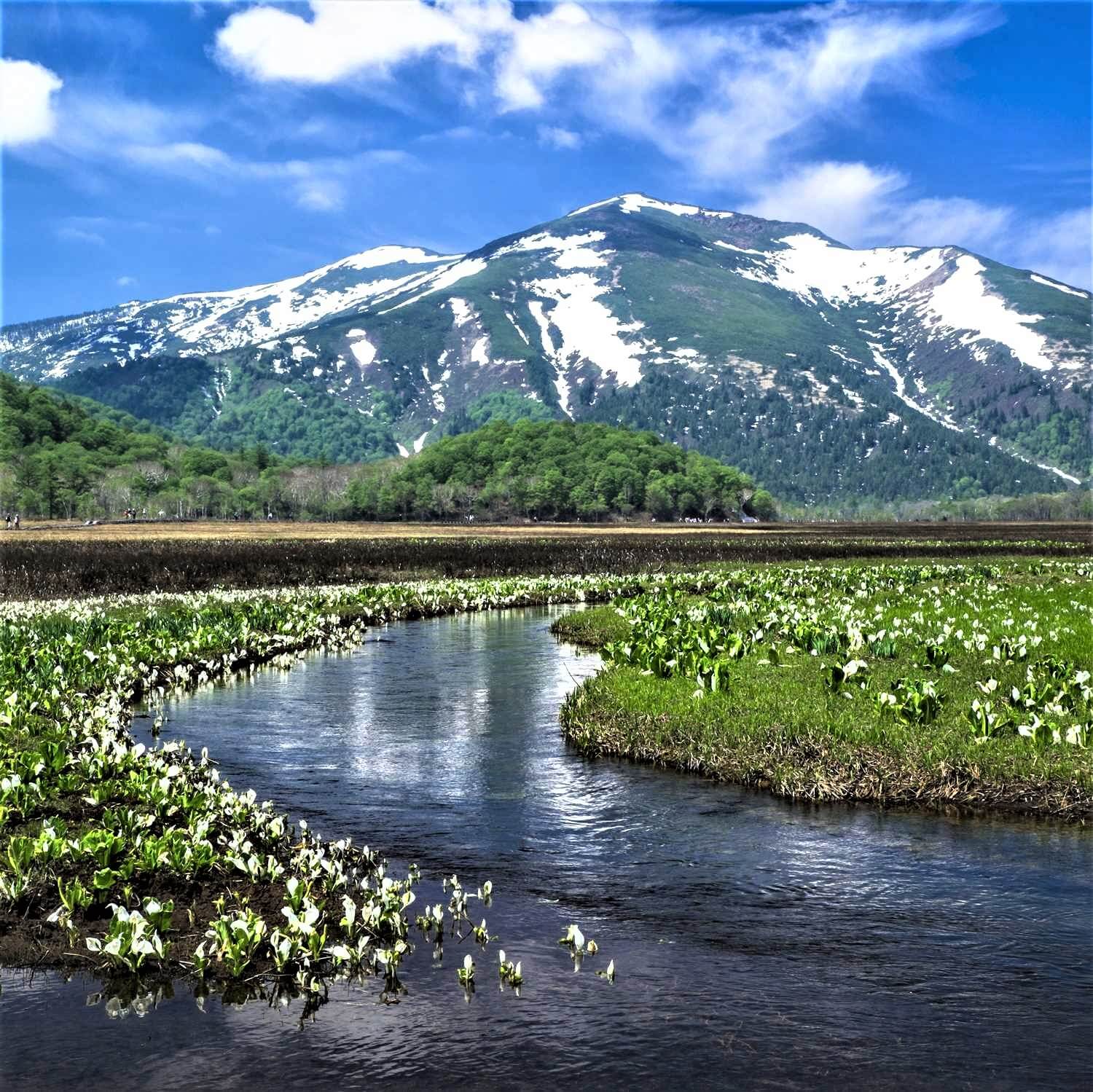 There are 5 hiking areas I would recommend most on Honshu Island in Ja...
>>Click here for information on Ozenuma Visitor Center.
Kusatsu Onsen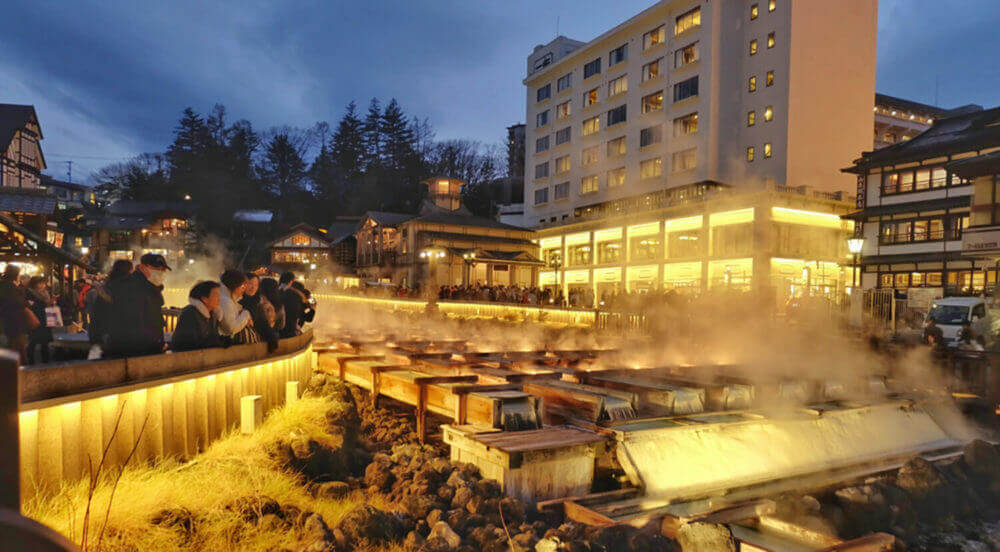 Kusatsu Onsen is a popular hot spring resort located in Gunma Prefecture, Japan, and it's known for its healing properties and beautiful scenery.
First, the hot springs in Kusatsu are very special because the water is rich in minerals that are said to have many health benefits, such as relieving muscle pain, improving skin conditions, and promoting relaxation. So, if you're looking for a relaxing and rejuvenating experience, this is the perfect place to go.
Second, Kusatsu Onsen is also a great place to experience traditional Japanese culture. You can wear a yukata (a casual summer kimono) and stroll around the town, where you can find many shops selling local souvenirs and traditional crafts. You can also try some local foods like onsen manju (a steamed bun with sweet red bean paste) and Kusatsu onsen tamago (eggs boiled in the hot spring water).
Third, the natural beauty surrounding Kusatsu Onsen is truly breathtaking. In the winter, the town is covered in snow and looks like a winter wonderland. In the summer, the greenery and blooming flowers are stunning. There are many hiking trails in the area, so you can enjoy the scenery while getting some exercise.
Overall, Kusatsu Onsen is a great place to experience traditional Japanese culture, relax in the healing hot springs, and enjoy the beautiful scenery. It's a must-visit destination for anyone traveling to Japan.
Thank you for reading to the end.
Now, let's plan to make your vacation in Japan the best experience ever!
Back to "Best of Kanto Region"