Anime and manga are old and new Japanese culture. There are many popular anime and manga in Japan. If you want to learn about the history and birth of manga and anime, why not visit the related facilities and shops when you travel to Japan? Also, it's interesting to go to places with big hit anime. Experiencing them is very exciting. This page introduces anime and manga-related facilities, shops, and filming locations in Japan.
Blissful Spots for Lovers of Japanese Manga and Anime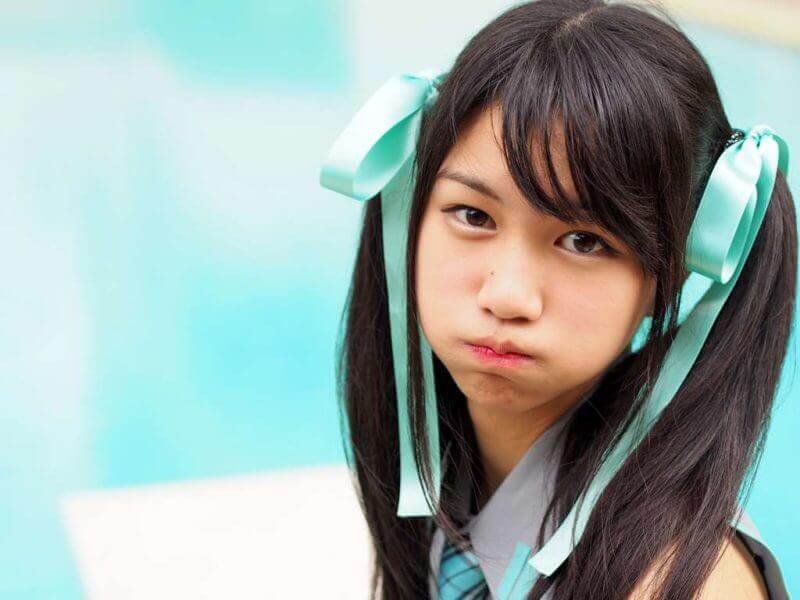 animate Ikebukuro, animate Akihabara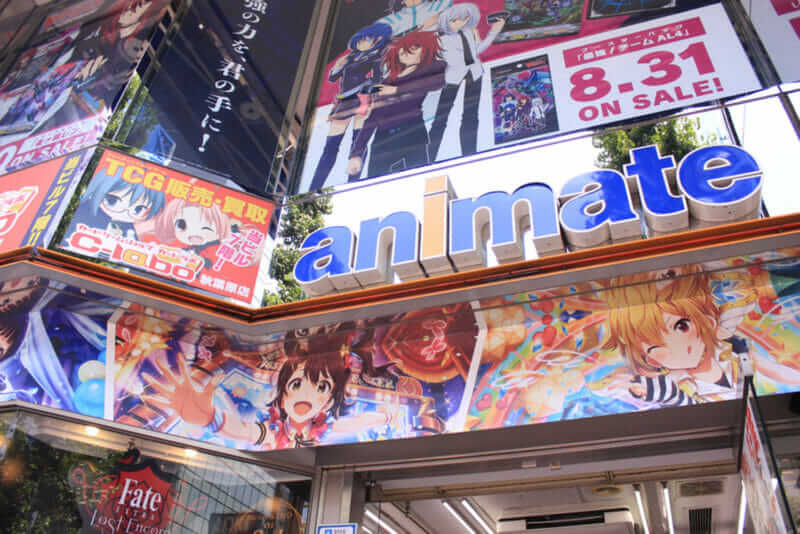 Animate is a specialty store chain that sells related goods of animation, manga, game. Although animate stores are located all around Japan, there are huge stores in Akihabara and Ikebukuro in Tokyo. A lot of tourists from abroad come to these two stores.
animate is a specialty store chain that sells related goods of animation, manga, game. Although animate stores are located all around Japan, there are huge stores in Akihabara and Ikebukuro in Tokyo. A lot of tourists from abroad come to these two stores.
At animate's huge shops, products such as animation and manga-related books and figures (there are so many!), costumes for cosplay and so on are very fulfilling. If you like animation, manga, games, you surely can take a walk around the store and enjoy it for a long time.
If you want to explore Akihabara, please find a huge store of animate Akihabara. Even if you are not very interested in animation or manga, you will be able to enjoy the atmosphere of Japanese pop culture at this store.
>>For more information about Akihabara and the tour menu, etc., click here.
Nakano Broadway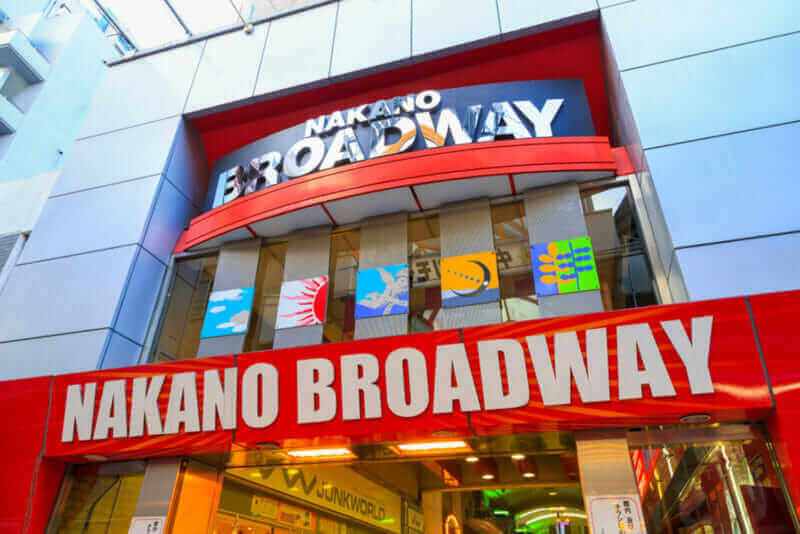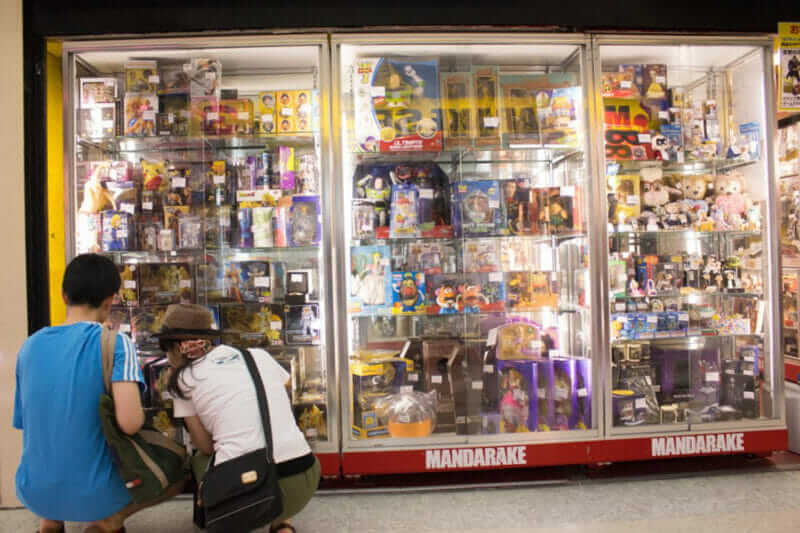 Nakano Broadway is a sightseeing spot called the sacred place of Japan's subculture. It is an old complex building located 5 minutes on foot from the North Exit of JR Nakano Station in the western part of Tokyo. There are many shops from the first floor to the fourth floor of this building. There used to be many ordinary shops such as fresh food stores before, but since the 1990's the quirky shops related to animation and manga have increased a lot. Today, small shops for people who like animation, manga and games gather together, making a suspicious and fun atmosphere (of course the security is extremely good!).
Nakano Broadway is similar to Akihabara in that many stores sell related goods such as animation and manga. You can say Nakano Broadway as "small Akihabara". However, at Nakano Broadway stores, many old goodies are sold more than Akihabara. At Nakano Broadway there is a retro atmosphere. This point is a big feature of Nakano Broadway. Men and women of various generations are gathering, wanting to enjoy this strange atmosphere.
>>For more information about Nakano Broadway and the tour menu, etc., click here.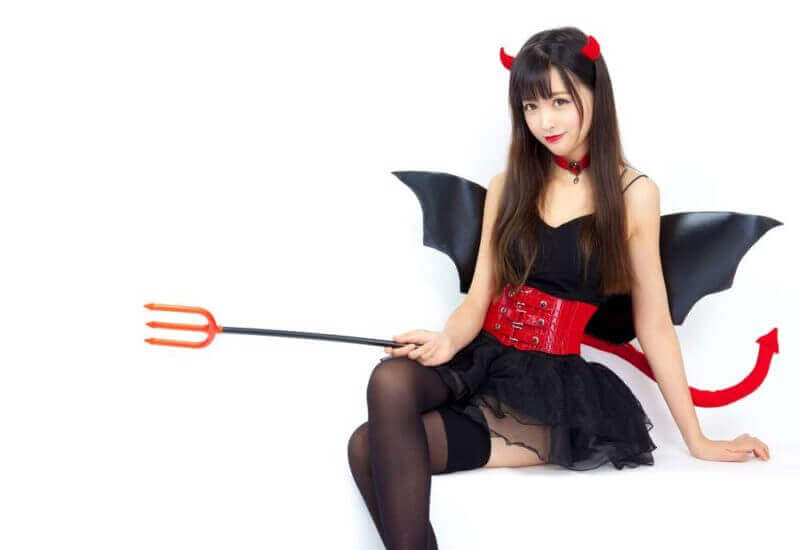 Jump Shop
Jump Shop is a specialty store that sells original goods and related goods of "Jump" cartoon magazine which produced masterpieces such as One Piece, Dragon Ball, Naruto. Jump Shop is located in major cities nationwide including Sendai, Tokyo Dome, Tokyo Sky Tree, Tokyo Station, Osaka Umeda, Hiroshima and Fukuoka.
For details about Jump Shop's store information, please refer to the following official website. Unfortunately there is no page written in English on the official website. However, clicking a small square mark in each store information will display Google Maps on a separate page. With Google Maps you can convert it to your favorite language.
>>For more information about Jump Shop and the tour menu, etc., click here.
Pokémon Center
The Pokemon Center is a Specialty Store for Pokemon related products. You can buy stuffed animals, figures, towels, handkerchiefs, shirts, etc. of Pokemon's characters at this store.
The Pokemon centers are located in major cities nationwide including Sapporo, Sendai, Tokyo, SKYTREE TOWN (Oshiage), Tokyo-Bay (Chiba), Yokohama, Nagoya, Kyoto, Osaka, Hiroshima, Fukuoka. Shops in Tokyo Sky Tree are very crowded.
>>For more information about Pokémon Center and the tour menu, etc., click here.
Ghibli Museum Mitaka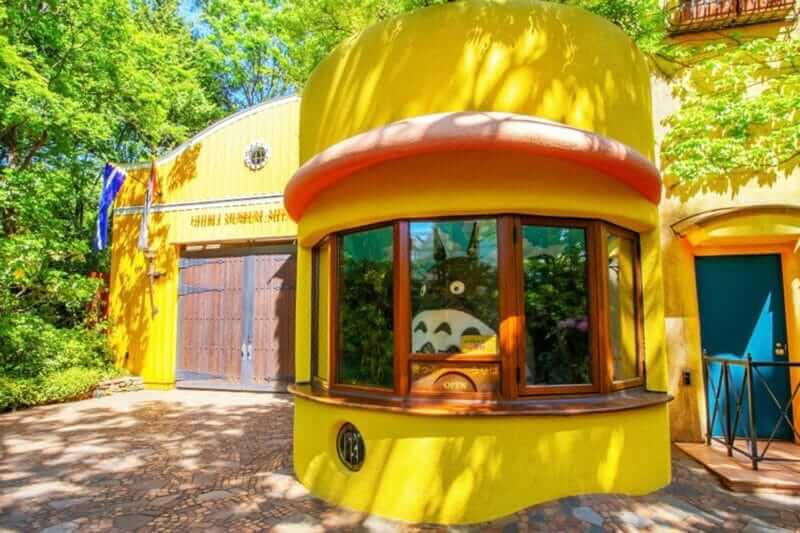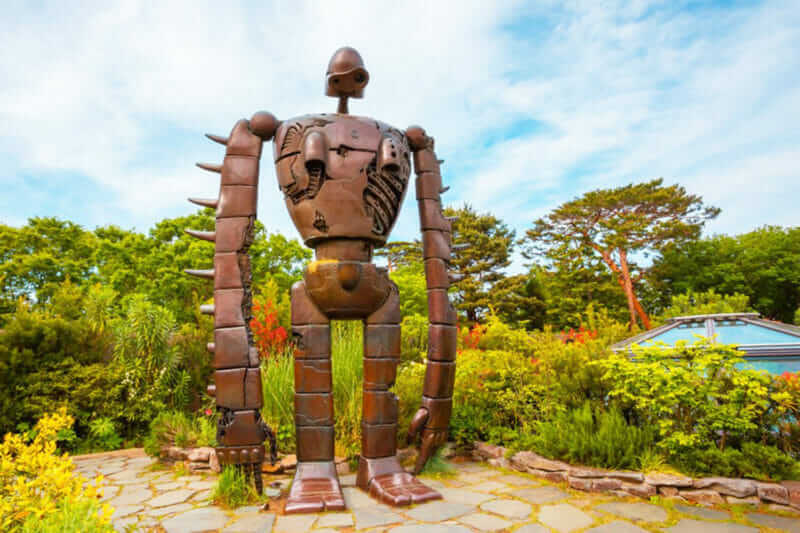 Have you ever seen animated movies such as "My Neighbor Totoro" and "Howl's Moving Castle" produced by Studio Ghibli?
If you are a fan of studio ghibli movies, I recommend you go to Ghibli Museum Mitaka in Mitaka, western Tokyo. In this museum, you can see how an animated movie is made, the actual process is introduced in an easy-to-understand manner. There are also many characters in this museum, which appear in the movies of Studio Ghibli.
I introduced Ghibli Museum Mitaka in the following article. If you are interested, please see the article below. As I mentioned in the article, please note that this museum has to be booked in advance.
>>For more information about Ghibli Museum Mitaka and the tour menu, etc., click here.
Kyoto International Manga Museum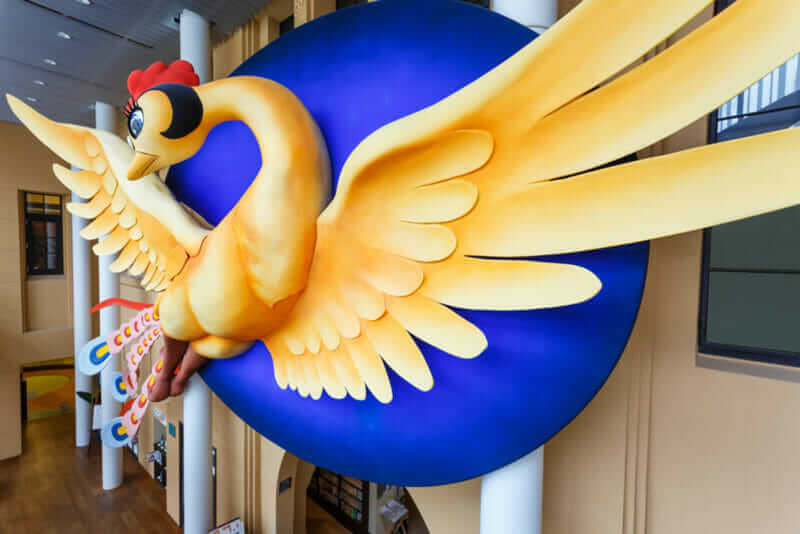 Kyoto International Manga Museum is the largest cartoon museum in Japan. This museum was founded in 2006 by Kyoto Seika University and Kyoto City by renovating schools in Kyoto city. Kyoto Seika University is a unique university with "Faculty of Manga".
Kyoto International Manga Museum is a 2-minute walk from Karasuma Oike Subway Station in the center of Kyoto city. This museum has collections of Japanese old manga magazines, contemporary popular manga books, world comic books, and so on. Total of them will reach about 300,000.
On the wall of this museum there is a bookcase with a total extension of 200 meters, about 50,000 books are lined up there. You can retrieve and read your favorite manga from this bookshelf. There are many Japanese comic books translated into English, Chinese, Spanish, Portuguese, etc, so you should be able to enjoy it considerably.
The above picture is a huge object (length 4.5 m × width 11 m) in this museum. This bird is a main character appearing in the famous manga artist Osamu TEDUKA's masterpiece "Phoenix (Hi no Tori = bird of fire)". There are a lot of tourists photographing in front of this object.
Kyoto International Manga Museum also has a cafe and a museum shop selling original goods.
>>For more information about Kyoto International Manga Museum and the tour menu, etc., click here.
Tezuka Osamu Manga Museum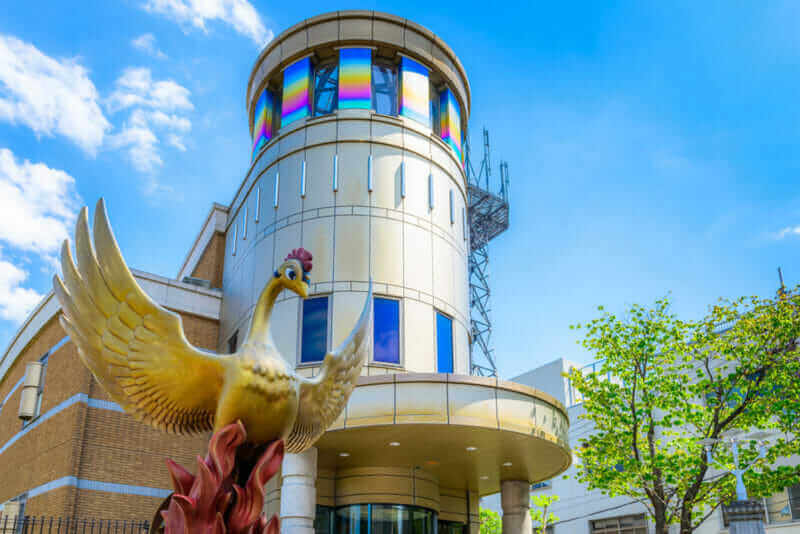 Do you know Tezuka Osamu's masterpieces such as "ASTRO BOY (Mighty Atom)" "Princess Knight (Ribon no Kishi)" "Kimba, the White Lion" "Black Jack" "Phoenix (Hi no Tori)"?
Tezuka Osamu is a manga artist who is also called "God" among Japanese comic lovers. Tezuka Osamu died after leaving a huge number of masterpieces in 1989. After that, Tezuka Osamu Manga Museum was founded in Takarazuka City, Hyogo Prefecture, where he lived long.
Tezuka Osamu Manga Museum is not such a big museum. However, many comic lovers come to this museum, not only from Japan but also from overseas.
In this museum, you can read about 2000 Tezuka Osamu related books. Furthermore, you can search Tezuka Osamu's animation and watch them.
Goods related to Tezuka Osamu are also exhibited. In addition, there is a museum shop and a cafe.
>>For more information about The Osamu Tezuka Manga Museum and the tour menu, etc., click here.
When you go to this museum, you should check on official site whether this museum is open.
Places associated with Japanese anime locations and manga originals
When creating animated films and cartoons, writers and producers often use beautiful places that actually exist as references to determine the story and pictures. For this reason, an increasing number of animation and manga fans are visiting places that have served as models for their favorite works. Here we introduce some of the most famous locations in Japan. These are places you must visit if you are a fan of that anime or manga.
Your Name (Kimi no na wa) locations = Tokyo, Hida, etc.
Let's go to Suga Shrine in Tokyo! Map
Have you seen Makoto SHINKAI's 'Your Name" (2016). This animated movie is a love story of a boy Taki living in Tokyo and a girl Mitsuha living in Hida in the mountains. This movie hit globally. If you ever saw 'Your Name', Why do not you go to the location locations of this movie in Japan?
Regarding the location of 'Your Name'. I wrote a detailed article. If you are interested, please refer to the following article.
Demon Slayer(Kimetsu no Yaiba)locations = Fukuoka, Oita, etc.
Shrine with the surname of Tanjiro! Map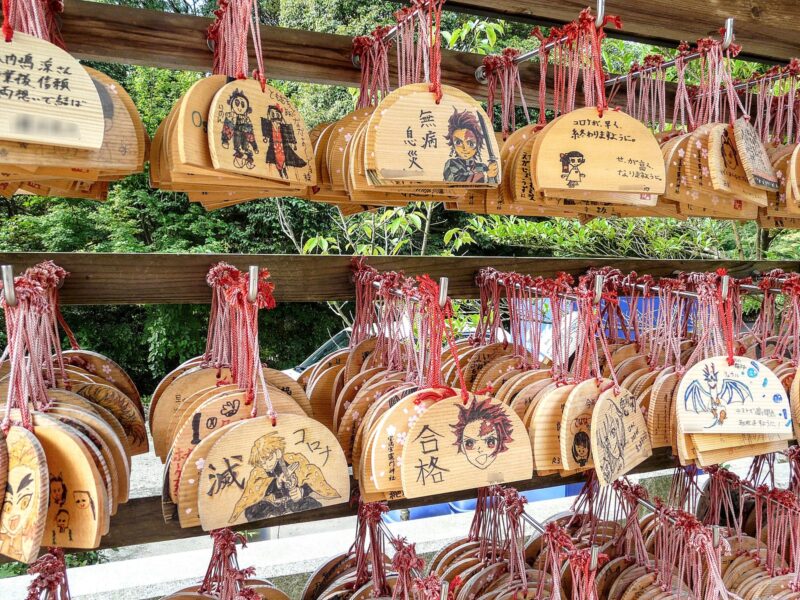 The Japanese manga 'Demon Slayer(鬼滅の刃)' which surpassed 'One Piece' to reach a total of 100 million copies of the series, will be adapted into an anime in 2019. It became a big boom not only in Japan but also overseas.
The setting of 'Demon Slayer' is Taisho Era Japan. A shrine with the same surname as the main character, Tanjiro Kamado, is located in Fukuoka and Oita in Kyushu, which became a hot topic among fans and attracted many visitors. In particular, the Kamado Shrine in Fukuoka, located in the birthplace of the author Gotouge Koyoharu(吾峠呼世晴), was originally built to seal the Onimon Gate and has something in common with the story of Demon Slayer.
On the other hand, the Hachiman Kamado Shrine in Beppu, Oita Prefecture, has a legend of a demon
The kamado kagura dedicated at the shrine is similar to the hinokami kagura passed down by the Kamado clan, and the dragon paintings on the ceiling of the shrine resemble the dragons in the background of Tanjiro, which has become a topic of discussion. Map
Both shrines have many votive ema (votive votive tablet) with illustrations of 'Demon Slayer' on them.
Attack on Titan(Shingeki-no-Kyojin)locations = Oita
A model of the walled world? Map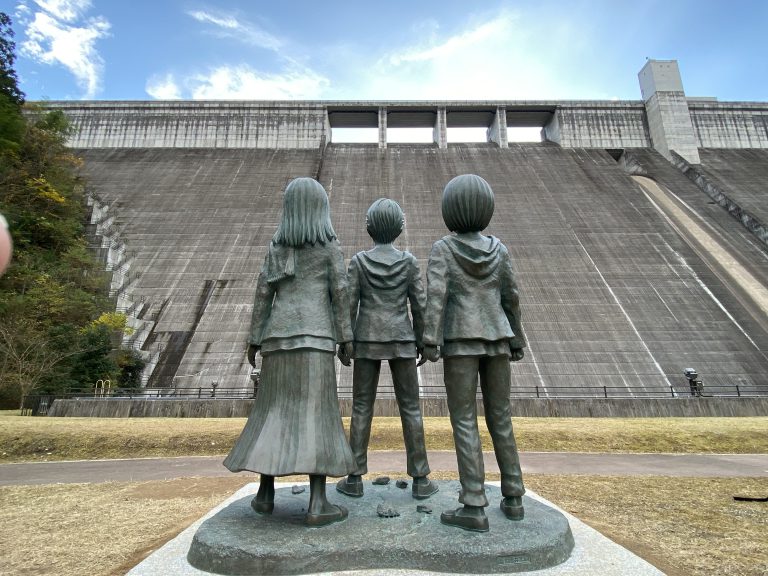 'Attack on Titan(進撃の巨人)' is a hit manga by Hajime Isayama(諫山創) that has sold more than 50 million copies worldwide. Many people are captivated by the tense battle scenes and unique worldview depicted in the manga, in which humans fight for survival in a world where Titans dominate everything.
The model for this work was the town of Oyama in Oita Prefecture in the Kyushu region. This is the birthplace of the author. It is said that his hometown's climate greatly influenced the worldview of the manga, in which humans live in a world surrounded by walls, and many fans consider Oyama Town to be a sacred place for 'Attack on Titan' and come to visit the town. Monuments and other sites associated with the 'Attack on Titan' can be seen throughout the town.
Pretty Guardian Sailor Moon(Bishojosenshi-Sailor-Moon)locations = Tokyo
Sailor Moon lives in a city of celebrities! Map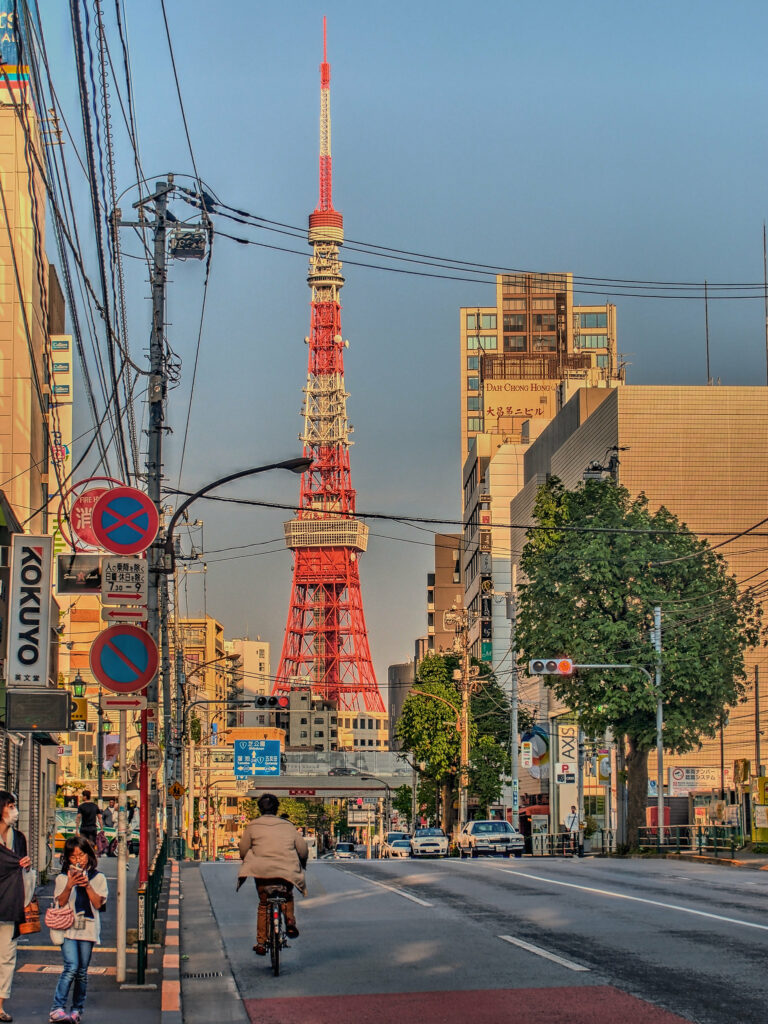 'Sailor Moon' is a manga work by Naoko Takeuchi that caused a huge boom in the 1990s. It was adapted into an anime series, and TV and movies were aired around the world, making it the object of girls' adoration. Even today, Sailor Moon's popularity has not waned.
The main character, Usagi Tsukino, lives in a single-family house in Azabu Juban, Minato-ku, Tokyo. Azabu Juban in Tokyo's Minato Ward is a very fashionable area, known as the celebrity district. Currently, the price of a single-family home on that land is approximately 500 million yen.
The Tokyo Tower, which appears frequently in Sailor Moon, and the Hikawa Shrine, where the grandfather of Hino Rei, aka Sailor Mars, serves as the chief priest, are modeled after the real-life Azabu Hikawa Shrine.
It is a lovely town, and we hope you will visit it when you come to Tokyo.
SLAM DUNK locations = Kamakura
Maybe you will meet Hruko! Map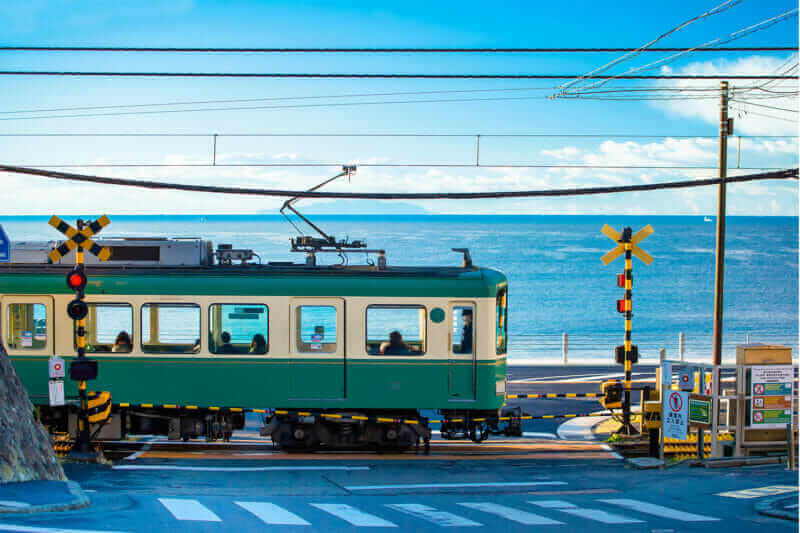 'SLAM DUNK' is a masterpiece of cartoonist Takehiko INOUE. It was serialized in the comic magazine 'Jump' in the 1990's, animation and games were also produced. SLAM DUNK is one of the most hit manga.
The story of SLAM DUNK is set in the high school in Shonan district of Kanagawa prefecture. The main character Hanamichi SAKURAGI is invited by a beautiful girl Haruko and starts basketball in this high school.
If you've seen SLAM DUNK, you will probably remember the scenery of the photo above. This is a railroad crossing next to the Kanakura-kokomae station of Enoshima Electric Railway in Kanagawa Prefecture. This scenery became a model of the scene which comes out repeatedly to SLAM DUNK.
If you stand before this railroad crossing, you surely will enter the world of SLAM DUNK. Beautiful sea spreads in front of you. If it is sunny, you can see the wonderful setting sun in the evening. This area is famous as a tourist destination. Why do not you go on Enoshima Electric Railway and go to Kamakura or Enoshima nearby?
And the World's Largest Celebration of Japanese Animation!
Anime Japan
There are various animation related events in Japan. Among them, the biggest one is "Anime Japan" held at Tokyo Big Sight, located in Ariake, Tokyo, for 2 days each year in late March.
Anime Japan is held annually since 2014. It started by combining two anime related events. In the venue of Anime Japan, presentations of various business related to animation are done. On the other hand, for animation fans, a lot of animation shows and talk events are held. Many cosplayers come to this venue. I think that it is very interesting just to see their performance.
>>For details of Anime Japan, please see the official website
Online store for anime otaku
If you are an avid anime geek and collector, take a look at this mail order store. You won't get bored just looking at them.
This is the official mail order site of the aforementioned Animate, one of Japan's largest anime stores.
You can find a wide variety of character goods only available here. However, please note that we do not ship internationally, so order when you are in Japan.
Now, let's plan to make your vacation in Japan the best experience ever!