In the past few days, temperatures in Tokyo have been above 30°C (86°F) every day.
Last weekend, 40.2°C was recorded in Isesaki City, Gunma Prefecture, and 39.7°C in Sano City, Tochigi Prefecture. For the first time in Japan, the temperature exceeded 40°C in June.
Hot Summer in Japan
Temperatures this summer (July-September) have been reported to be slightly above normal and hot throughout Japan. . The rainy season will end by mid-July in many areas, and like last year, the hot season will begin earlier than normal. Two peaks of heat are expected in late July and late August, with lingering heat in western and eastern Japan.(weathernews.com)

The weather forecast words for heat
In Japan, there are words for heat (temperature) that are used in weather forecasts.
Mousyo-Bi : Extremely hot day, A maximum daily temperature of 35 degrees Celsius or higher.
Manatsu-Bi : Hot summer Day, A maximum daily temperature of 30 degrees Celsius or higher.
Natsu-Bi : Summer day, A maximum daily temperature of 25 degrees Celsius or higher.
Nettai-Ya : The lowest nighttime temperature is 25 degrees Celsius or higher.
Kokusyo-Bi : Severe heat day, A maximum daily temperature of 35 degrees Celsius or higher. This is a common name for a heat wave.
It is probable that this summer will also be  "heat wave days" in many parts of Japan.
Words to need attention
Mousyo-Bi : Extremely hot day. It's annoyingly hot. The high humidity of summer in Japan makes it even more difficult to spend your time than the actual temperature.
Heat stroke advisory : A warning is issued by the Japan Meteorological Agency when the risk of heat stroke is expected to be extremely high. Information is also available on TV, radio, the Internet and other media, as well as on the "Safety tips" and "Japan Official Travel App" smartphone apps.
Examples of heat stroke prevention actions
Refrain from going out unnecessarily and use air conditioning day and night
Drink water frequently before becoming thirsty
Wear breathable clothing
Avoid direct sunlight
Cool the palms of the hands, back and sides of the neck with coolant, cold towels, etc.
Recommended Apps
Japan Official Travel App : Useful app for sightseeing in Japan. It can also be used in times of disaster
Safety tips : An app that provides information on disasters.Push notification of earthquake early warnings, tsunami warnings, special weather warnings, etc. in Japan.Supervised by the Japan Tourism Agency.
Cities that were hot in 2021
Gunma, Isesaki and Kiryu
Saitama Prefecture, Kumagaya
Gifu Prefecture, Mino, Kanayama, Tajimi
Shizuoka Prefecture, Hamamatsu, Tenryu
Kochi, Egasaki
Niigata Prefecture Nakajo, Teradomari
Tokyo, Ome
Yamagata, Yamagata
Yamanashi Prefecture Kofu, Katsunuma
Wakayama Prefecture, Katsuragi
Many areas are hotter than Okinawa and Kyushu regions located in the south of Japan.In some areas, temperatures are high during the day but tend to drop at night.
It is better to check both maximum and minimum temperatures in the weather forecast.
Thank you for reading to the end.
Back to "Summer Wear in Japan"
Read also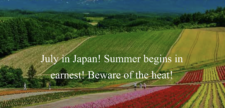 July in Japan! Summer begins in earnest! Beware of the heat!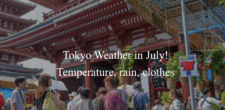 Tokyo Weather in July! Temperatures, Rain and Clothes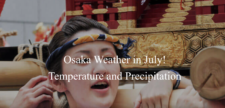 Osaka Weather in July! Temperatures, Rain and Clothes
Hokkaido Weather in July! Temperatures, Rain and Clothes