Japan is safe, clean and most people are very kind. There are many beautiful scenery and creative things in Japan. There are also many places that offer strange and unique experiences that pique the curiosity of children and adults alike.
The article below offers 10 tips for the best travel experience in Japan. Especially if you are traveling to Japan for the first time or are planning to visit Japan with your family, please take a look.
1. Did you arrange for a Japan Rail Pass?
The Japan Rail Pass is a privilege granted only to visitors from overseas. (Many of you may already know this.) If you are planning to travel to several cities in Japan by Shinkansen, you are missing out if you don't get this.
JR Pass can be arranged through several authorized international agents. You can access the official website by clicking the button below. Please check the details

There are articles outlining the JR Pass and Regional Pass, how to purchase them, and how to use them. Please click the button below to access it.
2. How will I get around in Japan once I arrive?
Once you have used the Japan Rail Pass to get to the station closest to your destination, you will need to think about how you will get to your final destination.
However, if you are traveling with your family, we do not recommend that you take a local bus in Japan. This is because they are very crowded and uncomfortable to ride, depending on the location and time of day. In addition, the rules for getting on and off and paying for the ride are difficult.
Sightseeing taxis ('Kanko-taxi' in Japanese), which are chartered plans by taxi companies, are convenient and comfortable.
In addition, there are various means of transportation in Japan, so please enjoy those vehicles as well.
3. Worried about the internet environment and Japanese conversation?
Free Wi-Fi in Japan is quite unpopular with travelers from abroad. This is a well-known fact and has not yet been resolved to any great extent. Also, many people are reluctant to switch to a Japanese SIM card. (Please read this article for more information on the actual state of the Internet communication environment in Japan.)
If you want to have a comfortable internet connection in Japan, rent a mobile Wi-Fi.
Choose from a variety of rental plans with pick-up and drop-off locations that are convenient for you.
Click the button below to check the service details.
Once the mobile communication environment is in place, please consider purchasing a Japanese translation terminal tool. Japanese is difficult. Even small children and elderly parents will be able to act positively with peace of mind with translation tools.
4. No need to bring warm clothes, everyday clothes &
toiletries. Buy them in Japan (destination)!
Because of Japan's long north-south axis and the proximity of oceans and mountains, weather conditions vary greatly depending on the season and region. It is difficult to bring clothes for all weather conditions in all locations. It is a huge amount of luggage, especially if you are traveling with your family.
So, buy your daily clothes, underwear, and especially, warm clothes and toiletries, daily necessities in Japan (locally). We have compiled a list of recommended shopping methods and places to shop. Please access it from the button below.
We have created a page with detailed weather information and seasonal clothing for various regions of Japan. Please use the button below to access weather information by region and plan your trip.
5. Find comfortable accommodations for your precious vacation!
There are many accommodations in Japan. Luxury hotels, ryokans, hot springs, cheap guesthouses, private lodging facilities, etc., all have different designs, systems and prices. If you choose the wrong accommodation, your vacation will be ruined and your family's peace will be destroyed.
We will show you how to find the best accommodation in Japan and the best booking sites. Check out the linked article by clicking the button below.

In addition, if you would like to learn more about the various styles of accommodations in Japan and their characteristics, please access the links below.
6. Join us for activities that will satisfy adults and children alike!
When you visit Japan, please experience Japanese nature and culture. It will surely be a wonderful memory. If you are traveling with your family, we highly recommend it.
To search and compare activity menus in Japan, click the button below! You will be linked to an article that introduces you to the places to make arrangements, how to make arrangements, and popular/recommended activities.
7. Let's go to a theme park that'll make your kid's eyes sparkle!
Shrines and temples that offer a sense of Japanese history, culture, and spirituality are popular destinations for foreign visitors to Japan. However, they may be boring places for children.
Be sure to include popular theme parks in your schedule to keep the kids in a good mood. Of course, adults can also fully enjoy it. On the contrary, it is a magical place where adults are more fascinated.
We have created a page where you can also check out videos with information about popular theme parks and amusement parks in Japan. Please click on the link below to access the page.
If you are planning a family trip to Japan, be sure to check out this website specializing in family trips!
8. Out to impressive spots to satisfy your curiosity!
When you come to Japan, there are several places you should definitely stop by.
For example, museum tours. The article linked below introduces museums and art galleries where children are welcome, as well as factories where visitors can see Japanese high-tech and traditional technology.
Also, if you are a fan of manga and anime, you should not miss the spots listed in the article linked below.
If you want to take family photos in a spectacular flower garden with a soothing view, please refer to the article linked below.
9. The best way to buy Japanese souvenirs!
Souvenirs sold at tourist attractions are attractive. However, some of them may be of poor quality or more expensive than usual. If you are concerned about the quality of your souvenirs, it is recommended that you buy them at a department store.
Click on the button below for an article on the attractions and shopping tips of Japan's department stores, as well as a reference to addresses and maps of department stores throughout Japan.
10. Get the best travel insurance for your trip to Japan!
In order to fully enjoy your vacation in Japan, it is necessary to purchase overseas travel insurance with sufficient coverage. Japan is one of the safest countries in the world, but we must not forget that there are many natural disasters such as earthquakes and typhoons.
The overseas travel insurance that comes with your credit card is not enough. Carefully consider overseas travel insurance that covers illness, injury, accidents, flight delays or cancellations, loss or damage of rental items during your trip, etc. that suits your family structure.
InsureMyTrip is a service that allows you to compare and consider plans from multiple major insurance companies under various conditions.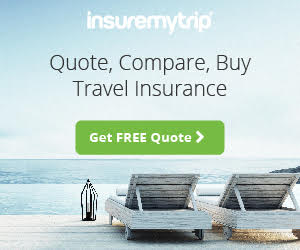 And World Nomads, a simple and flexible travel insurance service that can be purchased online from home, travel or anywhere in the world, covers over 150 adventure activities and provides 24/7 emergency assistance.
Now let's plan to make your vacation in Japan the best experience ever!
Then, please come to Japan well prepared.
JAPANICLE.com hopes to provide useful information to tourists visiting Japan.
If you have any questions or problems, please feel free to contact us using the form below. We are not a travel agency, so we cannot make arrangements for you, but we will do our best to advise you.