On this page, I would like to introduce you to Japanese food and drinks. In Japan there are many highly original foods from high-grade food such as sushi and wagyu beef to even mass food such as okonomiyaki and takoyaki. On this page, I posted various videos in addition to images. I would like you to watch videos and feel the Japanese food nearby. Regarding the foods listed below, I will continue to increase more detailed articles in the future. I will also increase information about recommended restaurants, so please drop in on occasion if you do not mind.
Sushi
Have you ever eaten sushi? I would choose sushi without hesitation if I would choose one that I would recommend to you in Japanese food. If you can, please eat sushi made by professional sushi craftsmen. Those sushi are close to art objects. Of course, the conveyor belt sushi are also delicious. Please enjoy both traditional sushi and modern sushi!
Sukiyabashi Jiro : "Artworks" made by the best craftsmen
Among Japanese traditional sushi restaurants, the most famous is "Sukiyabashi Jiro" introduced in the above video. Former US president Obama also enjoyed sushi at this restaurant with the Japanese Prime Minister when he came to Japan. In order to make a reservation in this restaurant, you should first reserve the hotel early and ask the hotel's concierge to make a reservation.
>> The official site of Sukiyabashi Jiro is here
In addition to Sukiyabashi Jiro, there are many delicious sushi restaurants. Some of them are cheap and delicious. I will introduce these restaurants one after another in the future.
Conveyor belt sushi : Eat delicious sushi cheaply and happily!
Even if you have been to a restaurant of conveyor belt sushi in your country, please try experiencing conveyor belt sushi again in Japan.
In Japan, many restaurants of conveyor belt sushi compete fiercely. Recently, the number of conveyor belt sushi restaurants that do not rotate due to hygiene issues has increased. As a result, these restaurants have evolved in various ways to entertain customers. Menus are getting more and more attractive. Some restaurants have introduced a service that gives prizes when ordering sushi.
Wagyu Beef
The Japanese did not eat beef before. When Western culture came in in the 19th century, Japanese began to eat beef, but beef was to eat when special. The Japanese have been devised long in order to make this special food product more delicious. As a result, "Wagyu" were born.
If you come to Japan, please try eating Wagyu. In that case, please also observe the state of the cook who burns Wagyu. You will feel this is a professional job!
Sukiyaki
When the custom of eating beef came in the late nineteenth century from the West, the Japanese began to eat beef with their favorite pot dish. So "sukiyaki" was born.
There are many famous restaurants of Sukiyaki in Asakusa, Tokyo. If you are going to visit Asakusa, I recommend that you enjoy sukiyaki there too.
Shabushabu
Shabu-shabu is popular side by side with sukiyaki. In general, meat for shabu-shabu is sliced very thin. Put water in a pot in advance, boil it, and put meat there. Because the meat is thin, if you put it in a pot for a few seconds you can already eat it.
Shabu-shabu was born in Osaka in the 1950's. Shabu-shabu is said to be a healthy dish with less fat than steaks and sukiyaki. Please try and relish yourself.
Kaiseki
Kaiseki is provided in a Japanese style restaurant called Ryotei. Alongside sushi, Kaiseki is a fine Japanese cuisine.
Kaiseki will be served on the table in turn from the starter, like French high-class dishes. The chef selects a beautiful dish according to each dish, and makes an artistic arrangement. He will also change how to arrange according to changes in the four seasons. The guest finds one world in the dish.
"Kitcho" introduced in the above movie is the most high-grade restaurant in Japan. To be honest, I have only been there once. For ordinary Japanese people, the traditional Kaiseki is a high and distant existence.
There is not much opportunity for common Japanese to enjoy Kaiseki. However, we have sometimes to enjoy Kaiseki. That is when we go to a trip somewhere and have dinner at Ryokan (Japanese style hotel). In Ryokan, chefs use the ingredients in the area and offer Kaiseki cuisine. Though they may not look as beautiful as Kaiseki offered by upscale RYotei, they are popular because we can enjoy the taste of the land. Many Japanese are looking forward to eating such Kaiseki at Ryokan. Why do not you stay at Ryokan and eat Kaiseki if you come to Japan?
Okonomiyaki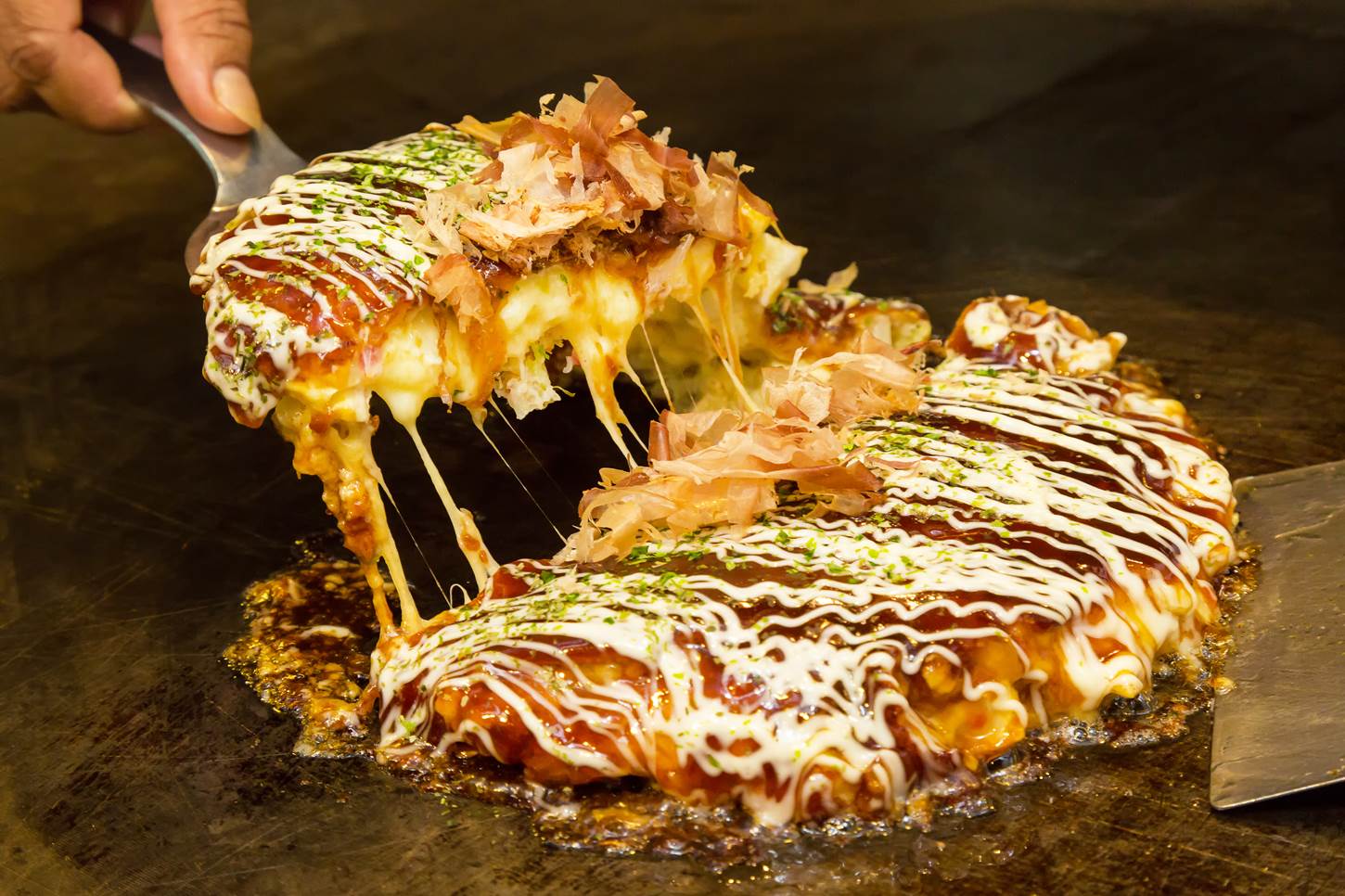 Okonomiyaki is the food of the common people representing Japan. Especially, it is often eaten in western Japan such as Osaka, Kyoto, Hiroshima.
How to make Okonomiyaki varies little by little depending on the land. However, in general, it is made by the following procedure.
1) Place flour, raw egg, water, soup stock, into a single ball and mix well
2) Cut the cabbage in small pieces, mix it in the ball
3) Grind oil on the iron plate or pot bottom. Bake minced pork in there
4) Add all ingredients placed in the bowl to the steel plate or pot
5) Turn over and bake back side too
6) Place sauces and mayonnaise
Okonomiyaki is also sold in food stands in front of shrines and temples. The taste of Okonomiyaki is quite different between Osaka and Hiroshima, so please eat and compare.
In the downtown of Tokyo, you can also eat street food called "Monjayaki" which is very similar to Okonomiyaki. Monja was born as a snack of children. The amount is less than Okonomiyaki. As you can see, Okonomiyaki has considerable variation depending on the region.
Takoyaki
Takoyaki is a street food made from wheat flour. Octopus fillets are included in them. Takoyaki is made on a dedicated steel plate and is finished into a round shape. Like okonomiyaki, it is widely popular as common food. It is often eaten especially in Kansai mainly Osaka. In the movie below, how to make Takoyaki is introduced.
Ramen
Ramen is a noodle dish that was born about 100 years ago. Its origin is in Chinese noodle dishes. However, it has made its own evolution. Today, a variety of ramen is competing for popularity.
Ramen can be broadly divided into the following four types.
1) Shoyu Ramen: Soup is soy sauce taste.
2) Shio Ramen: The soup is salty.
3) Miso ramen: Soup is miso taste.
4) Tonkotsu Ramen: Soup is made with pork bone.
The main ramen is different depending on the area. For example, even in the same Hokkaido, miso ramen is often eaten in Sapporo, but in Hakodate a lot of Shoyu ramen is eaten. In Hakata, Tonkotsu Ramen is the main.
In addition, the taste of ramen is quite different depending on the store. For this reason, many people go to various shops in search of delicious ramen.
In Shinyokohama, Kanagawa Prefecture, there is the "Shinyokohama Ramen Museum" where you can compare and eat delicious ramen nationwide. Similarly, there are ramen streets which collected various ramen shops in Tokyo Station North Exit (Yaesu Exit), Kyoto Station Building, and so on. While you are staying in Japan, please try eating various ramen!
Japanese Curry
I have eaten curry with an acquaintance from India in Malaysia over 20 years ago. At that time, I was surprised. "This is not ordinary curry!" In response, my acquaintance said. "What are you talking about, this is normal curry!"
Until then I had never eaten real curry. I have been eating only Japanese-style curry all the time.
Japanese curry is quite different from Indian curry. It is based on British curry and has evolved independently in Japan.
A major characteristic of Japanese curry is currying on rice. In addition, we may put pork cutlet on top of it.
Recently, the number of Indian style restaurants has increased in Japan. However, strangely, among the tourists who came from abroad, people who are interested in Japanese style curry are appearing.
If you come to Japan, please try eating Japanese style curry as well. My recommendation is a curry restaurant chain called "Kokoichi". In this restaurant you can choose from a variety of curries. The official site is below.
>> The official website of "Kokoichi" is here
Thank you for reading to the end.

Now, let's plan to make your vacation in Japan the best experience ever!