Here are the best translation tool to ease your worries about speaking and communicating in Japan.
There are a variety of free translation tools available, but because the Japanese language is difficult to understand, there are many cases of inaccurate translations and misunderstandings. However, with this tool, communication in Japan is assured.
Most Selected Translator in Japan
No. 1 share of voice translator sales value (according to GfK Japan, January-December 2021)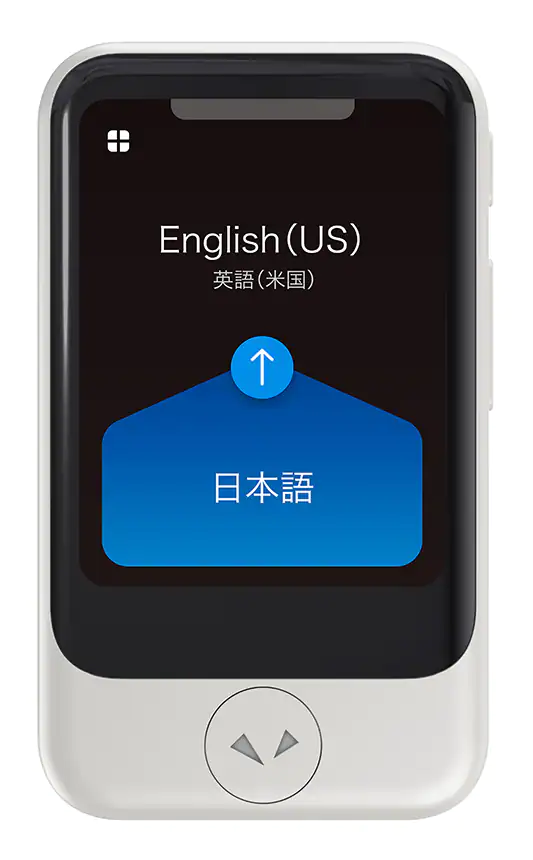 POCKETALK
With POCKETALK, even if you don't speak each other's language, you can talk to each other as if you have an interpreter. All you have to do is press a button and speak. Anyone can use POCKETAKE easily.
You can translate a menu item by simply taking a picture of it with the camera. Even if you don't know what language the text is in, the system automatically identifies the language. The translation results can be output to voice and used for ordering at the store.
High translation accuracy
 By using an engine in the cloud, the translation is always up-to-date. The most suitable translation engine for each language can be used.
Support for 73 languages
 73 languages can be translated into audio and text, 12 languages can be translated into text only.
Language Learning
 Effective learning of foreign languages is also possible. It is used by companies, medical institutions, and educational institutions in Japan and around the world.
Situations when you need a translator in Japan
Although Japanese people are shy and have difficulty communicating with foreigners, the number of people who understand and speak English has been increasing in recent years. In addition, more and more service industry staff at hotels and restaurants in popular tourist destinations understand and speak not only English, but also Chinese, Korean, and other languages, so a translator may not be necessary.
However, in minor tourist spots, local cities, private stores, and hot spring resorts, you will not be able to communicate without a translator.
To fully enjoy your vacation in Japan, please prepare POCKETALK. Especially if you are traveling with your family, please bring one for each of you. It is easy to use, so even small children and the elderly can use it. It can also be used for language study and practice.
The best way to obtain POCKETALK is to purchase the product from Amazon in Japan and have it shipped to your hotel or other place of stay.
That is the most reliable and fastest way. It will be delivered the next day anywhere in Japan (except some remote islands). Also, the selling price on amazon in Japan is probably the cheapest.
Please purchase one as soon as you arrive in Japan. We will deliver it to your hotel or other accommodation.
However, you need a Japanese amazon (amazon.co.jp) account to use amazon in Japan. If you have not yet registered an Amazon Japan account, please access here and create a Japanese Amazon account from "Account & Lists" in the top menu.
Now, let's plan to make your vacation in Japan the best experience ever!